This is How to Avoid Scams in Bangkok
Hey there! This post may contain affiliate links, which means I'll receive a commission if you purchase through my link, at no extra cost to you. Please see my legal page for more details.
Scams in Bangkok are easy to find…but they are also easy to avoid when you see them coming. I should know because I think I feel for every common scam in Bangkok!
Here's my story and how you can avoid these common Bangkok scams and see the sights without the drama:
Before the Scams in Bangkok Begin, A Bit of Background
For this story, I must introduce my fellow adventurer: Claude. He's a personal trainer from New York City who was in Thailand for a couple of weeks to escape the daily grind.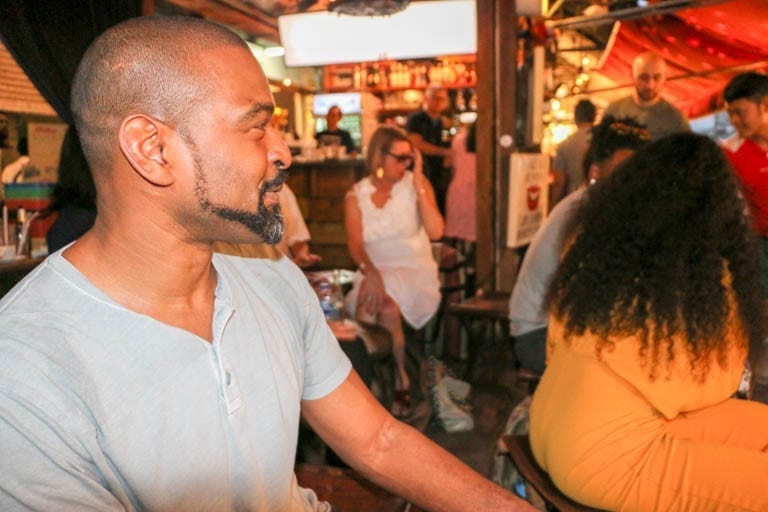 We happened to be staying at the same guesthouse, where we bonded over politics and the free breakfast buffet. I knew that I liked his travel style because he had already wandered Chatuchak Weekend Market with me, enduring my constant picture taking as we stared, bartered, and tasted our way through Thailand's largest market.
I invited Claude to join me on my big tourism day in Bangkok. I wanted to see the Grand Palace, the Reclining Buddha, and climb the steps of the Temple of Dawn – in that order. I was pretty specific about the itinerary as I had a blog post planned about my "perfect day in Bangkok." Claude was game.


But…let's just say that the day didn't unfold as planned. We did not successfully avoid the scams in Bangkok!
First up: The Tuk-Tuk Scam in Bangkok
When I looked at how long it would take us to get to the Grand Palace by train, Claude (wisely) nixed the public-transit idea and bartered with a Tuk-Tuk driver instead. The driver said he would take us to "the pier," where we could then take a boat to the palace. We hopped in.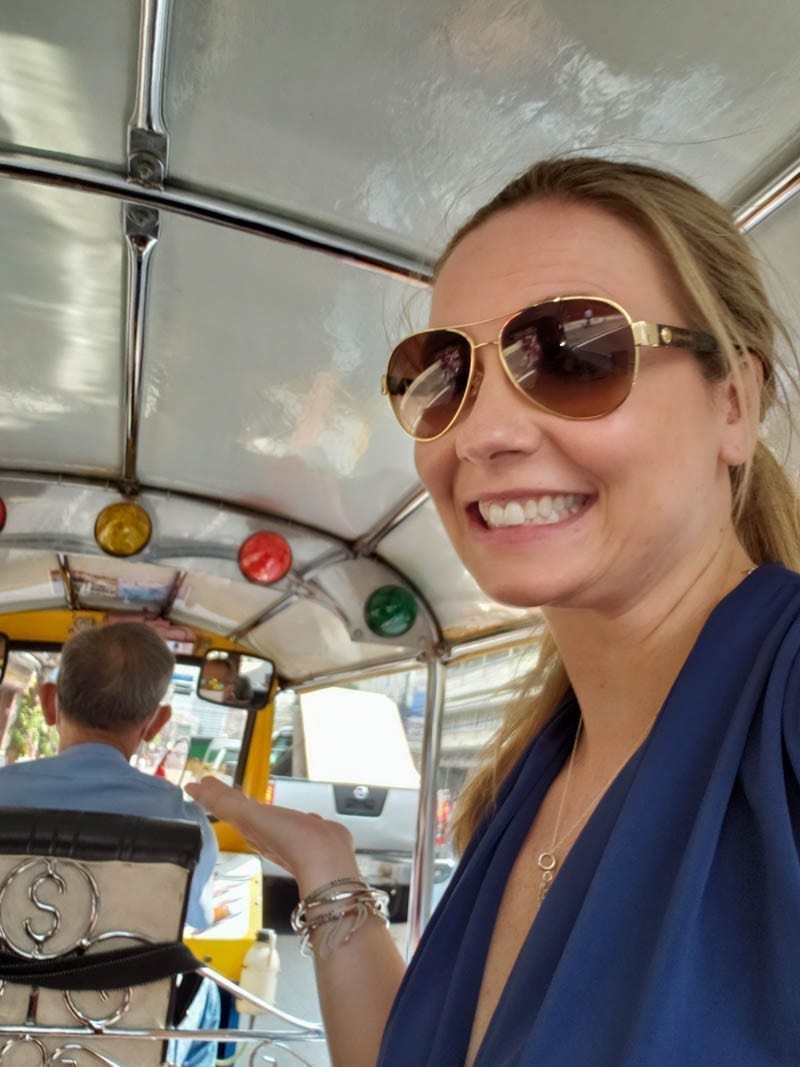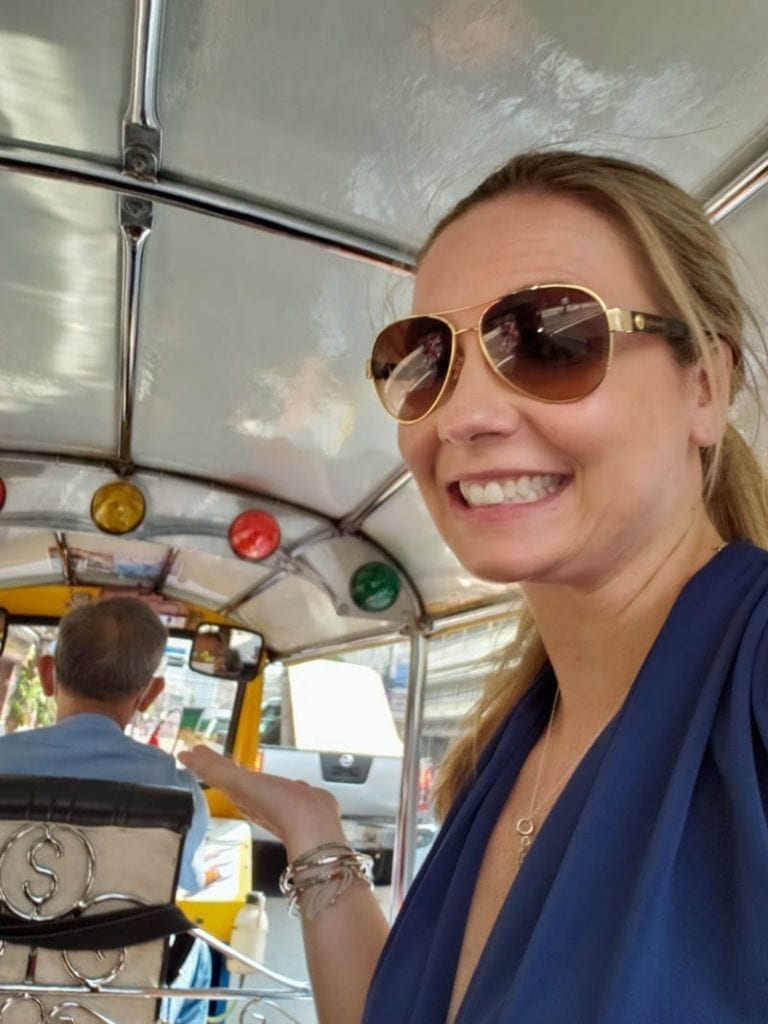 When I asked the driver to take us to the specific pier where the water taxis dock, he grew quite agitated. Something just felt wrong, and that feeling didn't dissipate when the driver stopped at a small boat dock, gesturing for us to get out and watching from his Tuk Tuk while we talked with the men at the small table meant to be a ticket counter.
It would take one hour to get to the Grand Palace we were told. One hour and 1,000 Thai Baht. One hour? 1,00 Baht? I was incredulous. That's over $30 USD, which goes a LONG way in Thailand. That's the equivalent of a night in a nice guesthouse in Bangkok.
We would learn later that the driver gets paid a commission fee for each tourist who buys the seriously overpriced "ferry" at the pier where he brought us. At the time, we didn't understand why he yelled at us as we rejected the high price and asked a nearby vendor about the water taxis, which turned out to be about a five-minute walk down the river.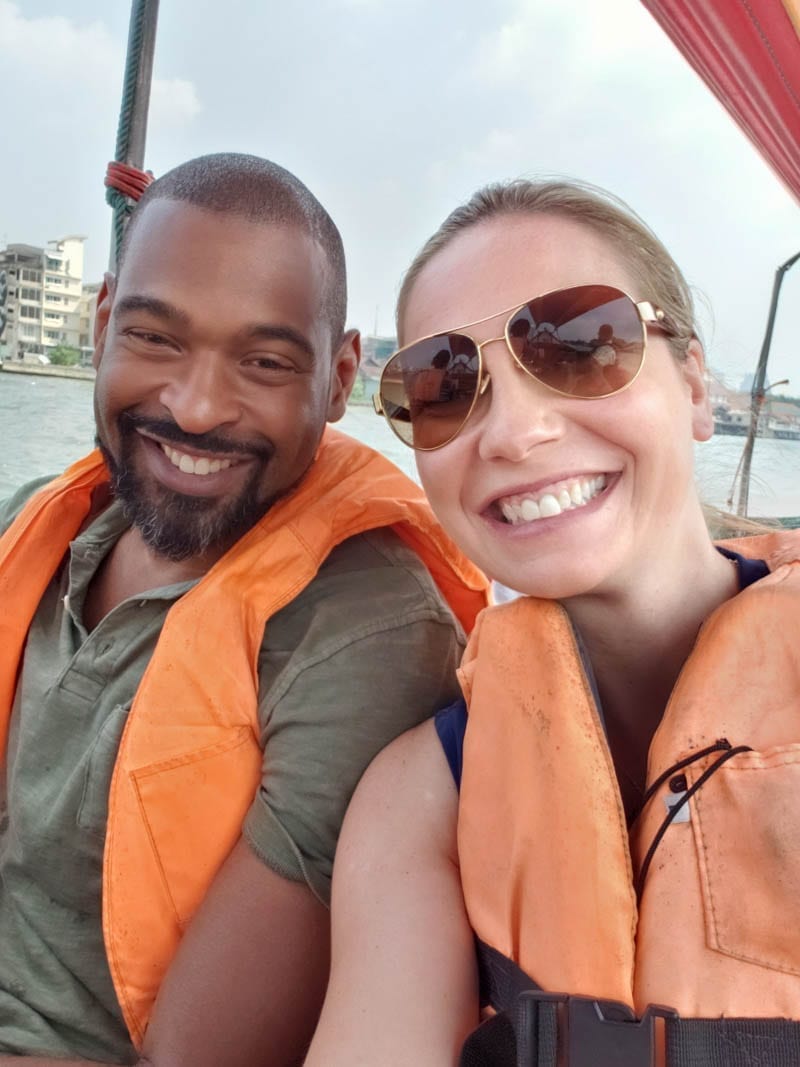 We ended up on a pier with long-tail boats rather than water taxis but the boats served the same purpose, bouncing us down the river for 40 Baht (just over $1 USD).
And I do mean bouncing. We weathered the choppy water with a few other tourists, some of us laughing (and some of us white knuckling) as we were thrown about when the bow of the boat repeatedly slammed into the waves created by all of the river traffic.
Our fellow travelers knew that the Grand Palace stop was at Pier #9, so we were all a little confused when a woman at Pier #8 yelled at everyone to get out of the boat. On dry land, we shrugged it off, consulted a map, and headed on what was supposed to be a 10-minute walk to the Grand Palace.
Next Up: The Black Buddha Scam in Bangkok
Here is where someone stopped Claude and me, appearing to be a well-dressed local headed to work. He advised us to wait until later in the afternoon because there was an event at the Grand Palace and it would open again at 3 in the afternoon. Go to the "Black Buddha," he said. It's only open one day a week and it's very special. Plus, there is a very nice tailor on the way!
He hailed a passing Tuk Tuk for us, negotiated what we considered a fair price for the round trip, highlighted our path on a map, and off we went…in the opposite direction of the Grand Palace.
Claude told our driver that we wouldn't need to stop at the tailor. The driver smiled and nodded as we pulled into an alley behind a crowded car park. He pointed and we obediently snaked our way through the cars to find a small temple on the other side of the parking lot.
Here there was a man waiting to tell us all about the Black Buddha. It was, in fairness, a fascinating tale of how the Buddha had survived a fire and, therefore, became a symbol of resilience and good health. People, he said would come from far and wide to wish for cures to illnesses or good results from doctor appointments. It is, he said, the Lucky Buddha.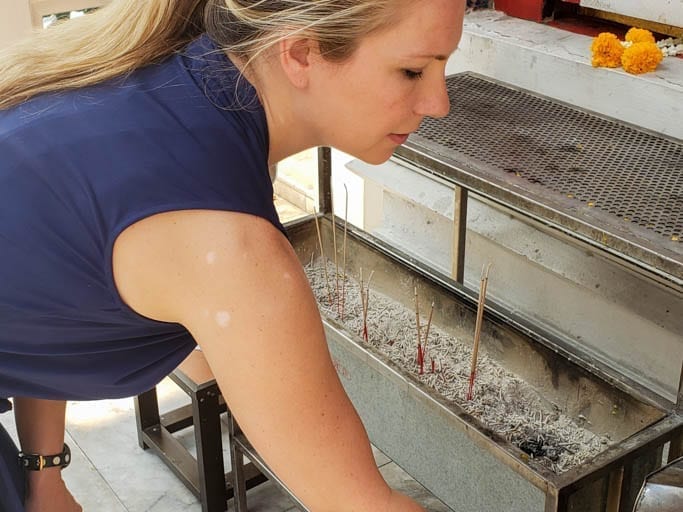 I noticed the way that the man at the temple looked at the map that I still carried. It dawned on me that most people on their way to work aren't just carrying maps around in their pockets. I suspected that the map was like carrying a neon sign that said "Black Buddha Scam," so I hid it away in my pocket.
Since the place was very peaceful and there were actually people praying earnestly with incense, I sat down and slipped into a surprisingly deep meditation, considering that the man was still talking Claude's ear off.
When the temple man mentioned the tailor and the "very exciting" sale they were having "today only," I opened my eyes and looked at Claude. He had folded his arms over his chest. When Claude noticed me looking (and, I'll admit, laughing), he excused himself, sat down next to me, and hissed:
"I am not going to a tailor."
As a personal trainer, Claude had very little need for a suit. But, more importantly, he also had picked up on the fact that we were being scammed.
We stopped at another temple across from the Black Buddha and found yet another man waiting to talk our ear off. I was trying to meditate when I heard him mention the tailor to Claude, asking if he had a map so that he might draw the route out for us.
I knew he was looking for the clue. I held up the telltale scam map from my position on the floor, without even bothering to open my eyes. Now it was Claude's turn to laugh.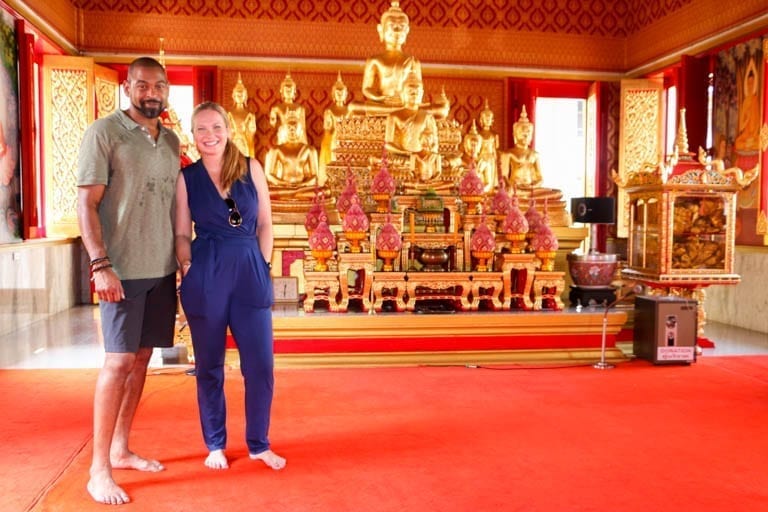 Back at the Tuk Tuk, the driver smiled through Claude's insistence that we did not need to go to a tailor and pulled up at the suit store anyway. He asked us to spend just five minutes so that he might get some fuel.
This is part of the deal. The Tuk Tuk drivers receive fuel for bringing you to the tailor, whether you want to go or not.
Claude was fuming as we walked through the door, but, to his credit, he had made friends with the tailor in the obligatory five minutes that we spent inside.
The Reclining Buddha (No Scam Here!)
We didn't run into a scam here! The "scam me" map even came in handy as we looked while our driver took us back to where we started. Wat Pho – home of the Reclining Buddha – was on the way and it made sense to stop there first. It didn't disappoint.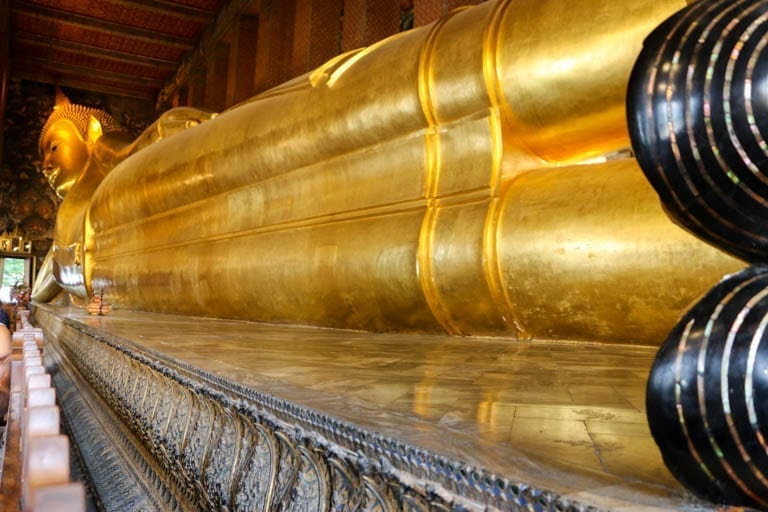 The feet on the Reclining Buddha are more than 16 feet long, so imagine the body. It's nearly impossible to get a picture of the full Buddha in one shot, but that didn't stop anyone from trying!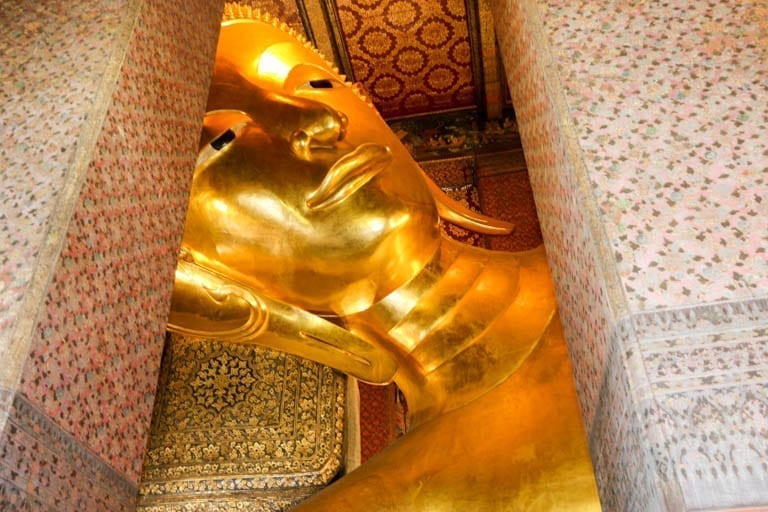 I was distracted from my picture taking by a methodic clinking sound and I wandered toward the noise. Lining the wall along the massive Buddha were 108 prayer pots with people moving slowly along the wall, dropping golden coins into each pot in a walking prayer.
Dropping the coins into the pots is said to bring good luck. I dutifully bought my coins, wished for luck, and walked with the echoes of my favorite movie quote of all time in the back of my mind.
The Grand Palace Scam Might be the Most Common of the Scams in Bangkok
We were FINALLY heading for the Grand Palace! I was hangry at this point, so we stopped for food on the way, laughing over cold beers about our morning of falling for every Bangkok scam in the books.
On our way into the Grand Palace, we easily brushed off the third scam in Bangkok that we were presented with that day.
Men lined the street telling us that the Grand Palace was closed and that it would re-open at 3:00, the very same thing that the man from the street had told us earlier that day. (The palace actually closes at around 3:00.)
We assumed that a Tuk Tuk would arrive to whisk us to the tailor shop and the "Lucky Buddha" if we stopped. But we didn't stop.
Inside we were mesmerized. While not quite as elaborate and ornate as the Vatican, it certainly lands in that category. I think it is directly comparable to the Palace of Versailles in France.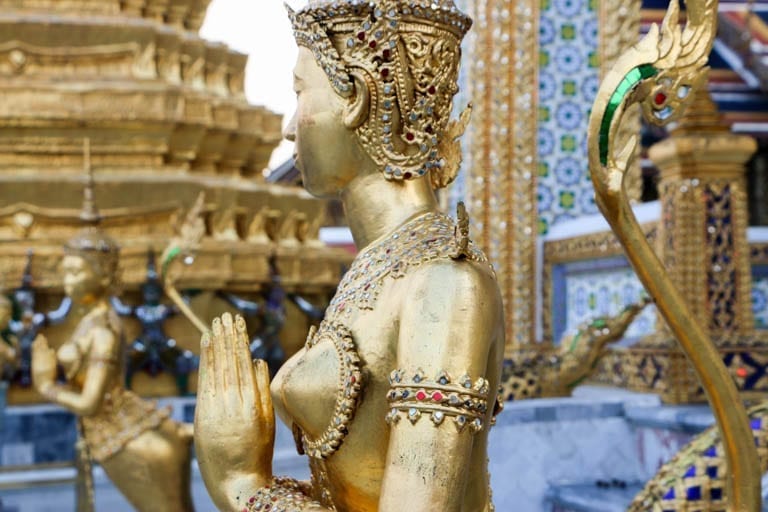 And, for the second time that day, I was able to find a deep meditation at what many consider to be the spiritual heart of Thailand: The Emerald Buddha. The little Buddha carved from a single block of jade seems to emanate peace.
Happy Hour Across from the Temple of Dawn: We Deserved that Drink!
We never did make it across the river to Wat Arun, or the temple of dawn. But, we did walk our weary bodies to the Amorosa Bar across from the temple to enjoy cocktails while the sunset behind the beautiful temple.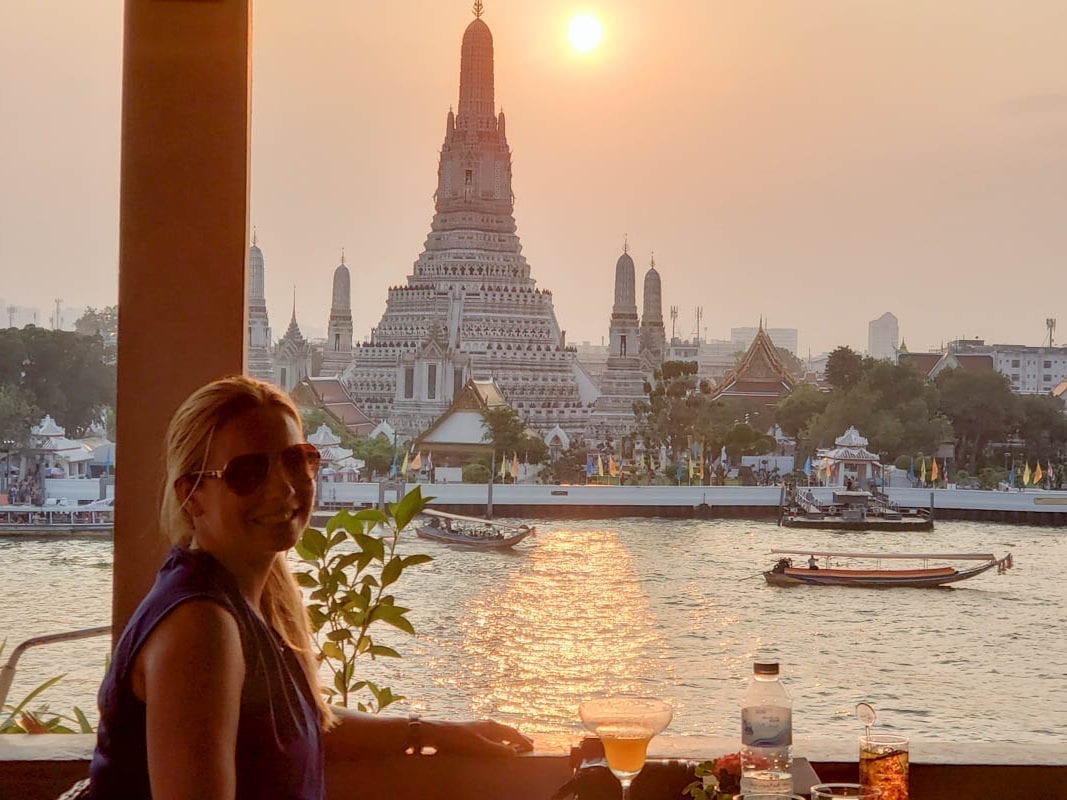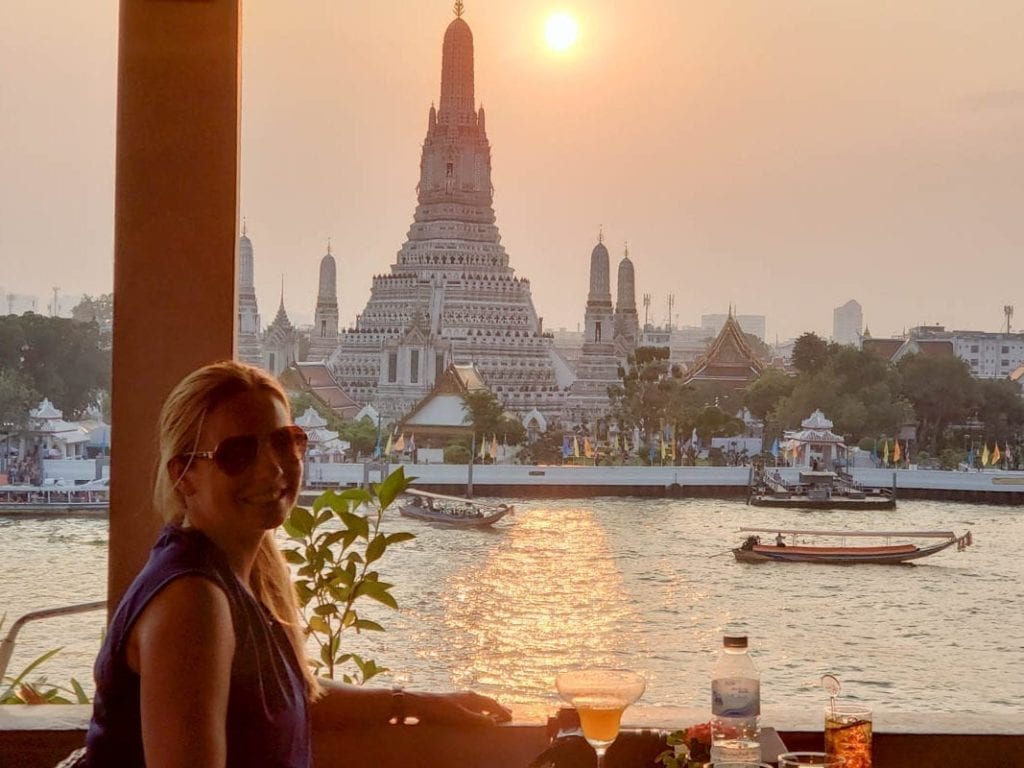 Here again, we laughed about how we most certainly did not avoid the scams of Bangkok. But I reflected on the fact that I had my most peaceful moment at the "Black Buddha," and that I was sort of glad that we had fallen victim to the "Black Buddha scam". (I googled it later. It's a thing.)
So, while the day didn't unfold as planned, the way it unfolded was so much better.


That being said, here are a few tips to avoid scams in Bangkok and to ensure your day does go as planned:
Tips to Avoid Scams in Bangkok
Ignore anybody who claims that the Grand Palace is closed. They will direct you toward a gate that is meant for the Thai people who can enter free of charge. Confused tourists get turned away at the gate and fall into the Black Buddha scam from there. Just keep heading for the main gate. The Grand Palace is open!
Make sure to tell your Tuk-Tuk drivers exactly where you need to go. It's best not to take recommendations that are really off your path as this is probably taking you to an overpriced tourist trap in which the driver gets a cut of any tickets or buy.
If you end up in a Tuk Tuk headed for a tailor, you've been scammed. Spend five minutes inside and don't buy anything. Hey, maybe you will make a friend like we did!
The Black Buddha is open all the time – not just one day a week. And, while I enjoyed it, there is no reason to make the trip to see this particular Buddha. Though, if you do end up in a Tuk Tuk bound for the Black Buddha, make the best of it and make a wish for good health.
Water taxis are the cheapest and safest ways to get around the river. "Ferries" are really overpriced, rickety boats offering a "tour" that is nothing more than a trip down the river. Long-tail boats are a bit more expensive and quite a bit more bumpy in the choppy water. You do need to take a river-crossing ferry to traverse the river and get to the Temple of Dawn, but these are different than the "ferries" that cruise down the river.
Most importantly, remember to laugh even if you don't avoid the scams in Bangkok.
About the Author
Hi! I'm Jen!
I'm a freelance writer and travel blogger who quit my nine-to-five after my fiancé, Jeff, died of cancer at the age of 40. When he died, I realized that life is just too short to delay our dreams. Since my dream was to travel and write, I now travel and write full-time. Today I wear hiking boots instead of heels and collect experiences instead of things.