Visiting Snow Canyon State Park, Utah
Hey there! This post may contain affiliate links, which means I'll receive a commission if you purchase through my link, at no extra cost to you. Please see my legal page for more details.
Visiting Snow Canyon State Park belongs on every Arizona road trip itinerary. I didn't even know about this beautiful hidden gem until…
I met Angi and Cody on a tour of the awe-inspiring hills of the Scottish Highlands.
Somewhere between searching for Nessie and visiting the cliffs and glens of Scotland, Angi and Cody invited me to see the sandstone bluffs of their hometown of St. George, Utah.
Visiting Southern Utah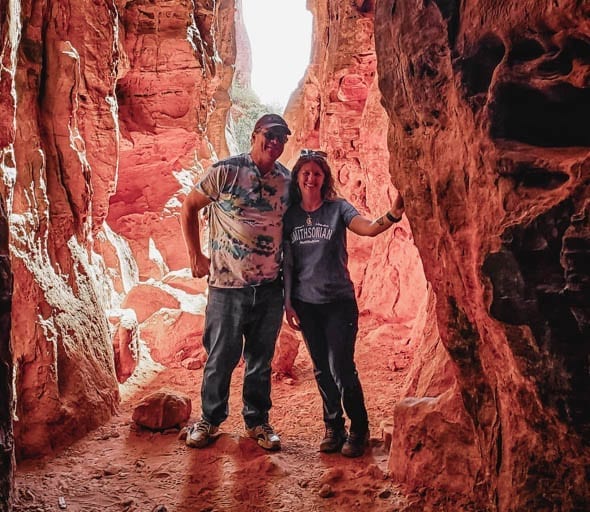 I doubt that they expected me to actually show up in St. George just a year later, but that's exactly what I did!
And I'm so glad that I did.
We set out immediately for a hike at Snow Canyon State Park, which is just a 15-minute drive north of St. George and one-hour drive west of Zion National Park.
Angi and Cody were determined to make good on that promise to show me the beauty of southern Utah – and that they did!
Geocaching: A New Way to See the World
Before we got to the park, though, we pulled over suddenly in order to check out a cache that Angi saw on her Geocaching app as Cody drove.
As we searched for the hidden capsule in a bed of rocks, using the geocoordinates that someone years before had recorded in order to hide this cache, I was immediately hooked on Geocaching.
Once we found the cache and left our names on a list with the others who had searched here before us, we set out for that hike.
Visiting Snow Canyon State Park
When we passed by a sign that read "Jenny's Canyon," I was pretty sure I knew where I wanted to start our afternoon in Snow Canyon State Park!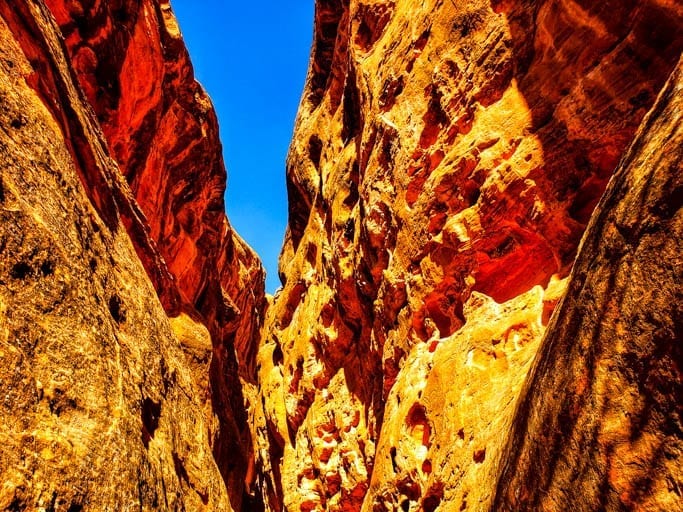 The canyons are what is left of a sand sea that cemented into stone formations called Navajo sandstone.
Over millions of years, water shaped the stones into canyons and, to add to the geologic mishmash of color, about 1.4 million years ago, lava flowed into the canyons from the eruption of nearby cinder cones.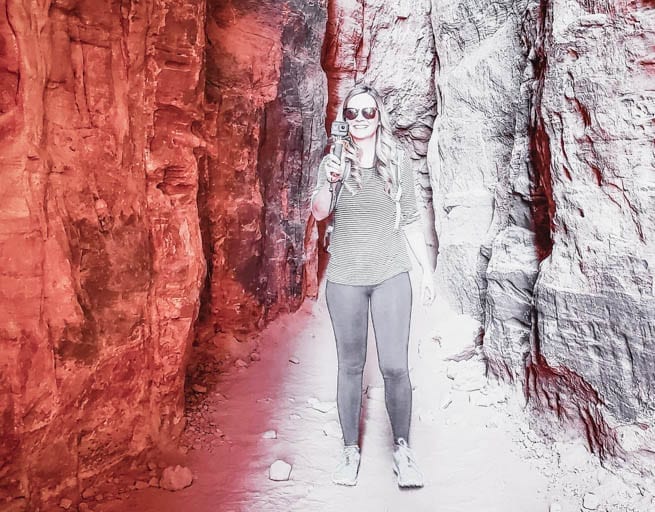 Over on the petrified sand dunes, I was introduced to Moqui marbles. Say what?
Over thousands (more?) of years, the wind whipped up little balls of sandstone that are covered in iron oxide minerals. Over time, they break away from their home on the petrified sandstone bluffs and roll into piles of, well, marbles! Angi says it makes the bluffs look like they have acne.
As we crunched our way across a carpet of Moqui marbles and used their little ridges and bumps as traction to clamber up a steep incline, I had to agree!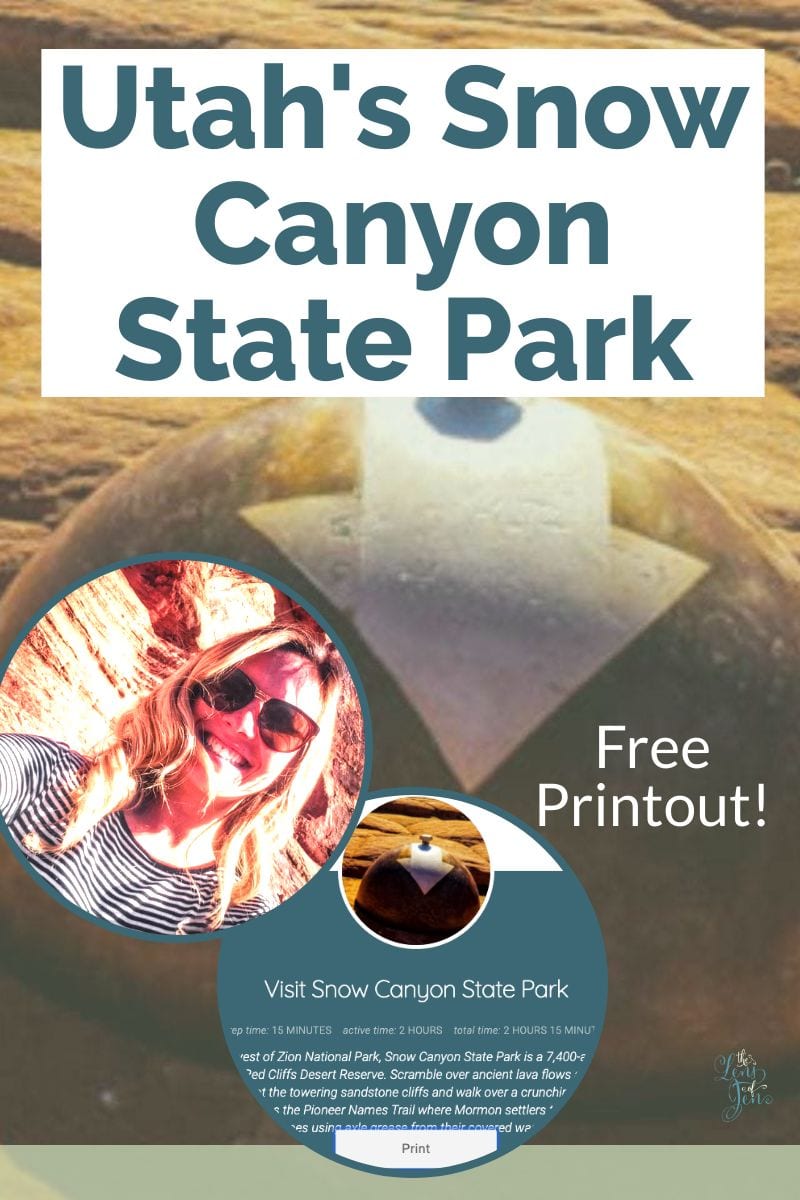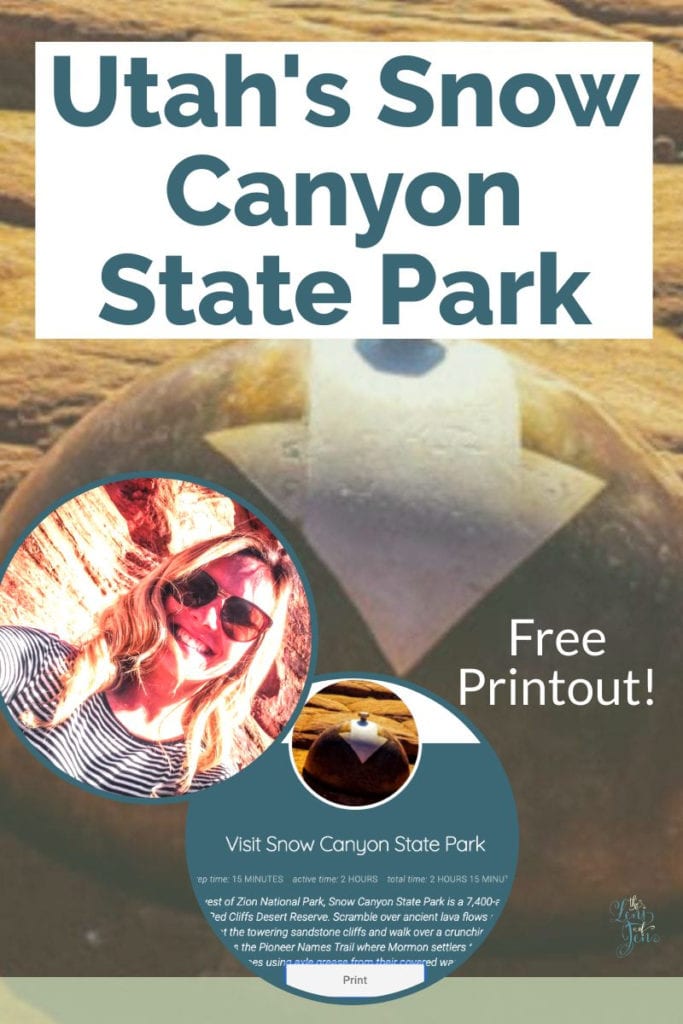 History in the Park
We then headed for Pioneer Names Trail, where the Mormon settlers to the area painted their names into a sheltered enclave of petrified sandstone, using the axle grease from their covered wagons.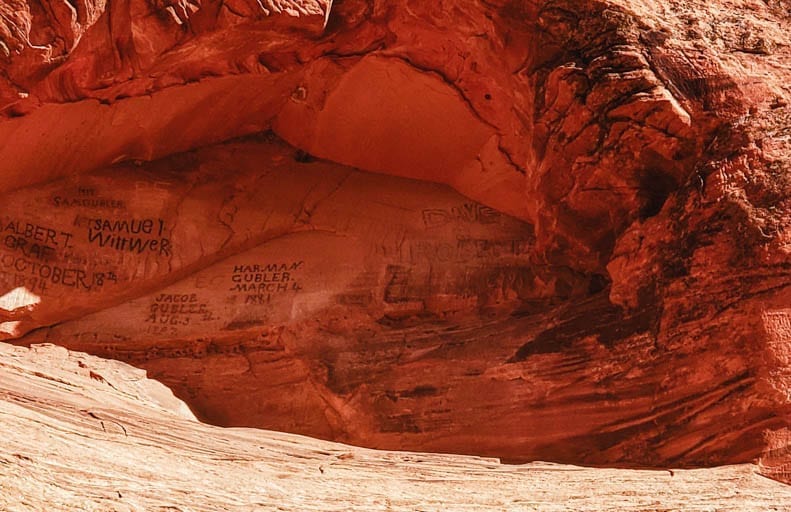 Though Angi is no longer a Mormon, there was evident pride in her voice as she noted that her daughter's ancestors are painted on the rock.
I, on the other hand, was enthralled by the person actually dangling from a rope that was tied high above at the top of a towering bluff.
All in all, while far different from the green, rolling hills of the Highlands, I have to agree that southern Utah is a beautiful place to be.
Thanks for a great stop on my Western States road trip, Angi and Cody!
Quick Facts on Visiting Snow Canyon State Park
Where is Snow Canyon State Park?
The address for Snow Canyon State Park is: 1002 Snow Canyon Dr, Ivins, UT 84738
Snow Canyon is located in the Red Cliffs Desert Reserve near St. George, Utah.
Where Should You Stay Near Snow Canyon State Park?
What is the Cost for Visiting Snow Canyon State Park?
The cost is $10 for a vehicle to enter Snow Canyon State Park and $5 for a bicycle.
How Long Does it Take to Hike in Snow Canyon State Park?
At least two hours. You will need to drive or cycle between the trailheads.
Check out St. George tours here: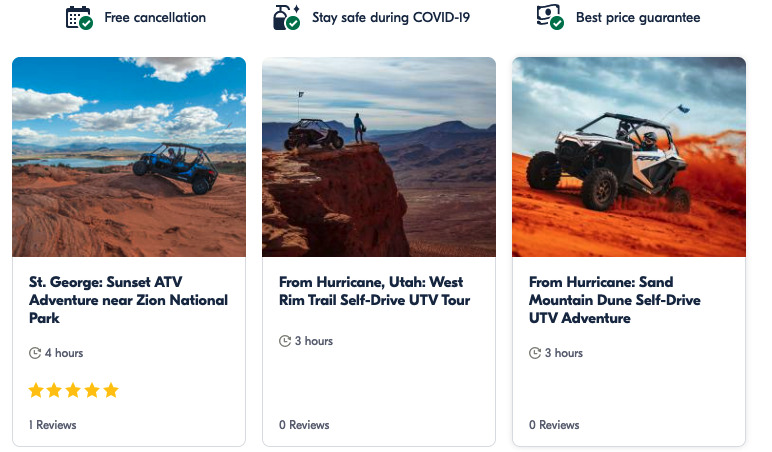 About the Author
Hi! I'm Jen!
I'm a freelance writer and travel blogger who quit my nine-to-five after my fiancé, Jeff, died of cancer at the age of 40. When he died, I realized that life is just too short to delay our dreams. Since my dream was to travel and write, I now travel and write full-time. Today I wear hiking boots instead of heels and collect experiences instead of things.