A Utah and Arizona Road Trip Full of Sites and Beauty
Hey there! This post may contain affiliate links, which means I'll receive a commission if you purchase through my link, at no extra cost to you. Please see my legal page for more details.
This Utah and Arizona road trip is packed full of beauty. There is no need to hurry on this road trip, but I did do the whole thing in just one perfect day, zig-zagging across the borders of these two beautiful states.
Come ride along with me from Zion National Park to Glen Canyon to Antelope Canyon to Horseshoe Bend, and the Grand Canyon with – if you can believe it – stops in between!
This Utah and Arizona Road Trip Started with a Challenge:
During a larger road trip through the western states, I stopped in Boise, Idaho for an evening out with a friend.
That friend, Jeremy, brought his Passport to the National Parks and showed me the nearly 70 stamps he had collected from different national parks, forests, and memorials.
Naturally, I was jealous. I had to have a Parks Passport! And, naturally, we would need to make this a competition for the most stamps.
A couple of days later, on a sunny November day, I woke up in the beautiful town of St. George, Utah intending to get to the Grand Canyon in time for dinner. In and of itself, this was an ambitious goal, but my map showed national sites and monuments along the way, meaning an opportunity to earn my first stamps!
Challenge accepted, Jeremy!
First Stop: Zion National Park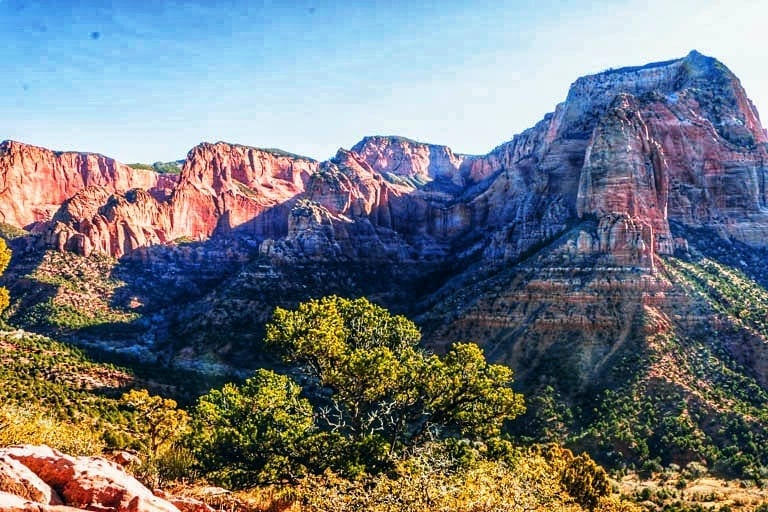 Now a trip to Zion National Park could be – should be – at least one full day. But I had time for only a quick stop, so that same friend who showed off his National Park Passport gave me a tip for going to Zion and skipping the crowds.
The secret, he told me, is Kolob Canyons. You see, the main Zion National Park Visitor Center is off of Utah State Route 9 near the town of Springdale. It's so popular that the parking lot fills up early in the morning and visitors are advised to park in Springdale and take the free shuttle into the park.
Rather than taking Utah State Route 9 east to Springdale and catching the shuttle, I stayed on I-15 north and drove straight to the Kolob Canyons Visitor Center. I pulled up just after it opened at 8:00 and had the place to myself.
Kolob Canyons in Zion National Park: It's a Secret!
A ranger inside gave me maps of the park and expressed delight that I wanted my very own Passport to the National Parks. She told me that she had so many stamps in her own passport that she purchased extra pages and took her book to get rebound with the additional places for stamps. I'm sure glad I'm not in a stamp competition with her!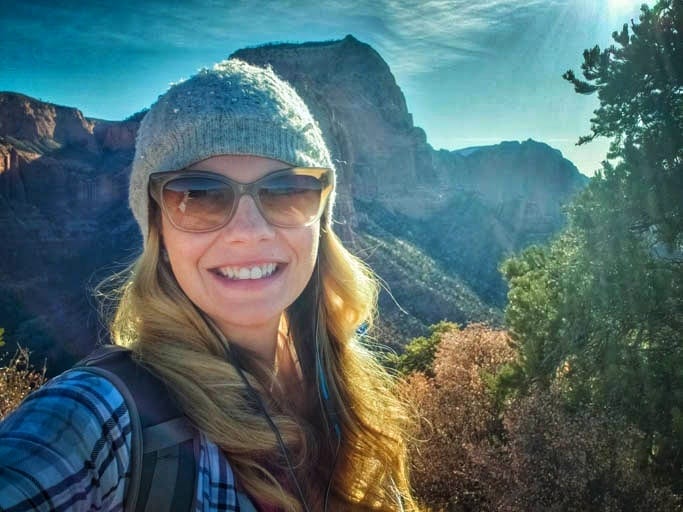 With my new passport and its new stamp in hand, I climbed the five-mile scenic drive to the Timber Creek Overlook Trail. With a bit more time, I would have opted for the popular Taylor Creek Trail, but this, along with Bryce Canyon on what's known as the Grand Staircase will be saved for my next trip.
For this road trip, I was content to settle into the natural benches created from millions of years of earthquakes and water from the Virgin River trickling and rushing over the 130,000-square-mile expanse of rock that is the Colorado Plateau.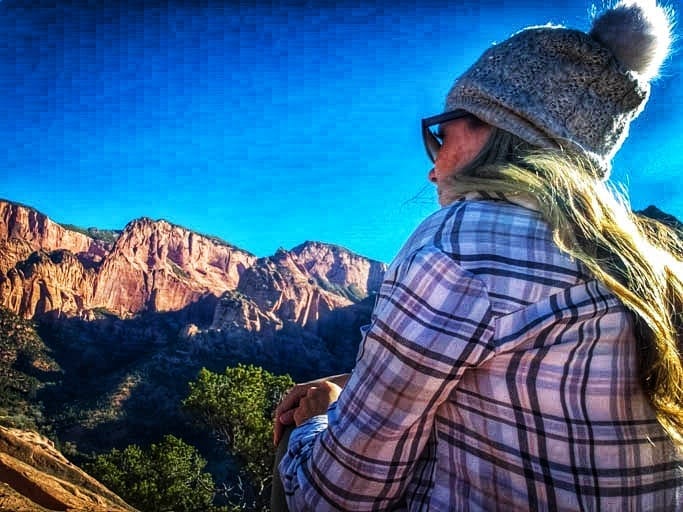 From my perch there I could even see the north rim of the Grand Canyon – very close to where I would end up that very evening!
Psssst….no matter how short the hike, please remember to have your essential hiking survival kit in your backpack. You never know when you might get lost (like I did hiking an out-and-back at the Coronado National Memorial.)


Where to Stay Near Zion National Park:
I stayed in St. George, Utah before heading out on this Utah and Arizona road trip, adding a stop at Snow Canyon State Park to all the fun!
Here are homestays and hotels in the area near Zion:
Second Stop: Pipe Spring National Monument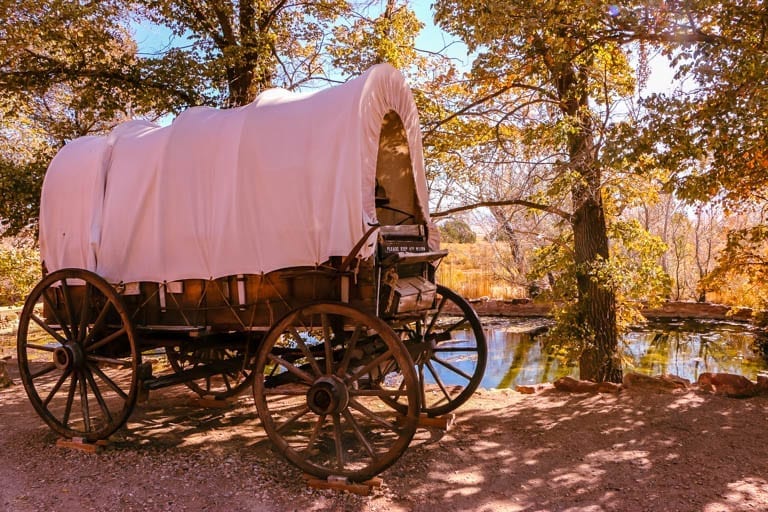 If not for my mission to get as many stamps as possible in my National Parks Passport, I wouldn't have heard of Pipe Spring National Monument.
I'm so glad that I looked at a map of the national parks because Pipe Spring National Monument is a perfect stop on a road trip along the Utah and Arizona border.
The ranger at Pipe Spring was holding an "open house" in the historic fort called Winsor Castle where Mormon settlers created an outpost to house cattle. The site was perfect because potable water was pushed to the surface after trickling its way southward from the natural sandstone aquifers holding rainwater and snowmelt up north.
Much of the cattle here was given to the church as part of the tithing of church members who contributed 10 percent of their assets. Pipe Spring offered space and water for the "tithing herds".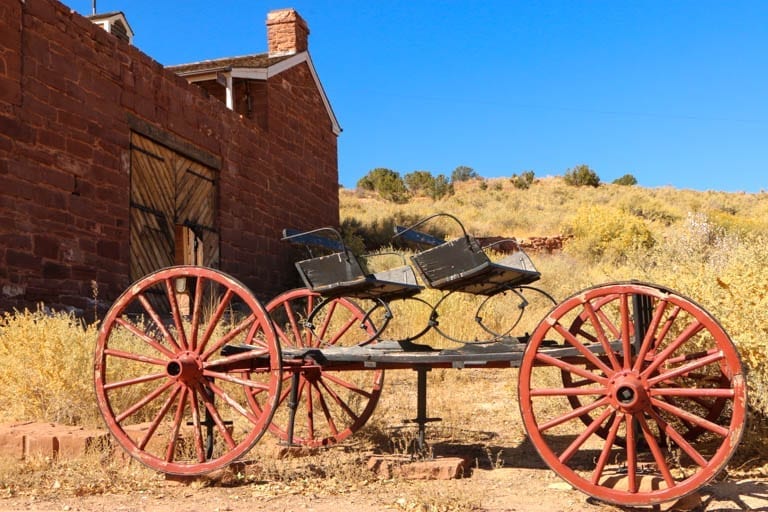 Of course, this oasis in the desert of the Arizona Strip served as a gathering place for centuries of hunter-gatherers and the tribes of the Kaibab Paiutes, the latter of whom came into direct conflict with the Mormon settlers over the natural resources here. Pipe Spring is also a place to learn about the way the Paiutes lived before they were pushed from the land.
I sat in a kahn made of juniper branches and brush. The little huts were situated in a circle so that the Paiutes could sleep with their feet toward the fire.
Then I took the quick hike up the Ridge Trail for a sweeping view of the Arizona Strip and the historic fort at Pipe Spring National Monument.
Third Stop: Glen Canyon Dam
My next stop was the Glen Canyon National Recreation Area, where I pulled into the Carl Hayden Visitor Center at Glen Canyon Dam. I didn't have time for the 45-minute walking tour of the towering 700-foot dam itself, but I got my stamp and mapped out my plan.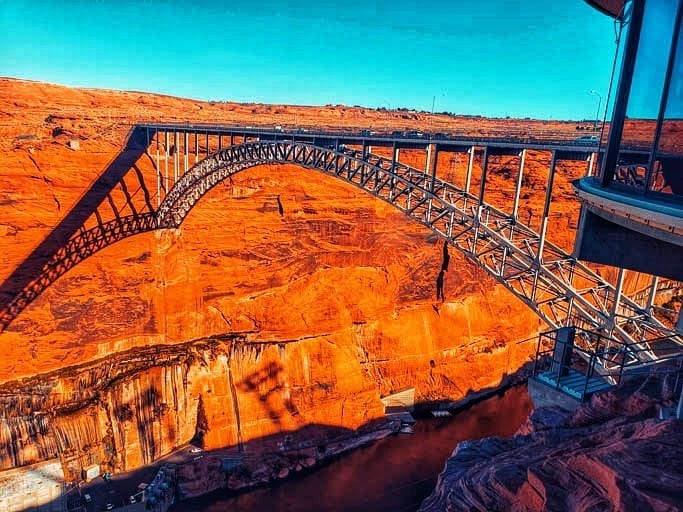 If I had more time, I could have made a day (or 10!) of the 1.25-million acres of the Glen Canyon National Recreation Area, but I really just wanted to see Antelope Canyon and Horseshoe Bend.
I could see right away that I just didn't have time to get to the Rainbow Bridge National Monument, a natural bridge made of Navajo Sandstone and Kayenta Sandstone that stands nearly as tall as the Statue of Liberty. Bummer.
But…Antelope Canyon didn't disappoint!
Fourth Stop on a Utah and Arizona Road Trip: Antelope Canyon
"Curiouser and curiouser" – Lewis Carroll from Alice in Wonderland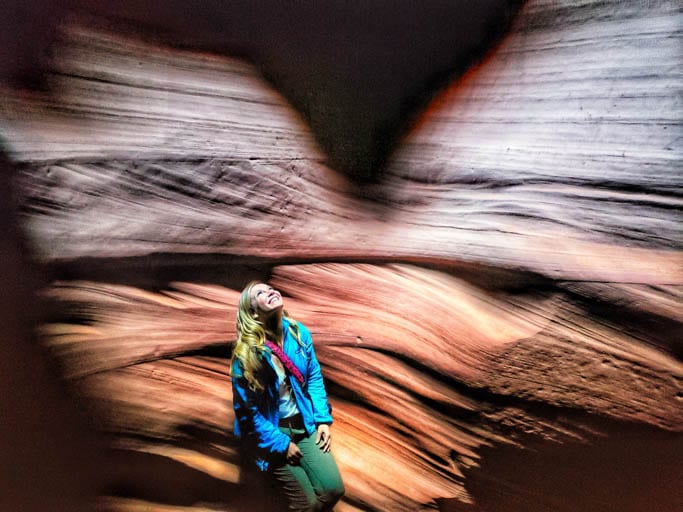 As a travel blogger, I spend my fair share of time on Instagram, and the pictures of Antelope Canyon have always intrigued me. Located just outside of the Glen Canyon National Recreation Area on Navajo Nation land, the upper and lower canyons are a collage of color.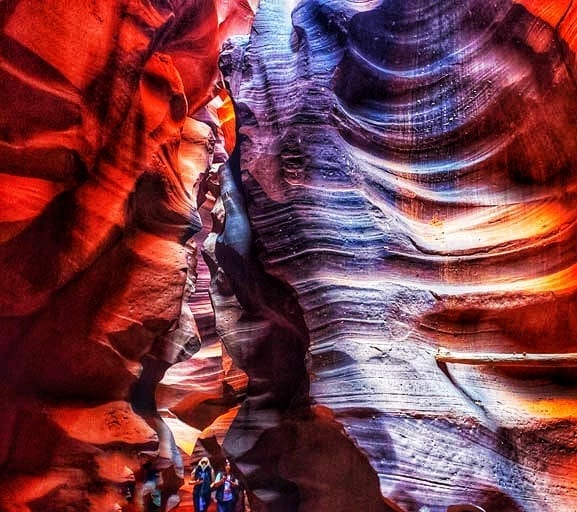 Natural light shines directly down into the slot canyons, bouncing off of the wavelike patterns made from rushing water through sandstone.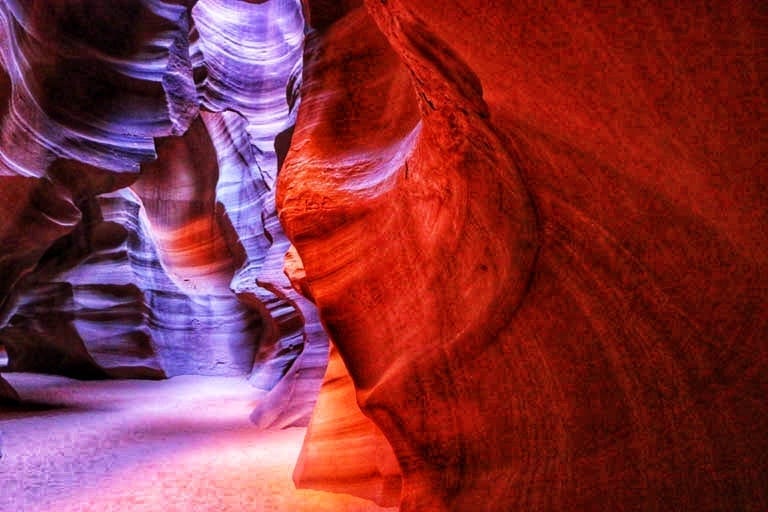 Though I have always wanted to see Antelope Canyon, I did not book a guided tour in advance. Since you cannot enter the canyons without a guide, I was very lucky to snag a walk-on spot on a group tour with Antelope Canyon Navajo Tours for $60 (cash only).

The guide drove us to the upper canyon and back and walked us through the canyon for one hour of trippy wandering. I seriously felt like I fell through Lewis Carroll's rabbit hole.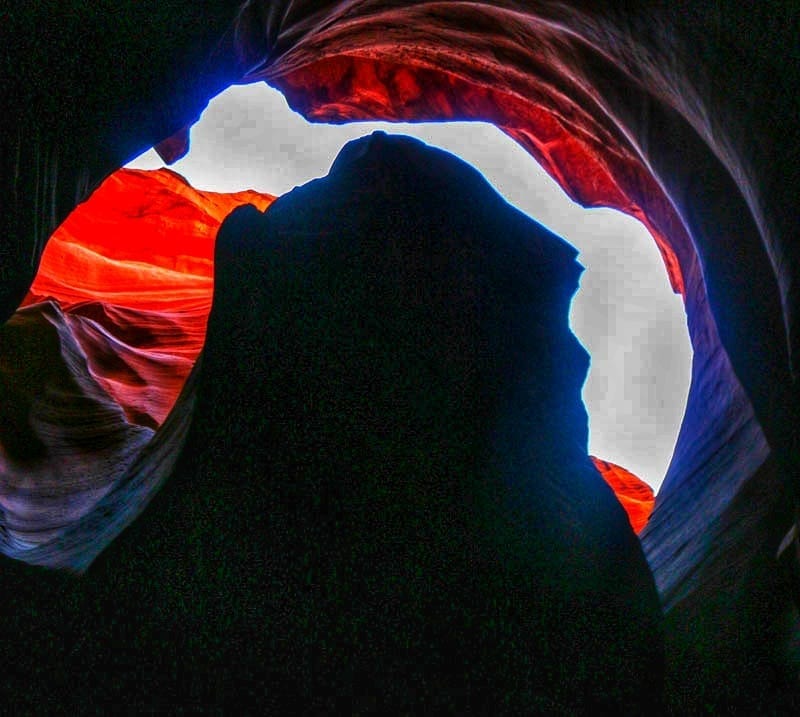 Fifth Stop: Horseshoe Bend
Another of the natural stars of Instagram, my next stop was one that I've been planning for a long time. Horseshoe Bend is just five miles south of the Carl Hayden Visitor Center back in the Glen Canyon National Recreation Center.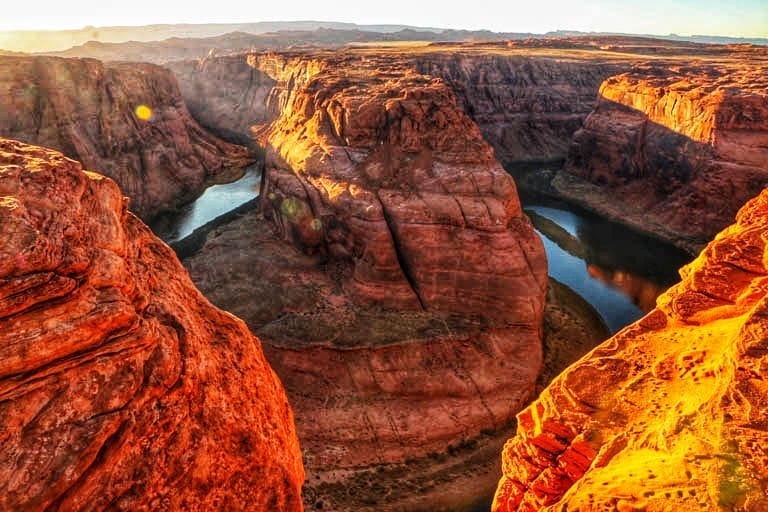 The Colorado River did some magical things as it worked its way through and – in this case – around the sandstone of an ancient landscape. Here the river made a 1,000-foot-deep, 270-degree horseshoe in Glen Canyon.
The hike around the bend is relatively easy, but the sand makes it a bit more of a challenge and there is one hill that takes the breath away. But it's the views that really do that for you. There are plenty of places to stop and enjoy the magic here.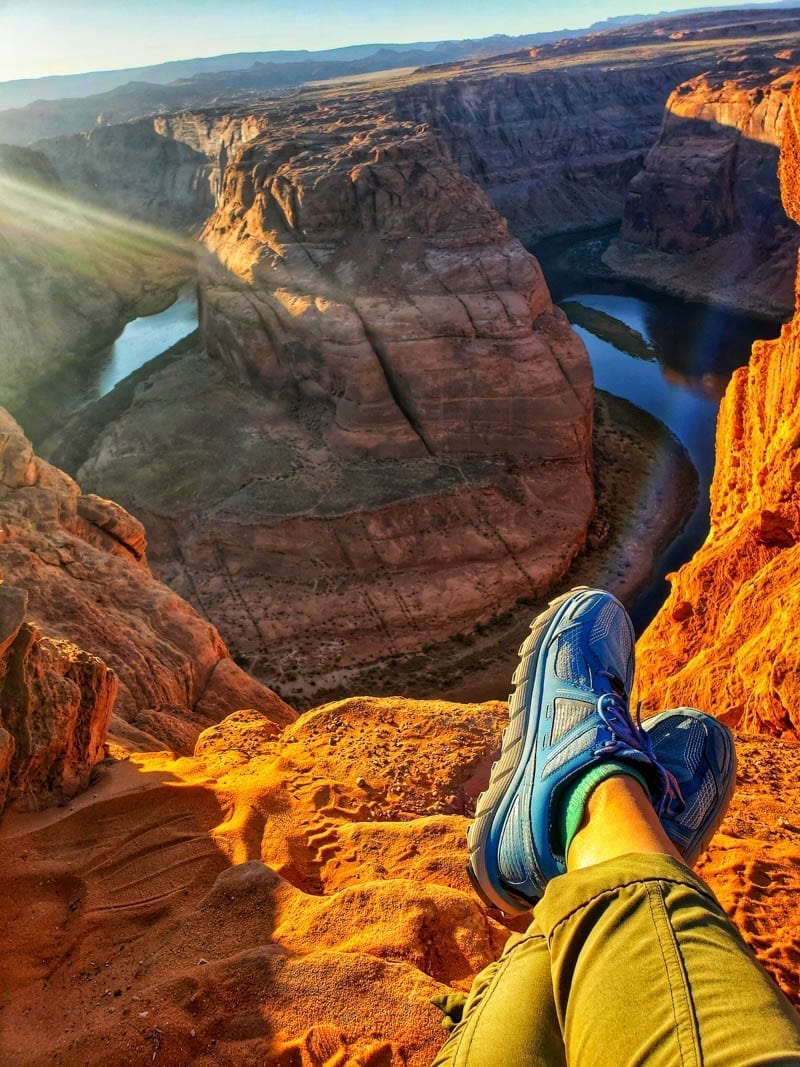 Where to Stay Near Glen Canyon Recreational Area:

Nearby Page, Arizona is centrally located near Horseshoe Bend, the Glen Canyon Dam, and Antelope Canyon. Here are homestays and hotels in the surrounding area:
A Perfect End to a Utah and Arizona Road Trip
My body felt good from a day of solid hiking and wandering along the Utah and Arizona border, so I was ready to hop back in the car for the 2.5-hour drive that would take me away from the border and well into Arizona and my lodge near the south rim of the Grand Canyon.
Search for your Grand Canyon lodging here:
It was a great day for a "perfect-day" Utah and Arizona road trip, and the sun rewarded my efforts with a spectacular sunset witnessed from my windshield. I couldn't wait to get my fourth passport stamp the next day on the South Rim of the Grand Canyon and South Kaibab Trail.
Later, as I settled in, I received a video rebuttal from my friend Jeremy who introduced me to the National Parks Passport. His hilarious response will have me on a stamp mission – challenge accepted, indeed! Stay tuned!

Please don't forget your travel insurance. Especially if, like me, you're road tripping during the pandemic. I always use World Nomads: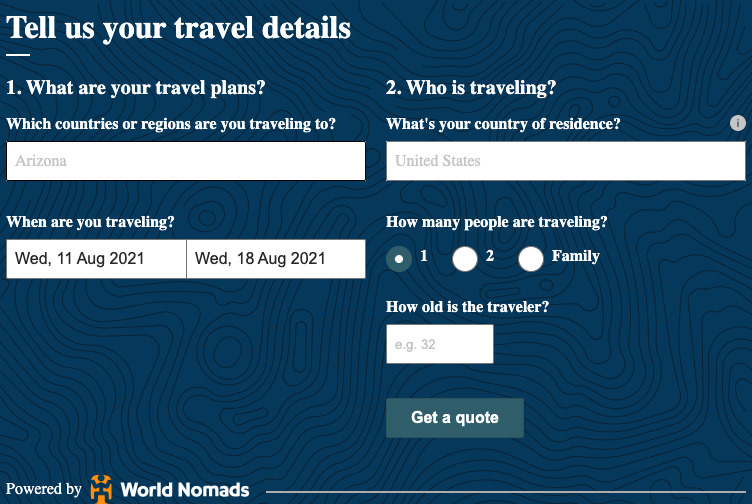 About the Author
Hi! I'm Jen!
I'm a freelance writer and travel blogger who quit my nine-to-five after my fiancé, Jeff, died of cancer at the age of 40. When he died, I realized that life is just too short to delay our dreams. Since my dream was to travel and write, I now travel and write full-time. Today I wear hiking boots instead of heels and collect experiences instead of things.