Hiking Coronado National Memorial
Hey there! This post may contain affiliate links, which means I'll receive a commission if you purchase through my link, at no extra cost to you. Please see my legal page for more details.
Hiking Coronado National Memorial and getting lost taught me a serious lesson.
Always have your hiking survival kit on you!


Let's dive in! Visit here for a map of available accommodations near Coronado and the Arizona ghost town of Bisbee.
Hiking Coronado National Memorial in Video:
When I got quite lost hiking Coronado National Memorial on what was supposed to be an easy outing near the border between the United States and Mexico in Southwest Arizona, I tried hard not to panic. But that was hard.
It was almost as hard as the uphill trail that I needed to climb to get back to the safety of the visitors center after hiking Coronado National Memorial! As the desert heat and mountainous trails took their turns beating me up, I got really nervous as my water supply got seriously low – and then ran out.
Beyond teaching me a very valuable lesson about hiking (we should always prepare for more than we expect!), this beautiful hike provided panoramic views into Mexico and of the Montezuma Canyon.
Check out the above video, a part of my Armchair Travel series, to learn about the Coronado Expedition, see those sweeping views, laugh at me a little as I get lost, and check out the Arizona Ghost Town where I spent the night.
Where is the Coronado National Memorial?
Located in southern Arizona right on the United States border and overlooking Mexico. (Seriously, if not for the barbed wire at the border I would have literally stumbled into Mexico…and I would have been even more lost than I already was!)
Address to the Coronado Visitors Center:
4101 E Montezuma Canyon Road
Hereford, AZ 85615
Where is the Best Hiking at Coronado National Memorial?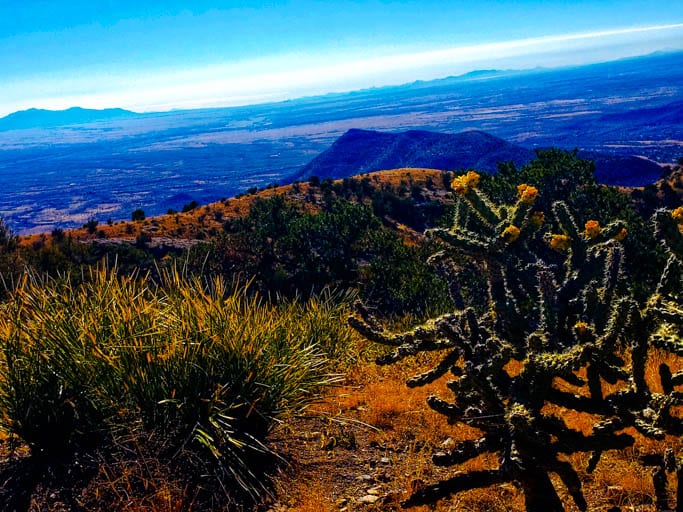 I opted for Joe's Canyon Trail for hiking Coronado National Memorial. Joe's Canyon is the longest trail but not the hardest. It is a 6.2-mile up and back with a winding, well-marked mountainous but moderate trail.
All the hard work is really at the beginning when the trail rises about 1,000 feet in the first mile. But you get really great views of Montezuma's Canyon and the San Pedro River Valley as you climb.
And then the trail starts to really level out and you wind more than you climb.
That's when the views go from remarkable to straight-up panoramic as you get high enough to peer into Mexico and the grasslands of Sonora.
As long as you stay on Joe's Canyon Trail and don't make a wrong turn (like I did!) on your way home, it's a moderate hike.
Does Hiking Coronado National Memorial Mean Hiking through an Actual Memorial?
The Coronado National Memorial says it's a "site of conscience". It's a place to memorialize the Coronado Expedition of 1540 to 1542 and to reflect on the impact – both good and bad – of that first contact between Europeans and Native Americans.
The leader of the expedition, Commander Francisco Vázquez de Coronado, was tasked with three things: find the seven cities of gold that the Spanish believed were gleaming somewhere in this New World; spread the word of God; expand the realm of Spain.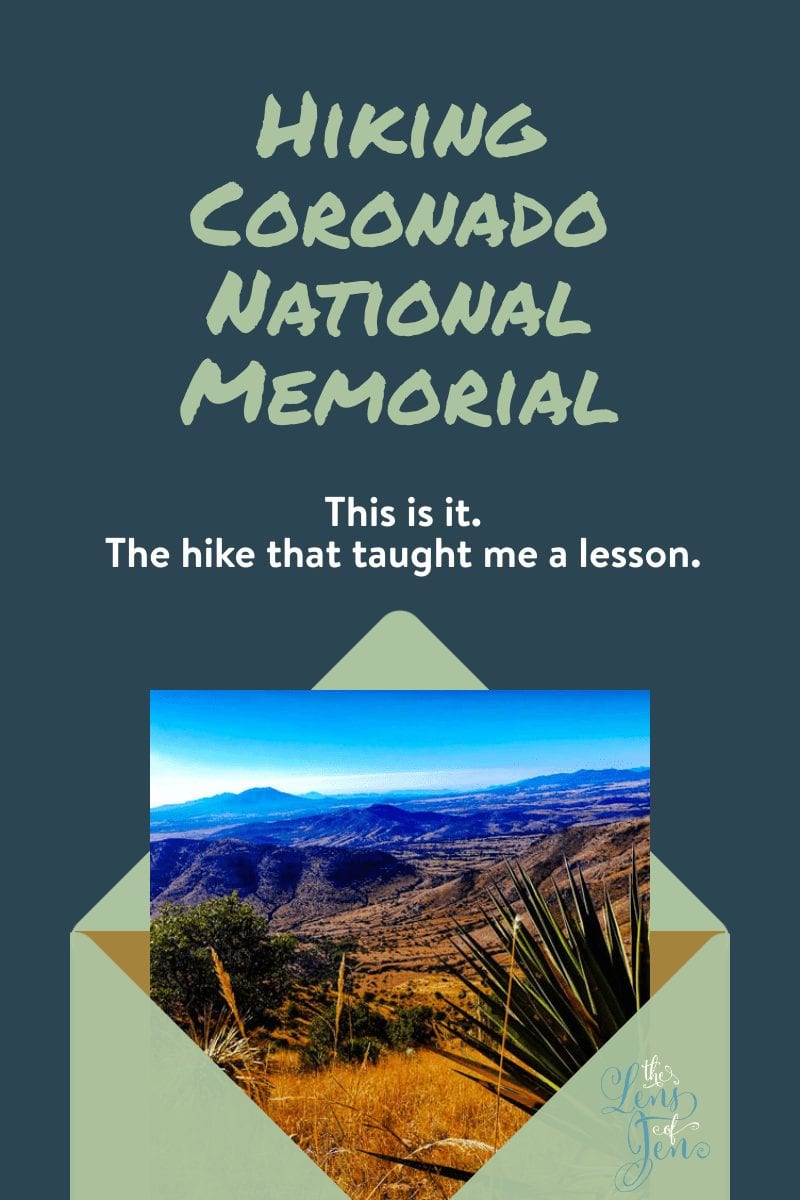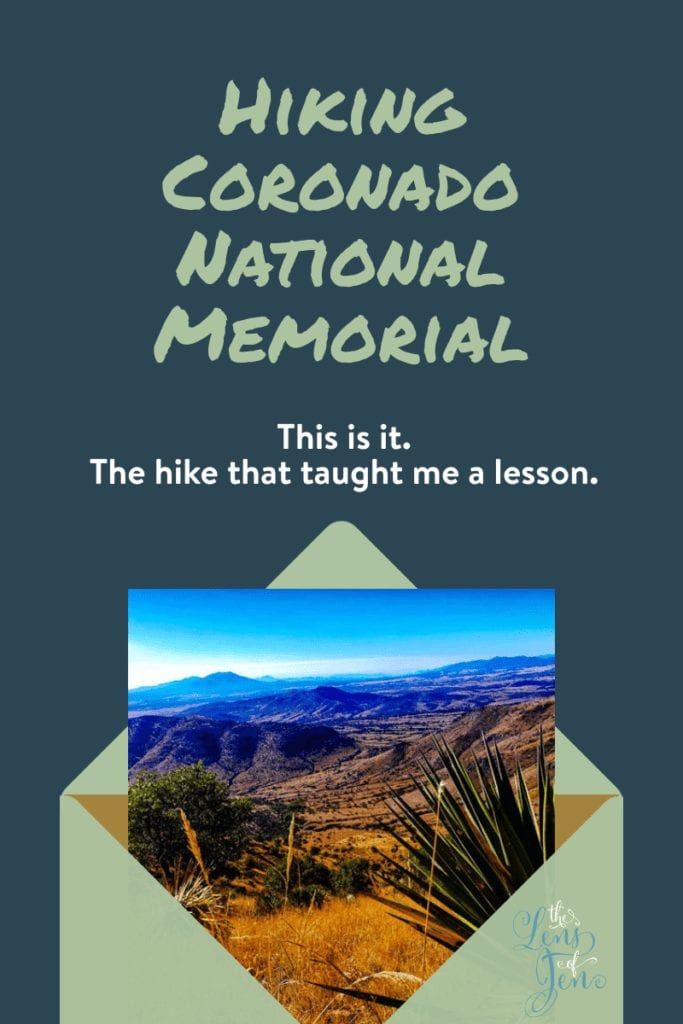 Hiking the Coronado Memorial Means Hiking Through a Site of Conscience
I like that. A site of conscience. Staring across the valley into the green and vast grasslands of Mexico, the Coronado National Memorial is a perfect place to reflect on history.
I reflected on the way this initial expedition, though considered a failure (they never did find those alleged cities of gold) would lead to future explorations that would ultimately change the world. It meant bloodshed for the Native Americans and a dramatic cultural shift (to put it mildly).
It also meant that traditions and histories were shared to create America and to create Mexico and to create the unique cultural experience that is the Southwest United States.
And to think these canyons and hills saw it all.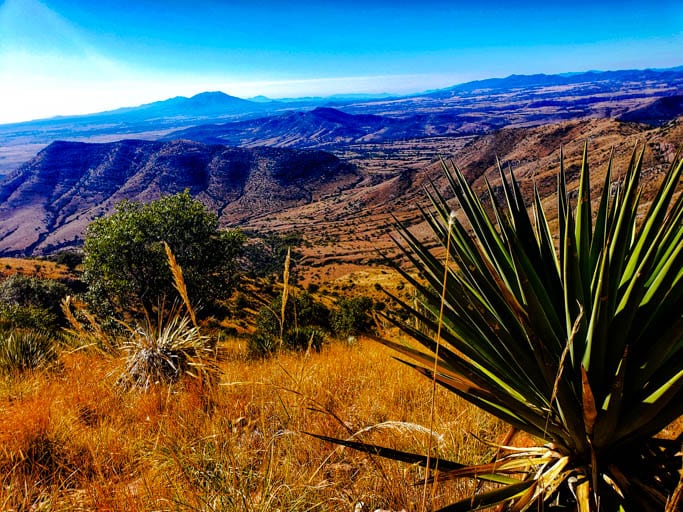 Highlights of Hiking Joe's Canyon Trail at Coronado National Memorial
At the top of Joe's Canyon Trail, you reach Montezuma Pass, an overlook that marks the highest point of Coronado National Memorial.
Look for the little box – which is also a geocache for all you geocachers out there – with a journal inside so that you can share your reflections.
Lessons Learned From a Beginning Hiker
When I walked across Spain on the Camino de Santiago, it was pretty much the first time that I hiked. I didn't have my own backpack; I borrowed my dad's. I still consider myself a beginning hiker.
That doesn't excuse the rather stupid decision I made, though, as I set out on a hike in the desert-like climate of the Coronado National Memorial with just enough water to get by.
The problem was that, upon arriving at the visitor center, I found maintenance working on the pipes of the restroom, which was right near the water fountain.
I figured that the hike wasn't that long, I still had some water in my bag from my previous hike – certainly enough for a moderate six miler – and I would be back to use the restroom and fill up my bag soon.
Oye. Vey. Please, Don't Make This Mistake!
I am writing this more detailed version of my mistake as a plea to you to never do the same thing. Just ask for water. Don't set out with just the bare necessities because you never know when you will get lost.
I didn't even know that I was lost as I headed back down the canyon. It all looked sort of the same to me. That is until I ran smack into the Mexican border, which I had not passed on the way in.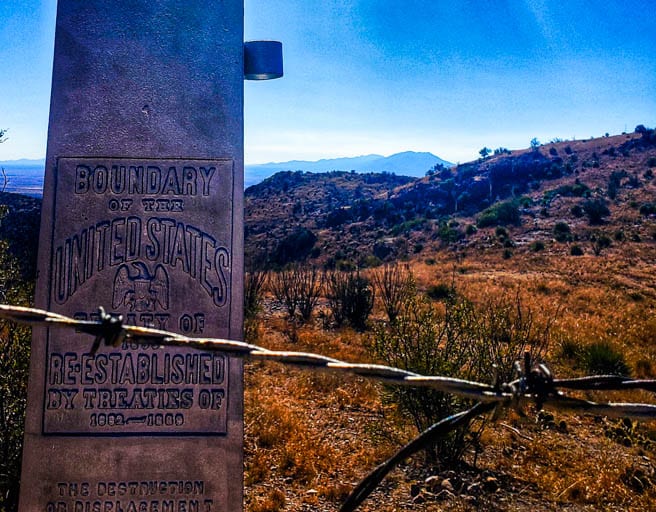 Luckily, I did have a map from the visitors center I'd stopped before hiking Coronado National Memorial, which helped me to understand where I was. Cell service was nonexistent, so there was no Google Maps to call upon.
I had taken a wrong turn and ended up on the Yaqui Ridge Trail, which is rated "difficult". As I started to climb back out of the mess I had created, I was about to learn why it's rated difficult.
This was a hands-to-the-grounds climb at times, much steeper than the initial climb of Joe's Canyon Trail. And that's when I ran out of water.
Now, I knew that I was probably on the right track to get back to Joe's Canyon Trail. That was almost a guarantee. I mean, there weren't that many wrong turns to make and the paper map that I kept nervously checking was pretty clear. But it's still disconcerting to run out of water and not know exactly where you are.
I started having feelings of panic. I had turned off my phone to preserve the battery and perused through my GoPro footage to better familiarize myself with the trail. That's when I finally came across a sign that I had seen before. I knew I was back on the right trail.
Oh, the Relief
I will never cut it close on my water supply again. And I am forever grateful to my dad for supplying me with a little survival kit. The knowledge that I had this kit helped me from panicking further.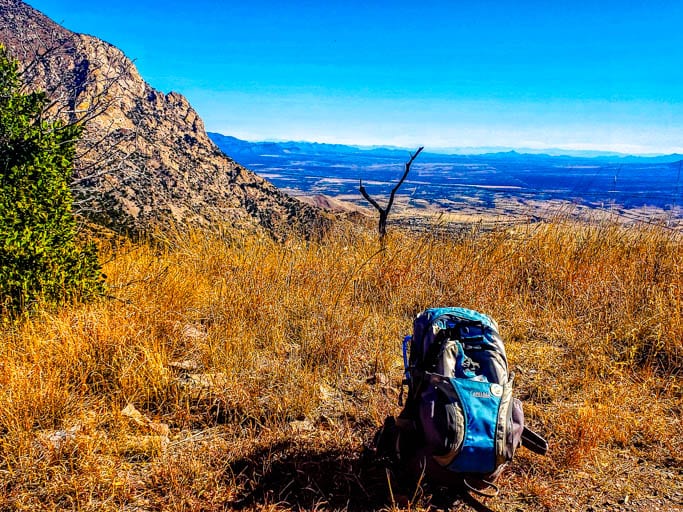 Where to Get Your Passport Stamp at the Coronado National Memorial
Your cancellation stamp for your Passport To Your National Parks book is at the Coronado National Memorial Visitor Center (address at the top of this post) where some of the nicest rangers around will give you a pin, too!
Hiking Joe's Canyon Trail qualifies you for the I Hike for Health program, which includes the pin. I put it right on my backpack (which I also filled up with water right away!)
That pin will always stand as a reminder to me to over-prepare when it comes to water and supplies, even for the most basic of hikes. And also to go to the restroom before setting out. I nearly burst on this hike!
Where to Stay After Hiking Coronado National Memorial
After that mildly harrowing experience of getting lost on the border while hiking Coronado National Memorial, I was ready to relax. So, I headed for Bisbee, Arizona.
The town of Bisbee is about a 30-minute drive east of Coronado National Memorial and 25 miles south of the famed Arizona Ghost Town of Tombstone.
Staying in an Arizona Ghost Town
Bisbee was a boomtown when copper was found here in the late 1800s and was, in fact, the largest town between St. Louis and San Francisco for a time. But then the mines were depleted and closed and, well, it got quiet.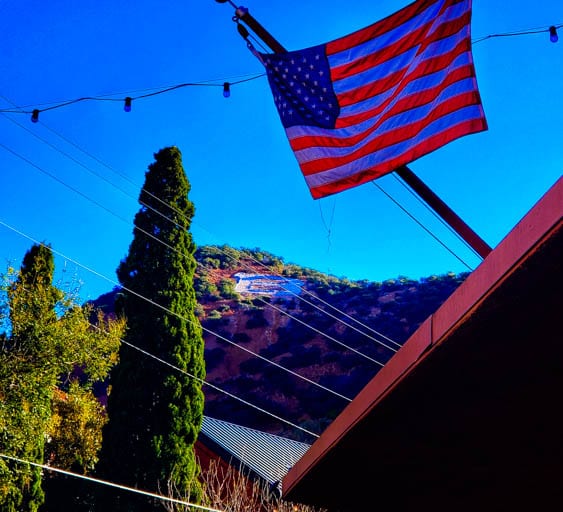 Wandering the streets for a coffee, I found no people and very few places open. The beautiful main street was fun in its own way. I popped into the Bisbee Copper Queen, a boutique hotel rumored to be haunted, and had a look around.
I stayed at the Jonquil Motel, an adorable boutique that was sparkling clean and gave me plenty of places to write in the large backyard with communal tables.
And I had much to write about after the near misadventure that was hiking Coronado National Memorial!
Here's a map of the available accommodations near Bisbee:
About the Author
Hi! I'm Jen!
I'm a freelance writer and travel blogger who quit my nine-to-five after my fiancé, Jeff, died of cancer at the age of 40. When he died, I realized that life is just too short to delay our dreams. Since my dream was to travel and write, I now travel and write full-time. Today I wear hiking boots instead of heels and collect experiences instead of things.