Outdoor Things to Do in Tucson and the Sonoran Desert
Hey there! This post may contain affiliate links, which means I'll receive a commission if you purchase through my link, at no extra cost to you. Please see my legal page for more details.
From petroglyphs to petrified poop, this one-day itinerary in Tucson and the Sonoran Desert is entirely outdoors. My kind of day! Also, it is a socially distanced kind of day.
This day involves a walk along the easy Desert Loop Trail of the Tucson Desert Museum that is dotted with fossils and caves, and an easy walk along the Signal Hill Trail of the Saguaro National Park that is dotted with ancient art and saguaros. Enjoy!
First Outdoor Thing to Do in Tucson: The Sonora Desert Museum
About 85 percent of the Arizona-Sonora Desert Museum is outside, making it the only museum that I know where sneakers are a must! Seriously, while we are all socially distancing, the Sonora Desert Museum is the thing to do in Tucson if you're looking for a fun and educational adventure.
When I visited the museum last year, my friend Marlena and I were greeted by a friendly docent named Warner. He gave us an overview of the museum, tracing his finger along the Desert Loop Trail, which weaves its way through outdoor exhibits and desert gardens.
We set out along the trail and meandered through the gardens, which feature spiky desert plants of all kinds, dinosaur fossils hidden in rocks, and a walk-in bird aviary.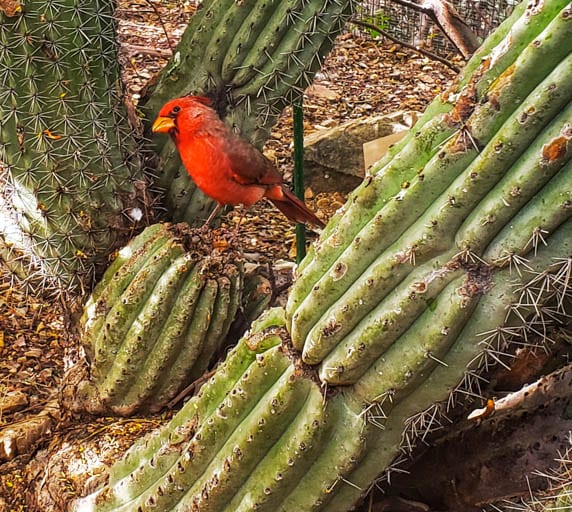 When visiting the Sonoran Desert Museum, you are visiting an outdoor zoo. We saw a fox, river otters, and even javelinas lounging in a pig-like pile. To me, the javelinas bear a strong resemblance to the R.O.U.S. or Rodents of Unusual Size in the classic movie "The Princess Bride". (Check out the above video to see if you agree!)
My favorite part of the Desert Museum was the cave where a sloth skeleton sits – nearly perfectly preserved – beneath fossilized bats. Yep, fossilized bats still clinging from the cave ceiling. It's the bats and there – urrr droppings – that contributed to the near-perfect preservation of the sloth.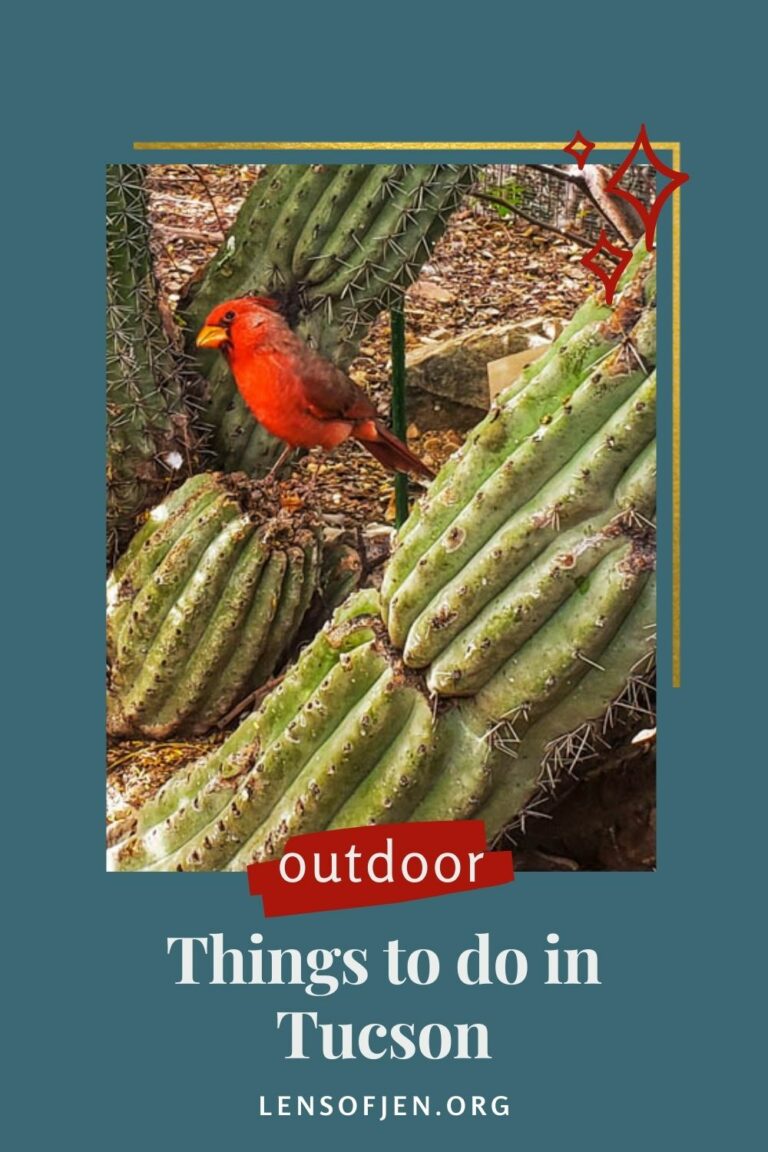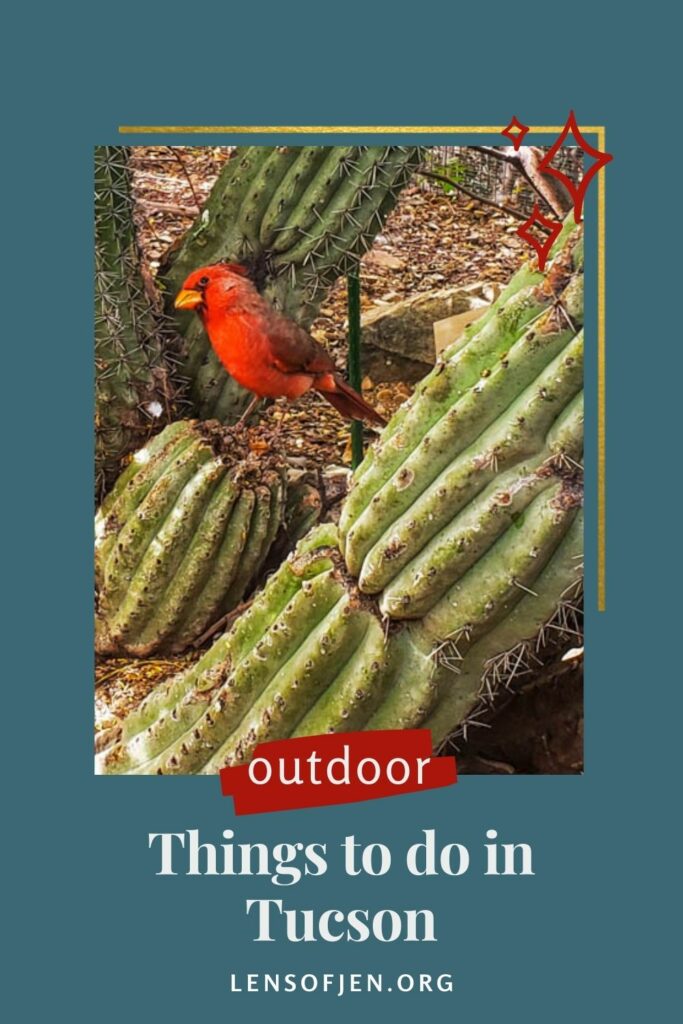 COVID-19 precautions for the museum include advance ticketing only, so be sure to snag your tickets here before you go. Tickets are $23.95 for general admission and $11.95 for 12 and under.
Second Outdoor Thing to Do in Tucson: Visit Saguaro National Park West
Just down the street from the Arizona-Sonora Desert Museum is the Red Hills Visitor Center of Saguaro National Park West. This is where you can get a stamp for your National Parks Passport!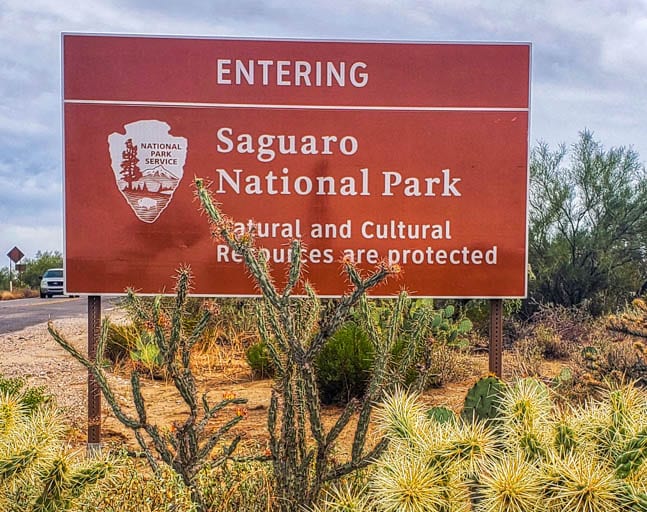 Saguaro National Park is divided into two districts that sit on either side of Tucson and are home to the towering saguaros that dot every Western movie set. Despite their ubiquitous presence in movies, saguaros are native only to the northern Sonoran Desert.
Fun fact: Though the towering saguaros of the Sonoran Desert can grow to over 40 feet tall over the course of 150 years, most of their root systems sit just inches below the surface!
Walking Signal Hill Trail in the Saguaro National Park & Sonoran Desert
Saguaro National Park West is also home to the artwork of the southwestern United States: petroglyphs. Looking for petroglyphs the perfect outdoor thing to do in Tucson.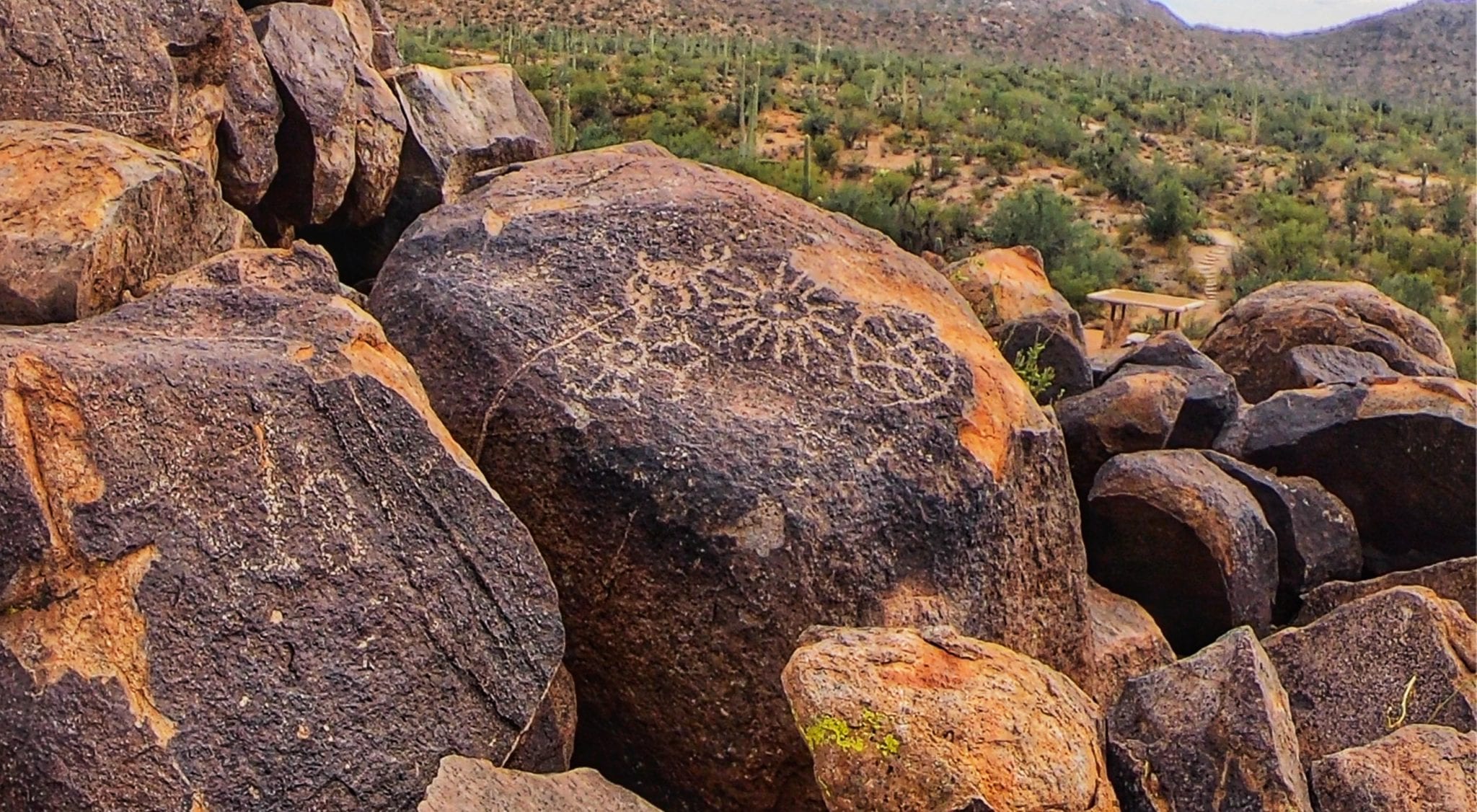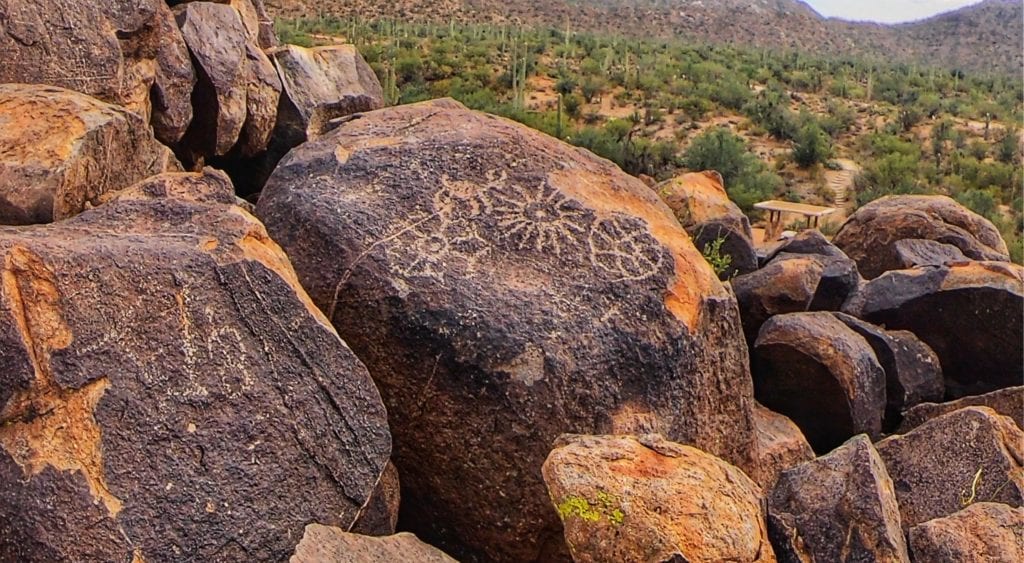 Carved and etched into the rock and sandstone an estimated 800 years ago by the people who called the wild and seemingly inhospitable Sonoran Desert home, it is unknown whether these pictures were religious symbols, directional signs, or, simply, ancient graffiti.
We headed for the Signal Hill Petroglyph Site near the Signal Hill picnic area. There we found the short Signal Hill Trail, our second short and educational walk of the day. The up-and-back trail revealed many examples of the ancient rock art you will see on a visit to the Sonoran Desert.
This artwork completed our perfect outdoor day in Tucson.
Follow these links for all you need to know about the Tucson Desert Museum and for Signal Hill Trail in Saguaro National Park West.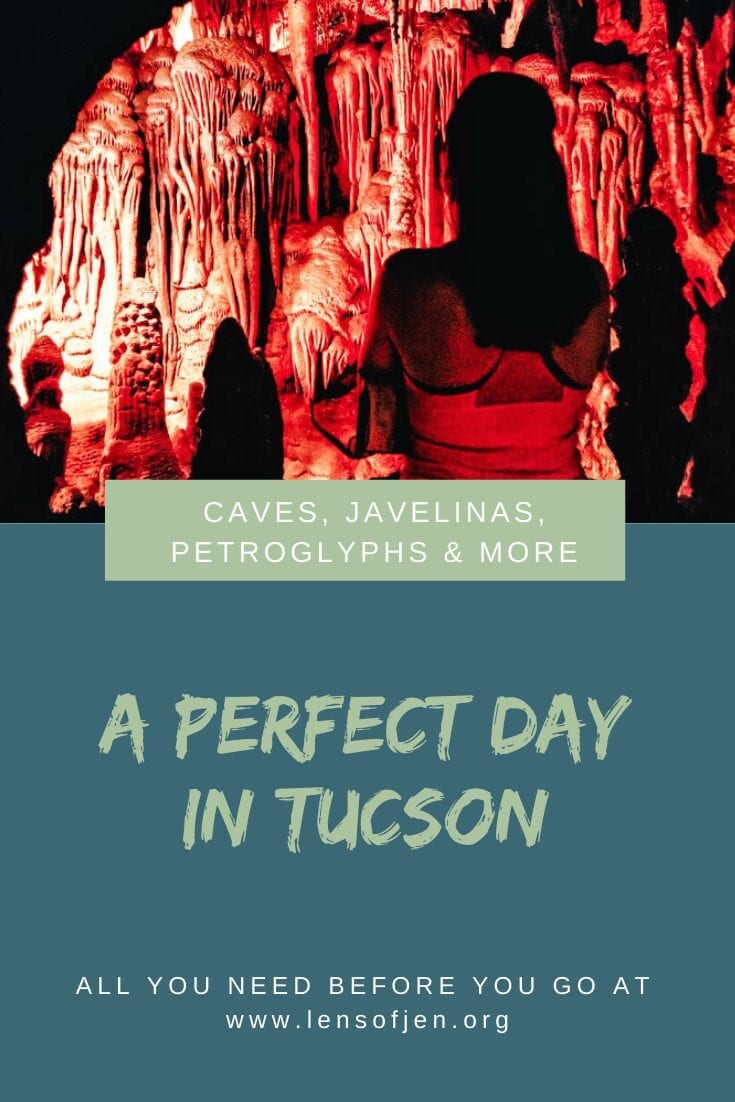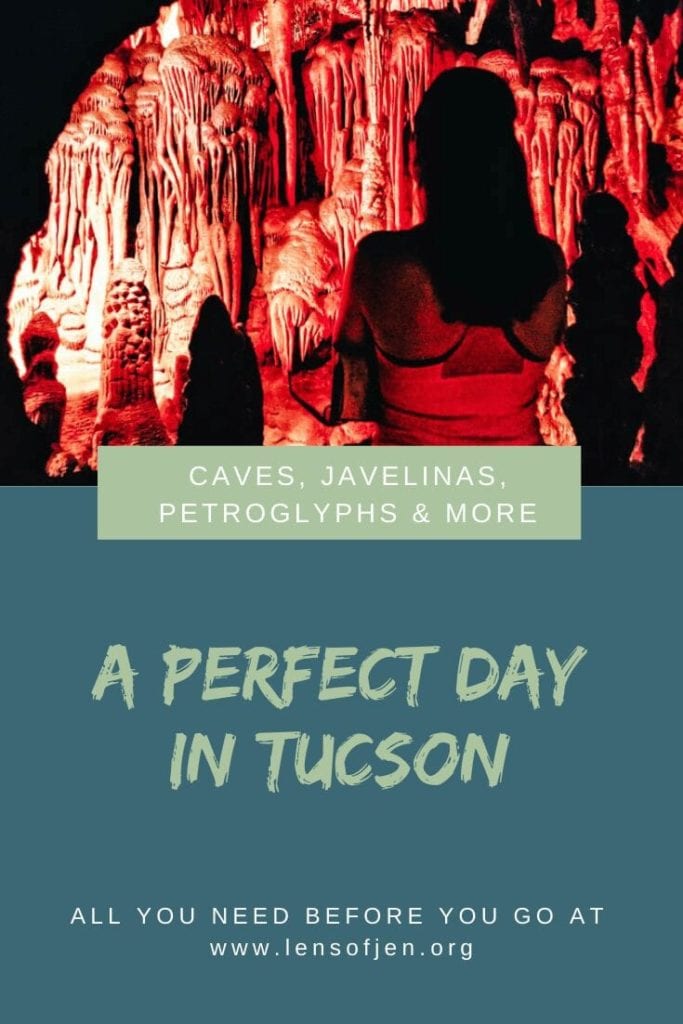 About the Author
Hi! I'm Jen!
I'm a freelance writer and travel blogger who quit my nine-to-five after my fiancé, Jeff, died of cancer at the age of 40. When he died, I realized that life is just too short to delay our dreams. Since my dream was to travel and write, I now travel and write full-time. Today I wear hiking boots instead of heels and collect experiences instead of things.