Hiking the South Kaibab Trail to Skeleton Point (Updated 2021)
Hey there! This post may contain affiliate links, which means I'll receive a commission if you purchase through my link, at no extra cost to you. Please see my legal page for more details.
If the Grand Canyon is on your bucket list but you only have a short amount of time, hiking the South Kaibab Trail to Skeleton Point is a perfect day trip.
One of the most iconic day hikes of the Grand Canyon, the South Kaibab Trail has plenty of convenient turnaround points. If you have half of a day as I did, the turnabout at Skeleton Point provides you with a challenging workout alongside astounding views.
Here's where we are exploring:
For a map of available homestays and hotels during your trip, visit here.
Related: Visiting Horseshoe Bend
Let's dive in!
First Stop When Hiking the South Kaibab Trail: Ooh Aah Point
Because the South Kaibab Trail is such a popular trail, I worried that there would be a lot of people, but, for this early November hike, there were very few people on the trail.
There were only a few places where I had to wait for other hikers, but one of those places was at Ooh Aah Point, the first turnaround spot when hiking the South Kaibab Trail. I waited my turn to clamber onto the rocks at the lookout point and it was certainly worth it.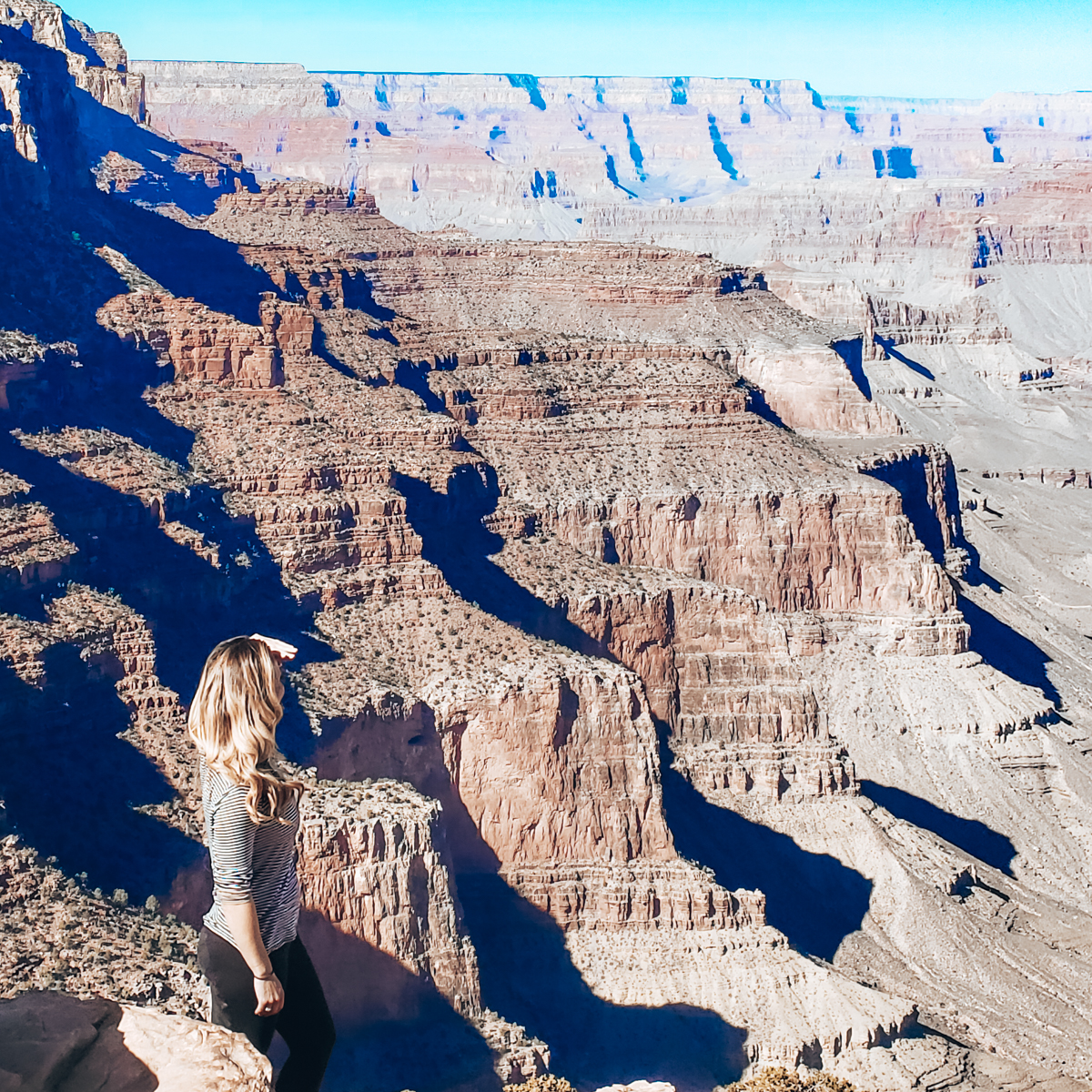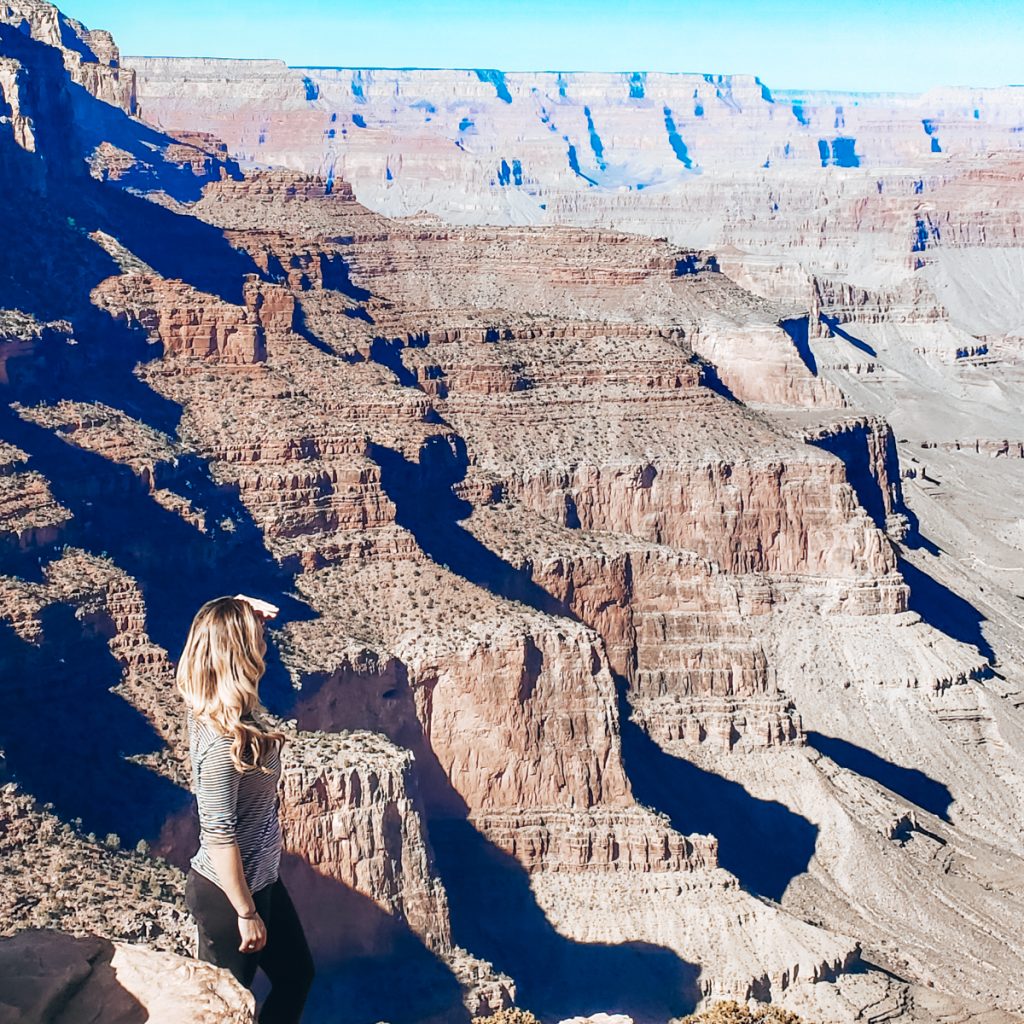 In the end, I was glad for the little line. Because the person behind me offered to take a picture of me. And he captured this shot that I seriously love from Ooh Aah Point on the South Kaibab Trail.


The aptly named Ooh Aah Point is just less than a mile or 1.4 kilometers from the trailhead so it's a great place to turn around if you want a quick and moderately difficult hike. I think it would take about an hour down and back depending on how long you have to wait in line at the point.
Fun Fact: The Colorado River carved the Grand Canyon after the extinction of the dinosaurs, but the rock that was exposed from the river's handiwork is from far before dinosaurs even existed.
Next Stop on the South Kaibab Trail: Cedar Ridge
An Oasis while hiking the South Kaibab Trail to Skeleton Point!
Another .6 miles or a kilometer beyond Ooh Aah Point will take you to Cedar Ridge. It's like a little gathering place with people and horses and bathrooms.
I had lunch here on my way back up as I really needed the rest and the fuel.
Hiking South Kaibab Trail All the Way to Skeleton Point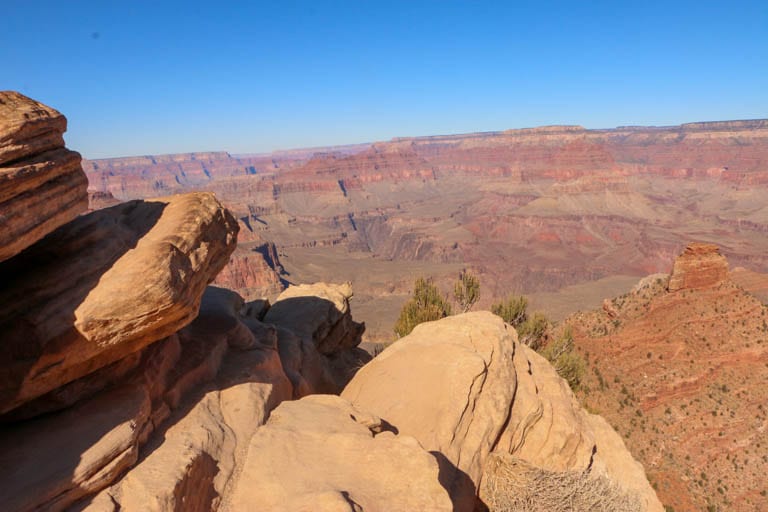 Skeleton Point is about 1.5 miles or 2.4 kilometers down from Cedar Ridge.
Heading three more miles down to the river would be quite the adventure, but there you would find the so-called "basement" rocks of the canyon that are an unfathomable 1.84 billion years old.
But I turned around at Skeleton Point and found it a very challenging but satisfying hike back to the rim.
I felt like I really earned the cancellation stamp I collected for my U.S. National Parks Passport!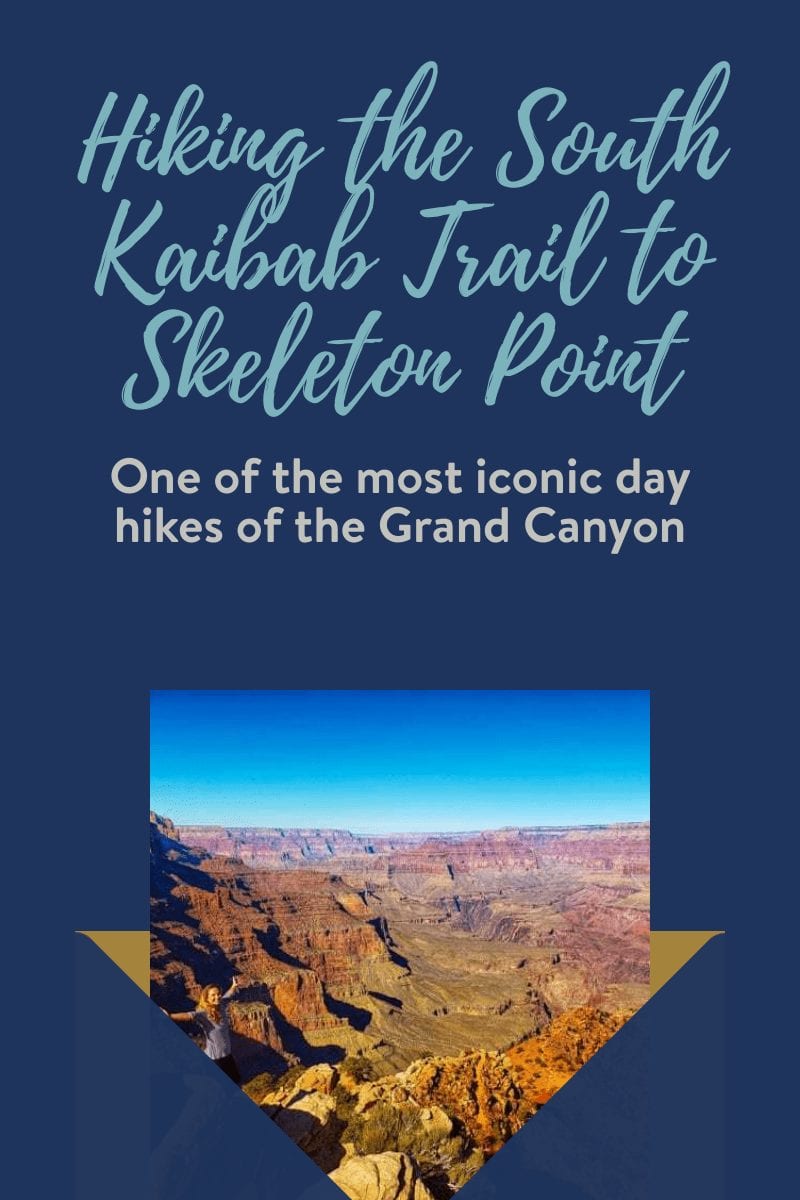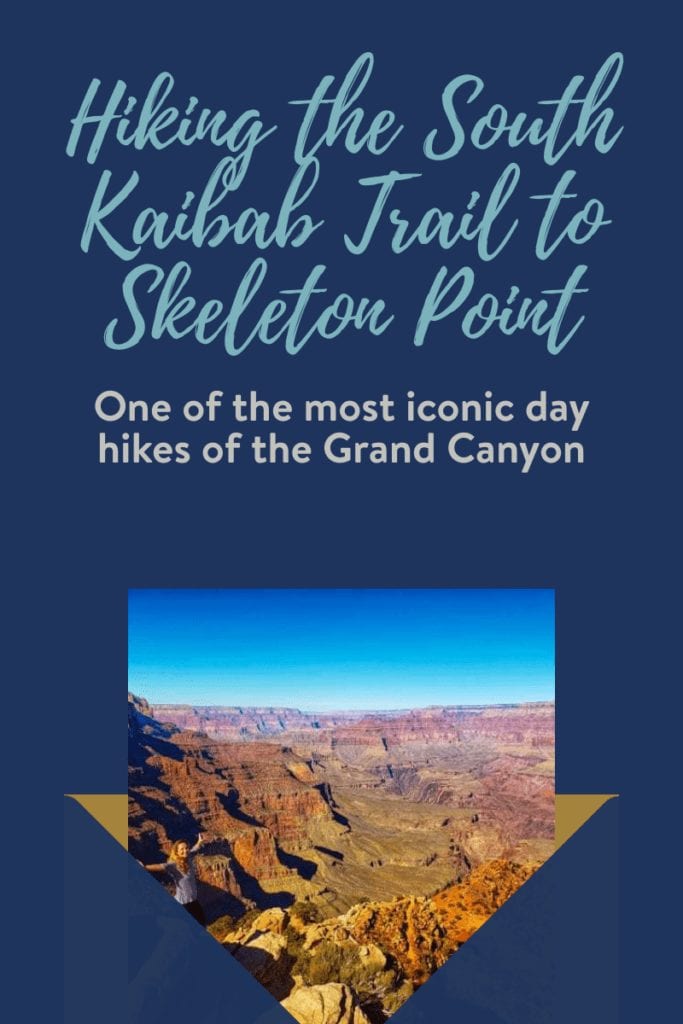 Just the Facts: Hiking the South Kaibab Trail to Skeleton Point
Address for South Rim Grand Canyon Village
Get your National Park Passport stamp at the Visitors Center at the South Rim Grand Canyon Village: S Entrance Rd, Grand Canyon Village, AZ 86023
From there hop the orange shuttle headed eastbound to the South Kaibab Trailhead.
Length of the South Kaibab Trail to Skeleton Point
The hike to Skeleton Point is six miles total / 9.5 kilometers total. Look at it this way: three relatively easy miles down and three challenging miles up!
Hiking the South Kaibab Trail in its entirety is 6.5 miles down to the river where some people camp before joining up with the North Kaibab Trail and hiking out via the North Rim. This is definitely on my bucket list.
Time needed to hike the South Kaibab Trail to Skelton Point
Four to five hours. It took me four and I stopped for lunch at Cedar Point and stopped again for a short meditation. But it would take longer on a day when the trail is busier (especially when you get stuck behind the horses and mules as I did!)
Difficulty level
Hard. I'm not going to lie. (But it's doable!)
Elevation change
The elevation change from the rim to Skeleton Point is about 2,000 feet. Easy on the way down…hard on the way back up!
Tips for hiking the South Kaibab Trail to Skeleton Point
It's super important to check for the latest information before you go. The Grand Canyon's latest information on trail openings is here.
I found it really helpful to stop at the ranger station at the visitor center where I was provided with maps and advice on which trail to take and what shuttle would get me there.
Bring water. I know this sounds obvious, but on the South Kaibab Trail to Skeleton Point, there is nowhere to get water so you must bring your own. When I hiked the trail in November, it was cold at the rim and it was seriously warm as I got nearer the river.
Lather up: Don't forget the sunscreen. It really heats up down there.
Pit stops on the trail
There are bathrooms at Cedar Point and it's also a really nice place for a trailside lunch.
Best time of year to hike the South Kaibab Trail
I found November to be ideal. The weather was cool enough for a stocking hat up top and warm enough for a t-shirt at Skeleton Point. The crowds were minimal.
Daytime temperatures remain cool from March through May and September through November. I would avoid the summer season if possible due to major crowds and excessive heat.
Where to stay near the South Rim entrance
I once stayed in a hotel near the South Rim in Tusayan, AZ, which was an easy jumping-off point to the park and the South Kaibab Trail. And I once stayed at the Mather Campground inside the park, which was ideally located.
If the campground is full (which is common), there actually aren't that many options for hotel stays, so you may want to search both hotels and apartment rentals. This way you get a whole house with a kitchen! This map will help you search for both hotels and rentals that are available on your dates:
Where to eat at the South Rim of the Grand Canyon
Right now it is really important to come prepared with food when you enter the South Rim area. Due to the pandemic, many of the food options in the park are closed. And I had such a terrible experience at the El Tovar Dining Room that I absolutely cannot recommend it.
That pretty much leaves the food truck or the overpriced grocery stores. If you plan to eat inside the park, pack your own food.
There are a few dining options in Tusayan that I recommend. (See map at the top of this post.)
Latest details from the Grand Canyon
Click here for the latest details directly from the Grand Canyon National Park and pertaining to openings at the visitors' centers and shuttles and trailheads, including the South Kaibab Trail on the South Rim.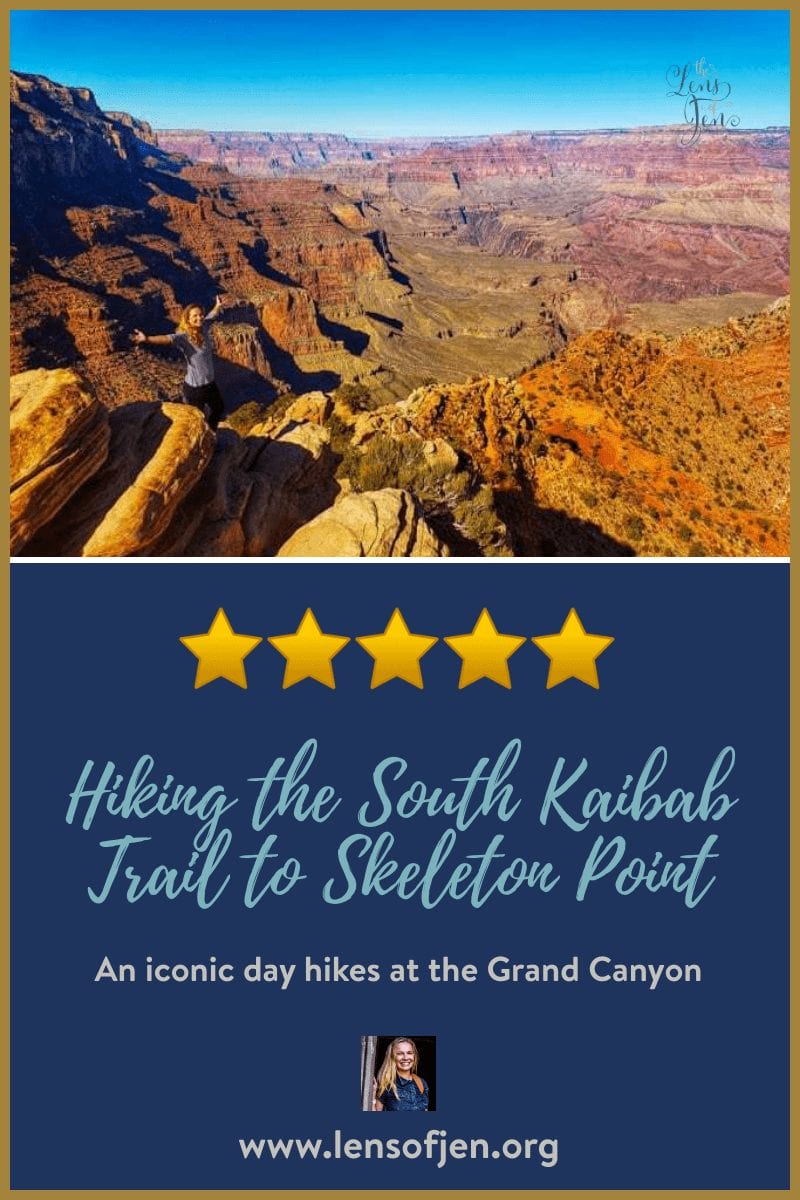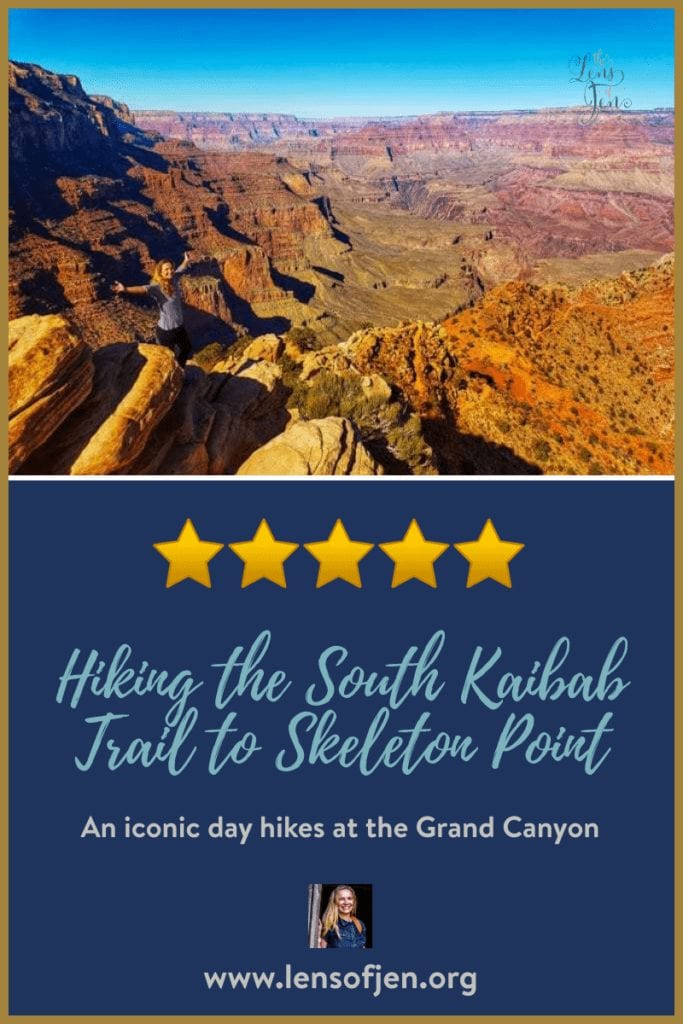 Don't forget your travel insurance!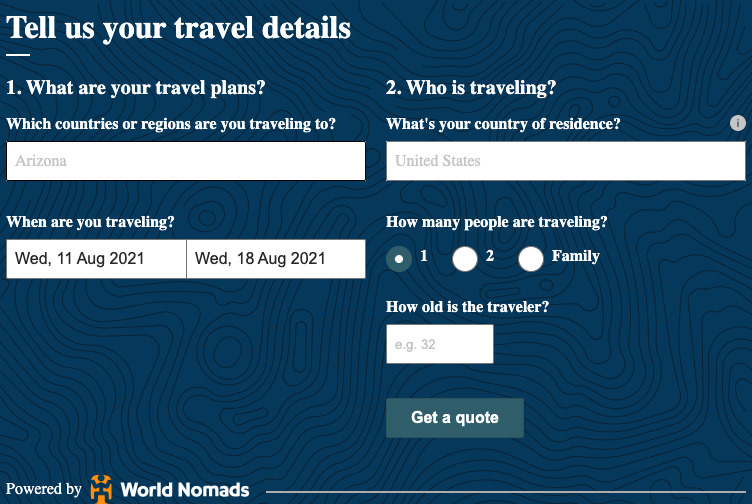 About the Author
Hi! I'm Jen!
I'm a freelance writer and travel blogger who quit my nine-to-five after my fiancé, Jeff, died of cancer at the age of 40. When he died, I realized that life is just too short to delay our dreams. Since my dream was to travel and write, I now travel and write full-time. Today I wear hiking boots instead of heels and collect experiences instead of things.