This is where to find Petroglyphs at Saguaro!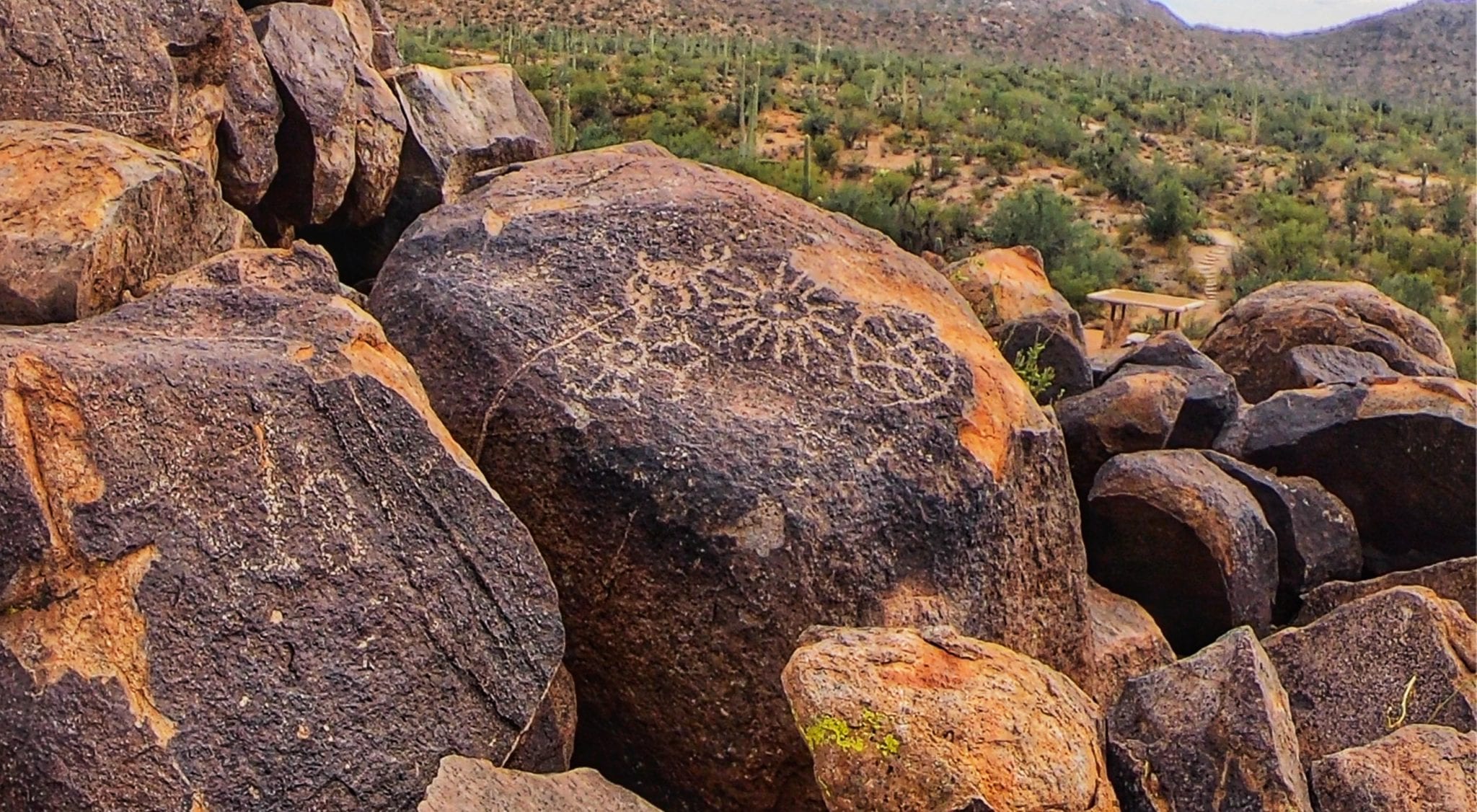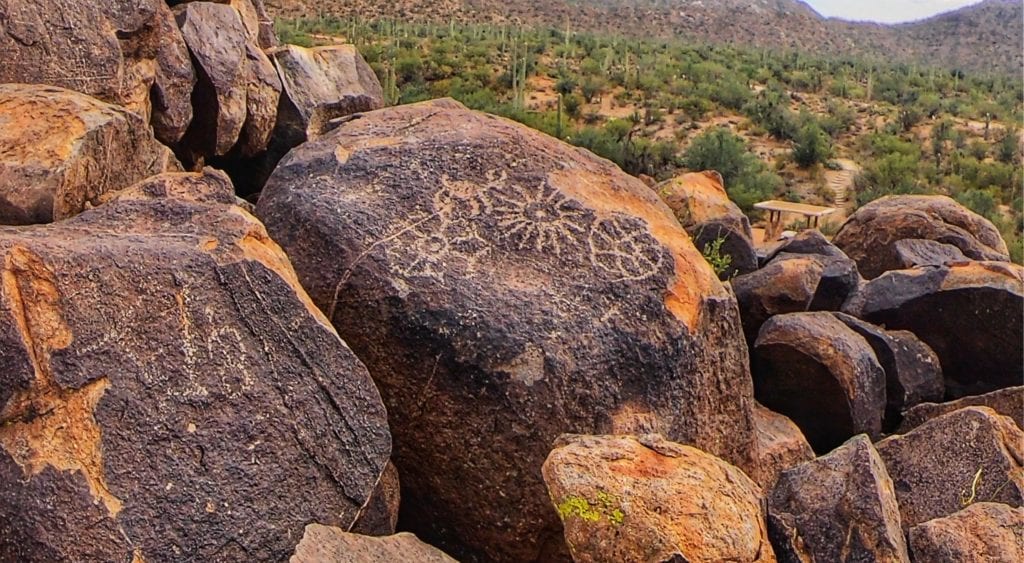 This ancient graffiti of the southwestern United States is so fun to find. At Saguaro National Park West, you can see the spirals, animals, and squiggly lines etched and scraped into the rocks by the prehistoric Hohokam while on this easy stroll.
Signal Hill Trail in Saguaro National Park West
Less than 0.5 miles roundtrip, the Signal Hill Petroglyph site is a modest climb with dozens of petroglyphs lining the path.
It's unknown whether petroglyphs were religious symbols, directional signals, or simply decorative.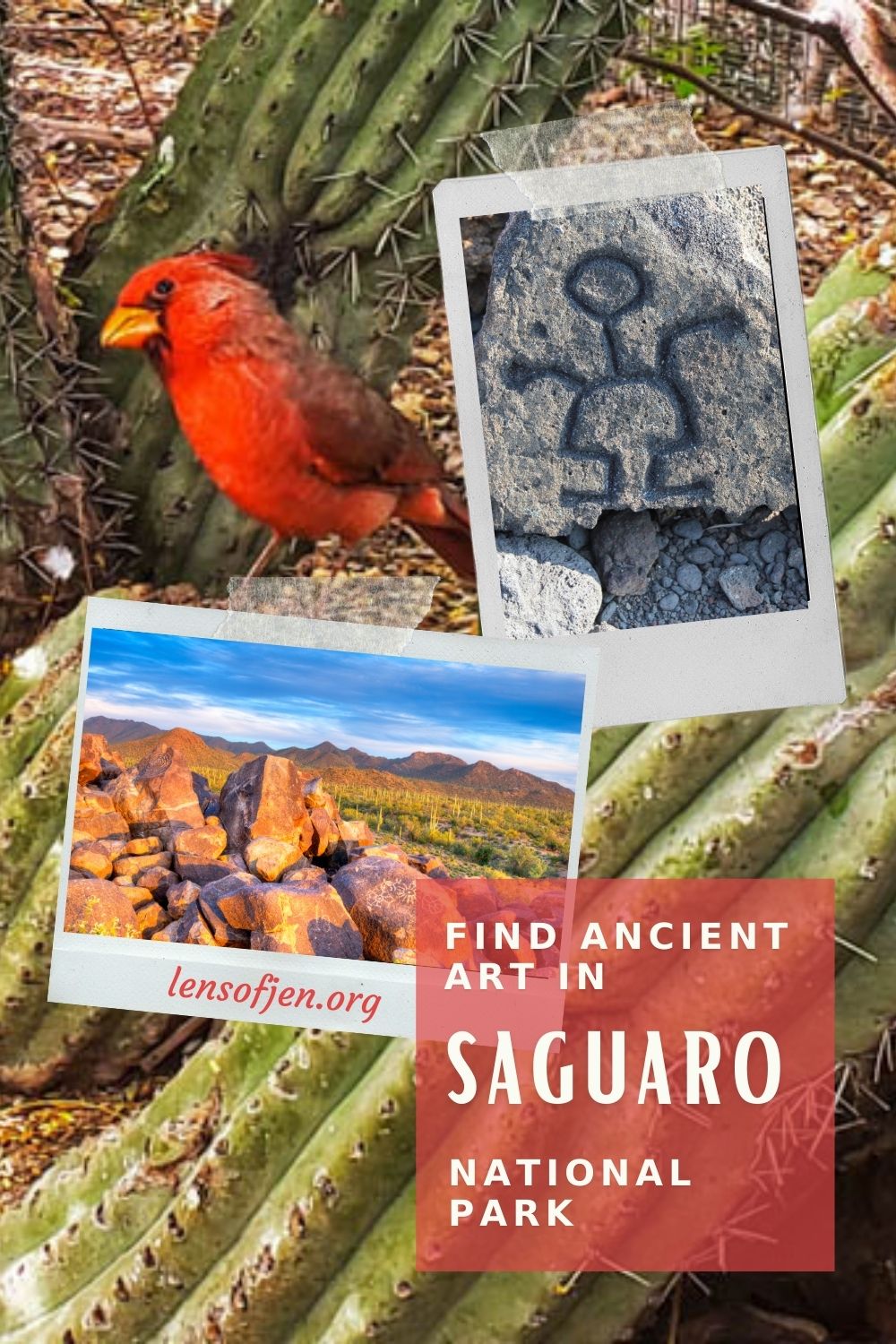 Whatever the reason, the rock art at Saguaro National Park stands the test of time at an estimated 800 years old.
Quick Facts on Finding Petroglyphs in Saguaro National Park
Location of Signal Hill Trail and the petroglyphs in Saguaro:
Get your National Park Passport stamp at the Red Hills Visitors Center (located at 2700 N Kinney Road in Tucson) before heading to the Signal Hill picnic area off of Golden Gate Road in Saguaro National Park West.
Length of Signal Hill Trail in Saguaro National Park:
Less than 0.5 miles roundtrip
Time it Takes to Walk Signal Hill Trail to Find the Petroglyphs of Saguaro:
A quick 30 minutes!
Difficulty Level of Signal Hill Trail in the Saguaro National Park:
SUPER Easy
Where to Stay Near Saguaro National Park
Best to stay in nearby Tucson for this adventure!
Your Fun Fact on Saguaro National Park:
The slow-growing saguaro (pronounced suh-wahr-oh) may reach 40 feet tall (plus!) but its root system reaches only four inches into the ground with the exception of a single long taproot.
Combine your search for petroglyphs at Saguaro National Park with a trip to the Arizona-Sonora Desert Museum down the street to make for a fun day in the Sonoran Desert:
With towering saguaros that are native only to the northern Sonoran Desert, the Saguaro National Park is a beautiful and unique place for an Arizona desert hike. Enjoy!
Oh, and make sure you have your essential hiking kit for your backpack before you go!

For more on Arizona destinations visit here. To explore more USA National Parks visit here. And if you like travel that combines history like this one, visit this travel and history page for more inspiration or walkabouts and strolls around the world here! Happy travels!