Best Time to Visit Antelope Canyon in Arizona
Hey there! This post may contain affiliate links, which means I'll receive a commission if you purchase through my link, at no extra cost to you. Please see my legal page for more details.
It's one of the natural stars of Instagram. But what is the best time to visit Antelope Canyon to get your perfect shot?
Antelope Canyon was a must-stop for me on a road trip through southern Utah and northern Arizona where the upper and lower canyons are a kaleidoscope of color thanks to the natural light that shines down into the canyons, following the twisting and turning path carved from centuries of rushing water through sandstone.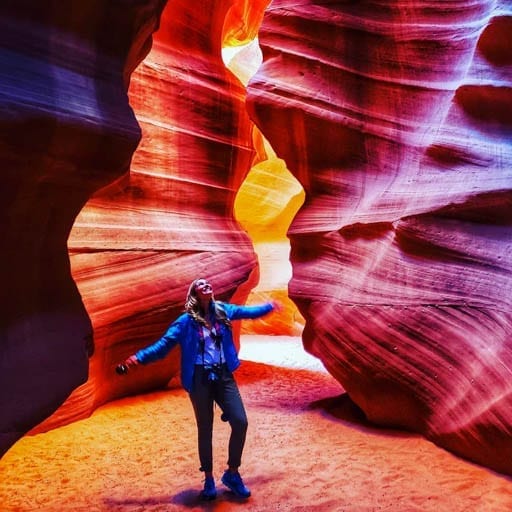 Located just outside of the Glen Canyon National Recreation Area on Navajo Nation land, the canyons require a guide to enter and it's best to book in advance. In fact, it may be necessary to book in advance.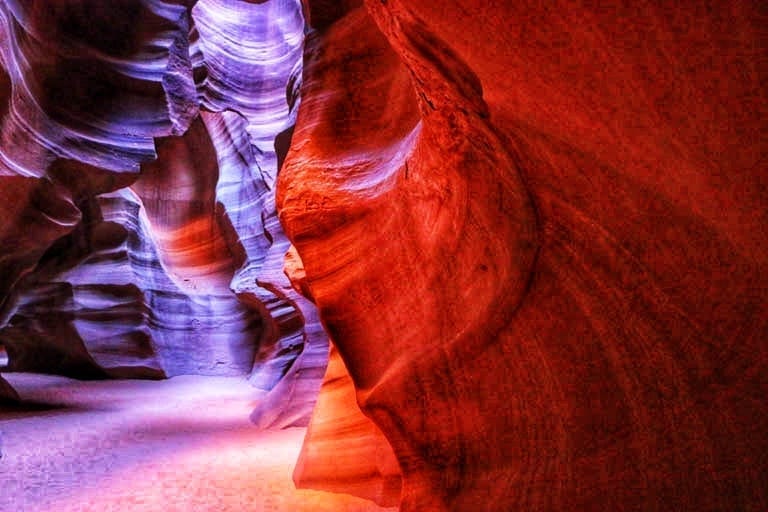 There is at least one tour company offering spots for last-minute walk-ins, and I was lucky to snag the last spot with Antelope Canyon Navajo Tours for $60 (cash only).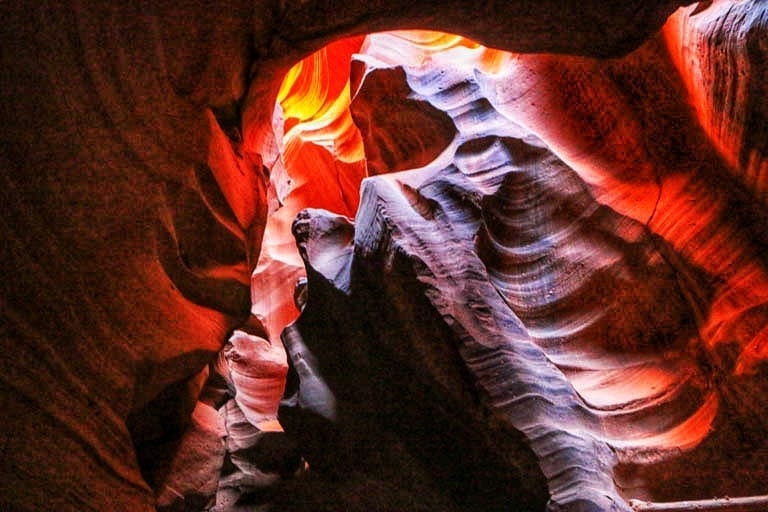 What's the Best Time Visit Antelope Canyon?
My guide said that there are magical light beams that occur only at mid-day between mid-March and mid-October. The downside is that it's a really busy time of year to visit.
I was able to sneak in without booking a tour in advance because it was the low season, which takes place November through February. There were no light beams, but there were also no crowds.
Visiting Antelope Canyon, the Quick Stats:
Location of Antelope Canyon
The border of Glen Canyon National Rec Area at Antelope Canyon Navajo Tribal Park, three miles east of Page, AZ
Should You Book a Tour When Visiting Antelope Canyon?
You actually have to be with a tour guide when visiting Antelope Canyon, so it's a really good idea to book in advance.
I visited in November and had no trouble sliding into the next tour that was taking off with Antelope Canyon Navajo Tours. The cost was $60 (cash only) and the tour guide was very good.
Again, I think it's best to book in advance, but if you're googling this on your phone on the way to Antelope Canyon, then look up Antelope Canyon Navajo Tours for last-minute bookings.
Length of the Hike when Visiting Antelope Canyon
Less than one mile for the upper canyon
Time it Takes to Visit Antelope Canyon
One hour
Difficulty Level of the Hike
Easy
Even When it's the Best Time to Visit Antelope Canyon, Follow These Important Tips:
It gets pretty cool and dark in the canyon. Bring a sweater during the cooler months.
Also, be sure to follow the advice of your guide carefully. It is dangerous to visit Antelope Canyon during heavy rains.
Where to Stay When Visiting Antelope Canyon
The advice for accommodations is the same as for visiting the neighboring attraction Horseshoe Bend. Nearby Page, Arizona is centrally located to Antelope Canyon as well.
ENJOY!


About the Author
Hi! I'm Jen!
I'm a freelance writer and travel blogger who quit my nine-to-five after my fiancé, Jeff, died of cancer at the age of 40. When he died, I realized that life is just too short to delay our dreams. Since my dream was to travel and write, I now travel and write full-time. Today I wear hiking boots instead of heels and collect experiences instead of things.