A Walking Tour of Prague: A Wishful Walk Through Loss
Hey there! This post may contain affiliate links, which means I'll receive a commission if you purchase through my link, at no extra cost to you. Please see my legal page for more details.
This walking tour of Prague is a free and self-guided tour. When I walked this route, it was just two months after my partner died of cancer, and I was walking in his footsteps. It turned out to be a beautiful and wishful walk through loss.
When I first decided to travel to all of the cities that my partner saw during his European adventure in his last year of life, I was pretty excited that Prague was on the list.
Because I. Love. Prague.
It is a city where the beer is cheaper than water, where bars are guarded by big-busted ghosts, and where food is…everywhere. By food, I mean the stick-to-your-ribs, cabbage-soup-in-a-bread-bowl, whole-grilled-pig kind of grub.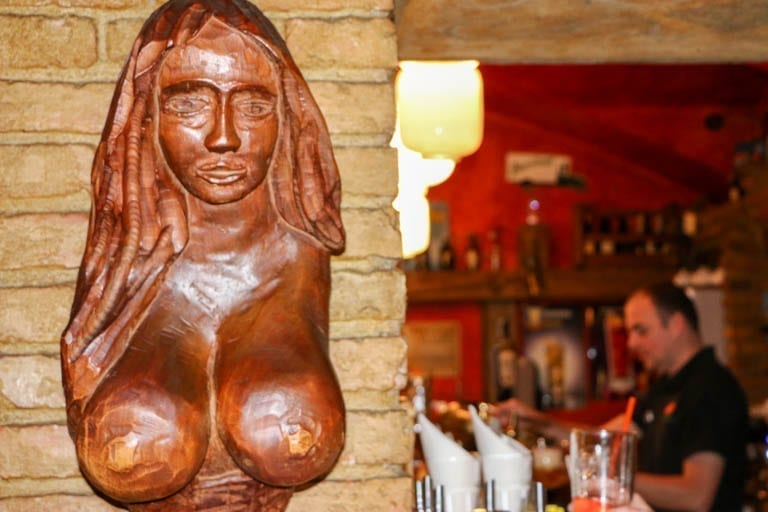 The Czech people are a hardy bunch. They love to eat outside – even when it's really cold, as it was when I last came to visit the City of a Hundred Spires.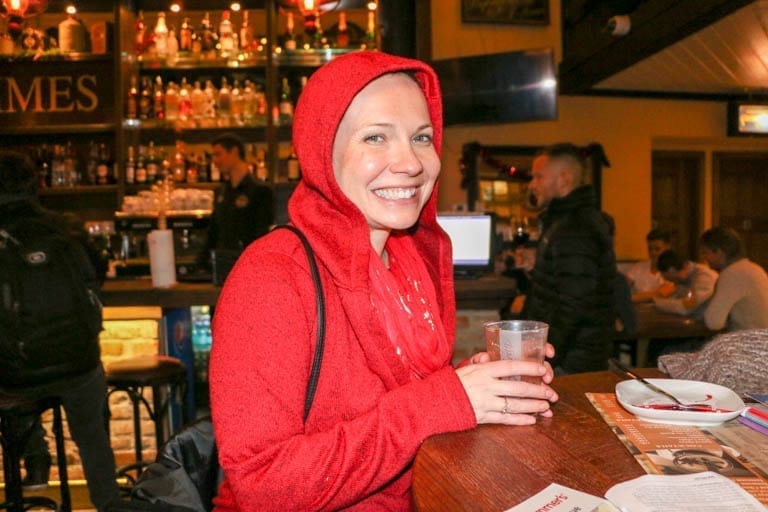 Lucky for me, on my second visit to Prague, it was summer and the weather was perfect. And, to properly follow in Jeff's footsteps meant that I just had to partake in a 10-course, rooftop meal, complete with a wine pairing. Hard to be me, right?
When Jeff traveled through Europe, he and his family made a point to begin their exploration of each city from somewhere high in the sky. They felt that getting a good view of the place would help them learn the place.
And our first stop on this walking tour of Prague certainly comes with a view!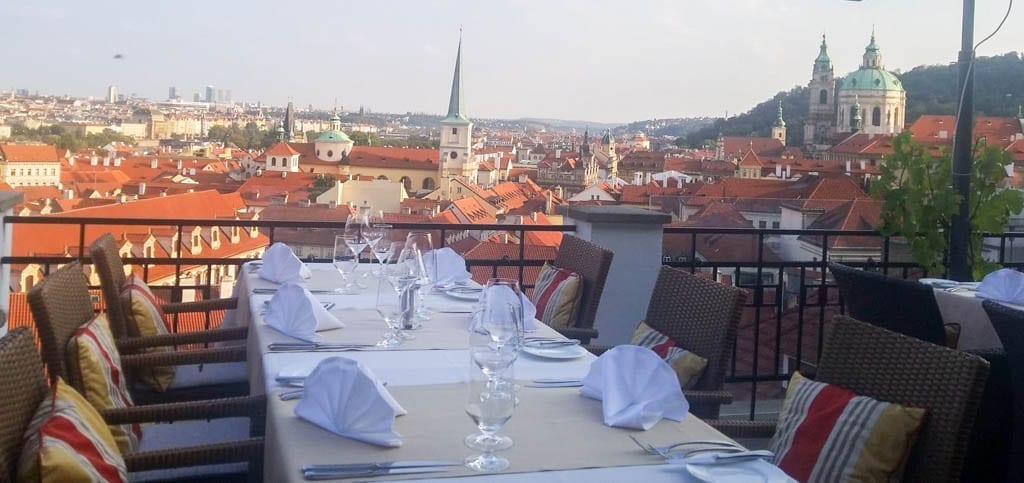 Start at the Golden Well Hotel on this Walking Tour of Prague
Ok, so you don't have to start with a 10-course meal at the five-star Golden Well Hotel. You can just get cocktails on the terrace of the restaurant, which is open daily starting at noon.
But if you can spring for the tasting menu at Terasa U Zlate studne, DO IT!
In full disclosure, I actually got a bit nervous about this experience. You see, I've gotten good at eating alone, but a 10-course meal means I need to be really good at eating alone.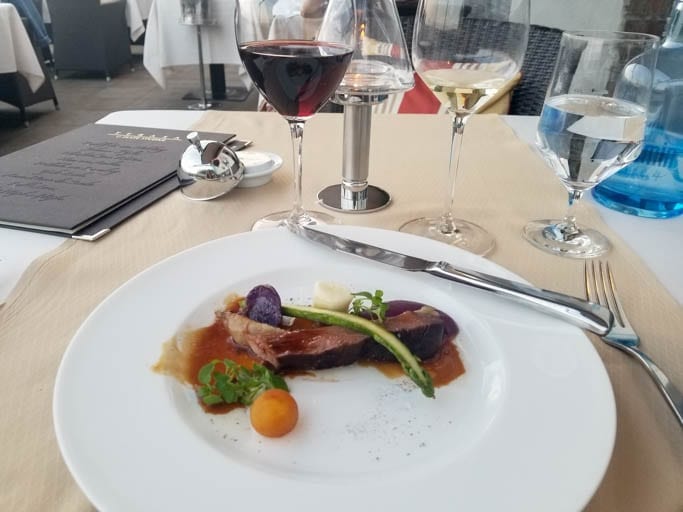 Jeff's family assured me that it would be just fine, and then surprised me by treating me to dinner – and the same epic tasting menu that they had enjoyed with Jeff a year before.
I am so glad that they did because this meal is one of my favorite memories on my "footsteps" tour. Yes, it was lonely. But it was also a moment for healing, reflecting, and doing that thing that the Czechs do best: eating.
And now it was time to walk off those courses! We're headed for the Charles Bridge, but on the way, let's cruise through:
The Little Quarter!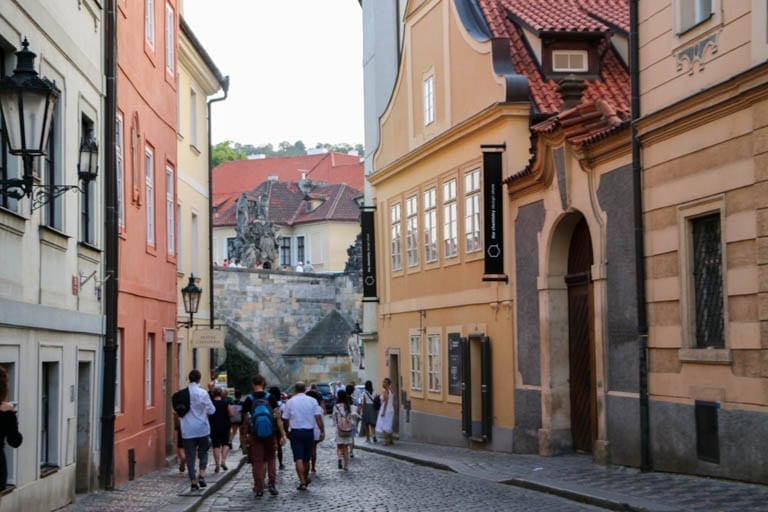 So many people head straight for the castle grounds and miss the Little Quarter! And that's a shame because there are so many treasures in this little neighborhood. Like…
The Franz Kakfa Museum is a Must-Stop on this Walking Tour of Prague
The courtyard of the Franz Kafka Museum is the star of this attraction! This is where the sculpture called "Piss" holds court. Yep, Piss. These guys are actually peeing on a map of the Czech Republic.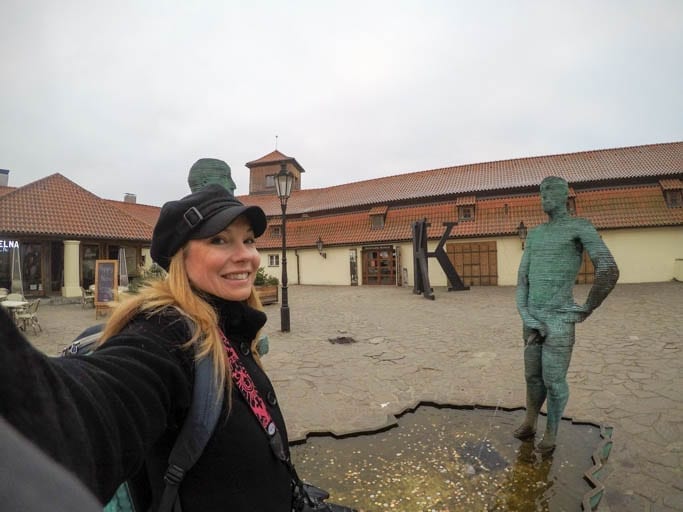 You can absolutely check out the exhibits inside the museum as well. Tickets run about $10 for adults.
Pro Tip: For a picture of the Piss Sculpture without crowds, go in the morning. Check out the below video to see Prague without the crowds. I shot this on my first visit to the city (two years before I met Jeff):
Don't Miss the Narrowest Street in Prague!
If you blink, you'll miss it! Look at this very narrow street complete with a pedestrian light.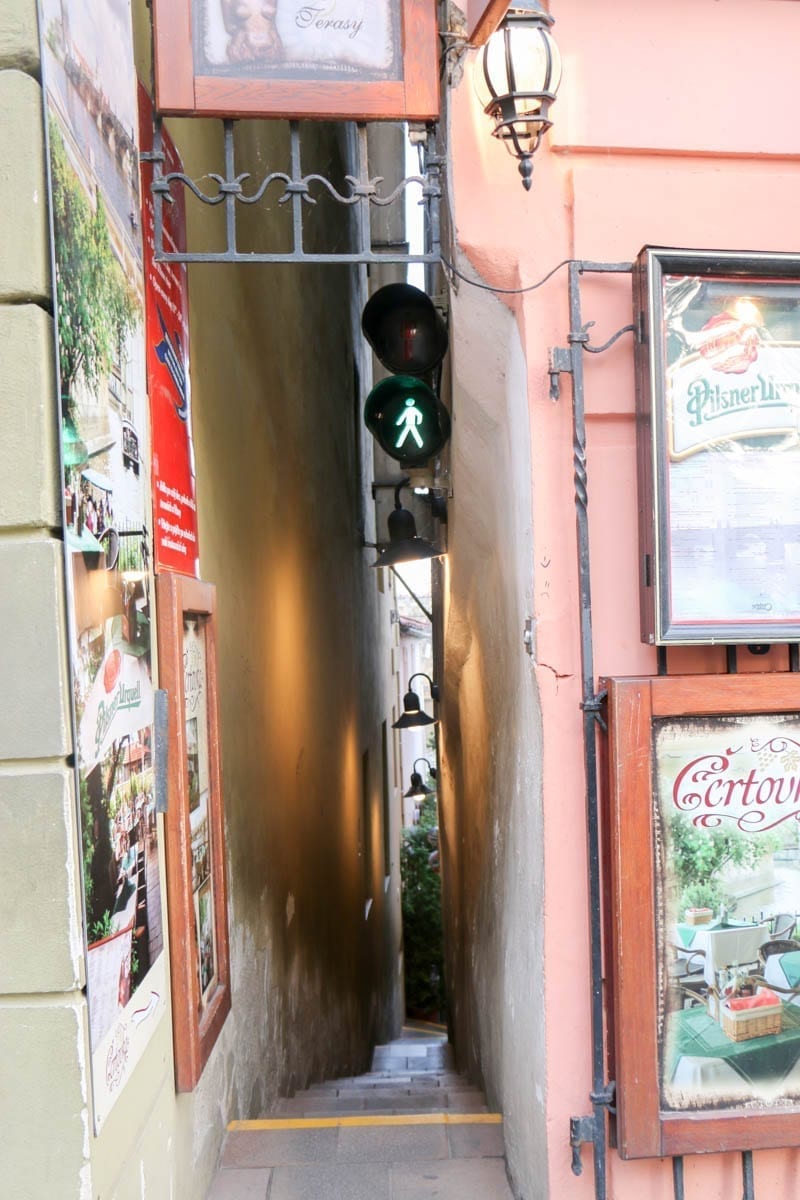 It's the narrowest street in Prague and you'll find it right after the Franz Kafka Museum as you head toward the Charles Bridge and the…
Shakespeare and Sons Bookstore
My favorite little part of the Little Quarter is Shakespeare and Sons, the bookstore filled with English-language books.
Jeff didn't actually know about this bookstore when he visited Prague. Given his love of bookstores, he would have spent hours here. I like to think that I brought him with me.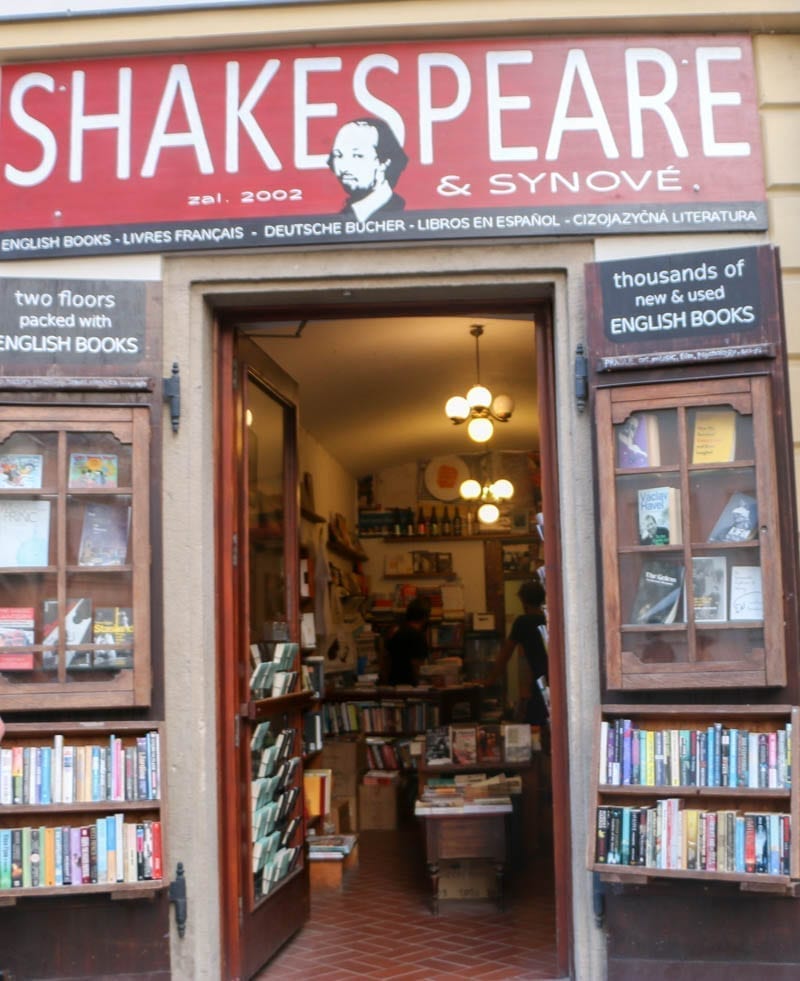 The Lennon Wall is Our Next Stop on This Walking Tour of Prague
The Lennon Wall was one of Jeff's favorite things about Prague.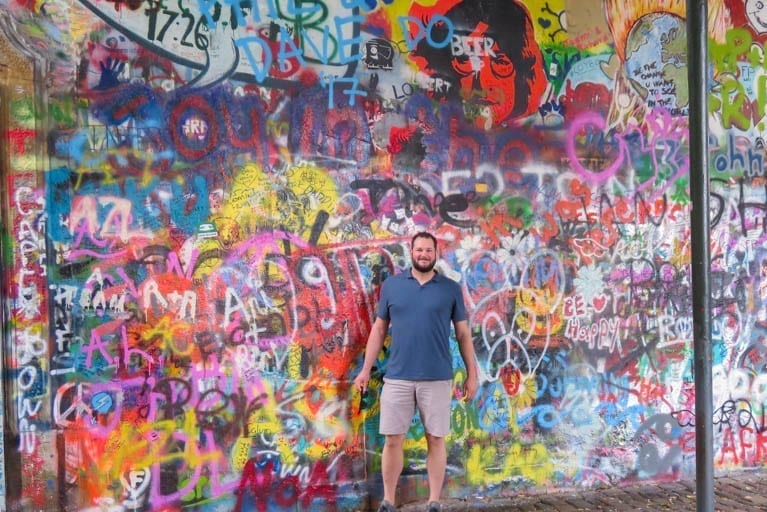 To get here, you'll need to walk past the mouth of the Charles Bridge. Then we'll double back to the bridge. It's just a short detour and it's worth it.
The wall has been painted over time and again, but tributes to John Lennon, the Beatles, and peace always come back in colorful variations.
Now let's head for that bridge!
Visiting the Charles Bridge on a Walking Tour of Prague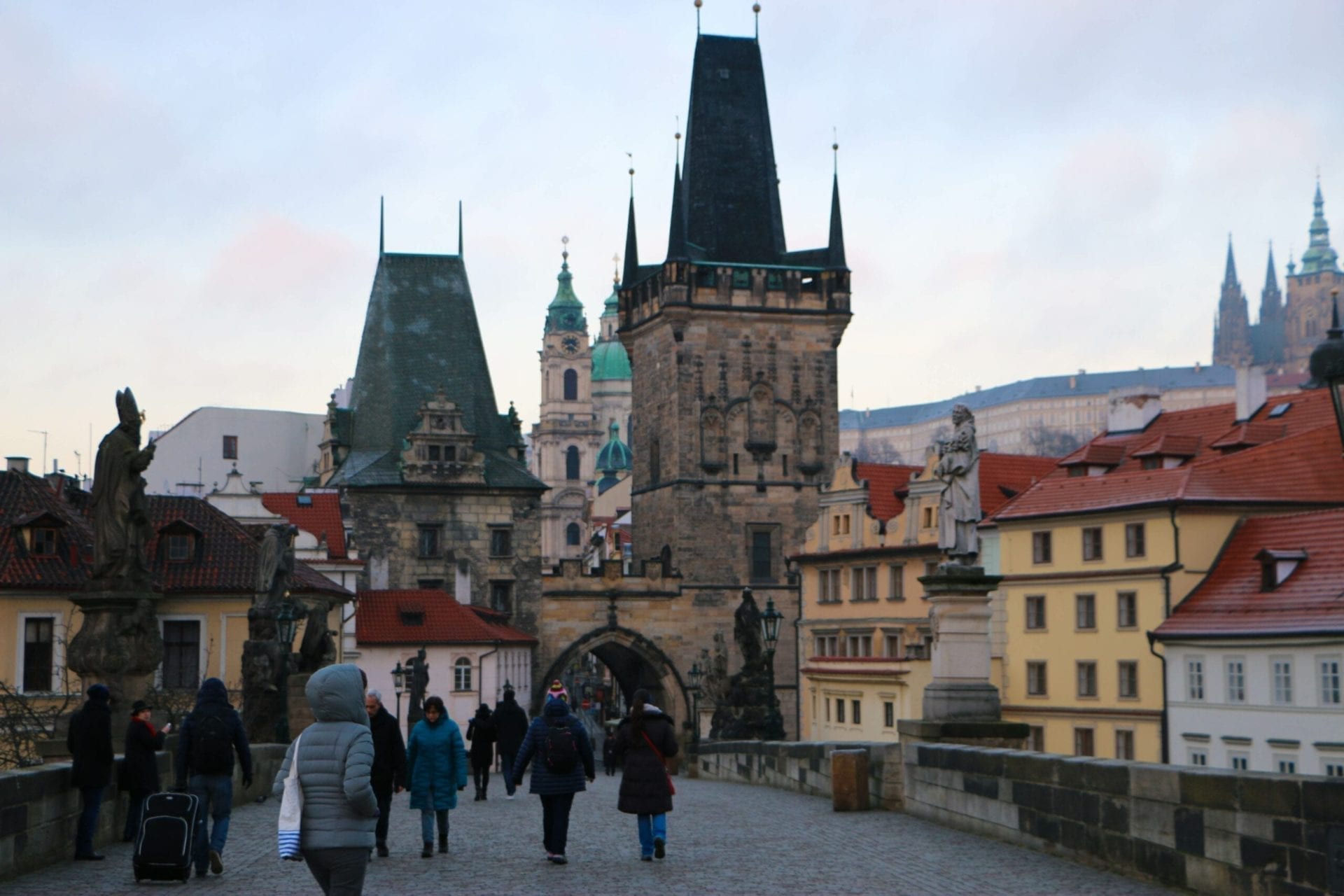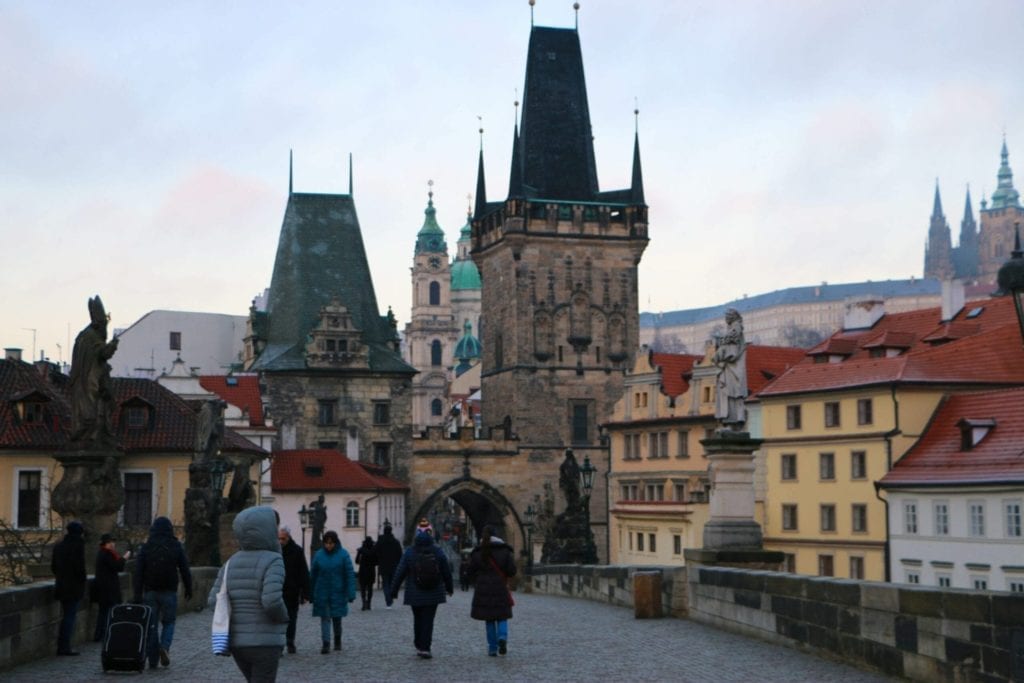 Each of the ornate statues lining the Charles Bridge has the ability to fascinate, but everyone seems to have their favorites for different reasons.
My favorite statue is St. Anthony of Padua because of his propeller hat. He is also the Parton Saint of Lost Things and, truth be told, I have seen him throughout my travels in Europe, which might mean that I am lost.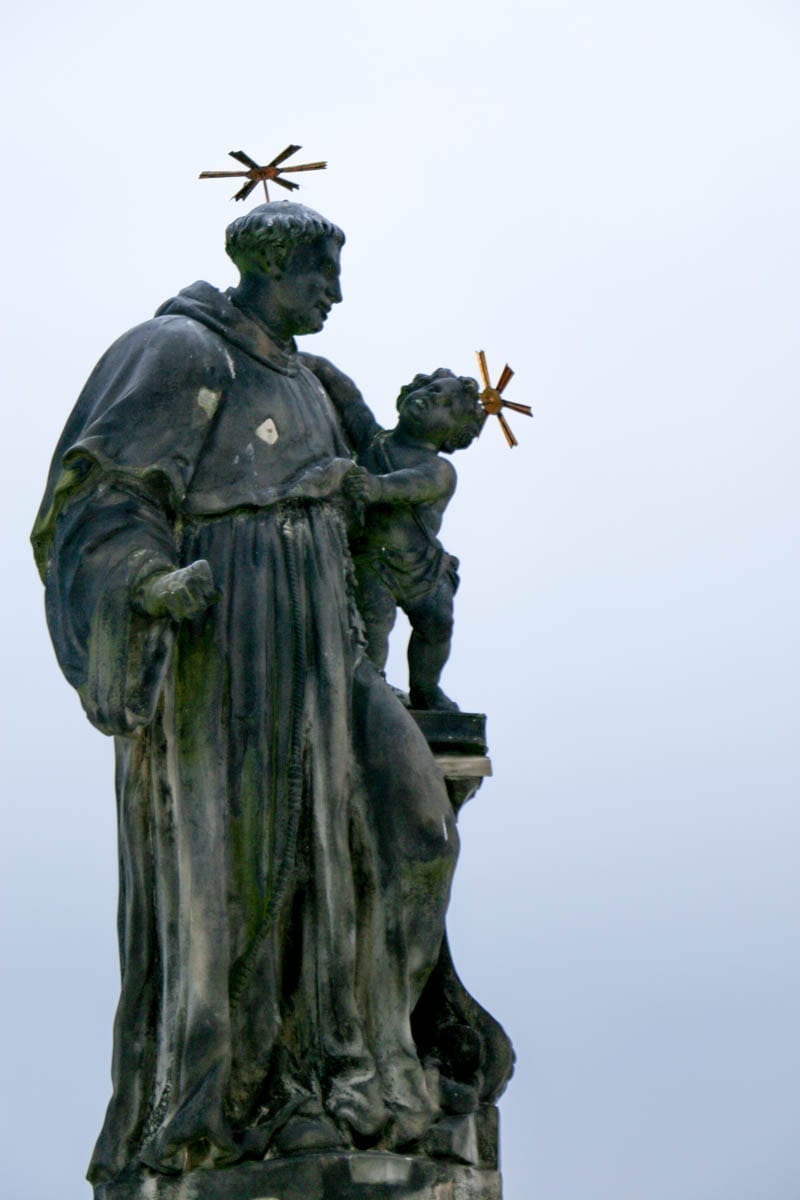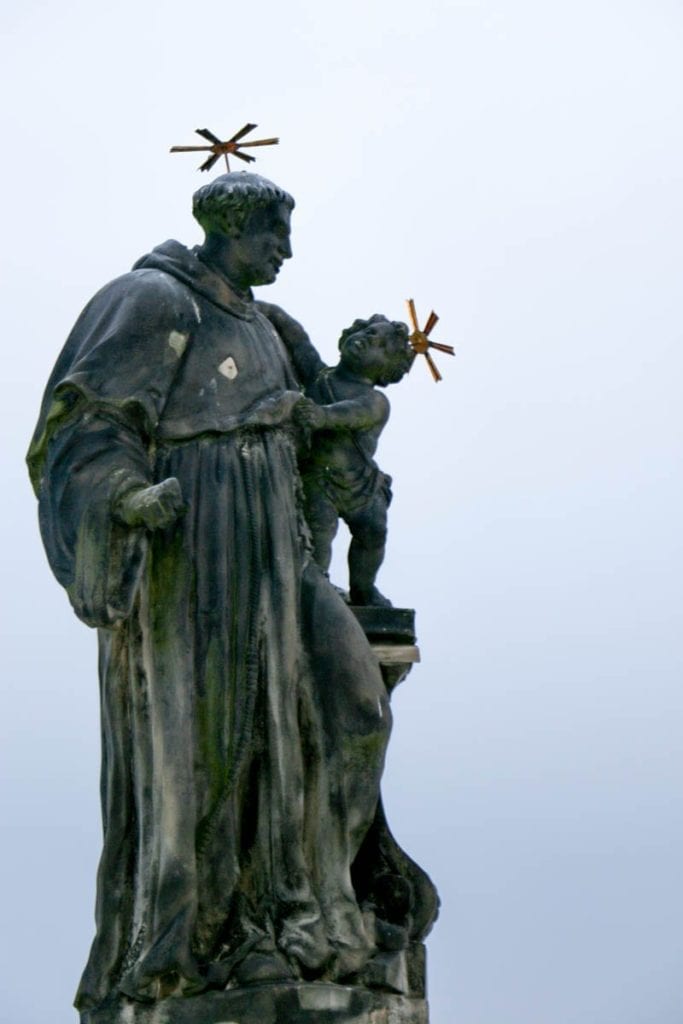 Look for the large statue of St. John of Nepomuk near the spot where the priest was thrown into the river in 1393. It's said that touching the falling priest on the saint's statue will bring good luck and ensure a return to Prague, which worked for me!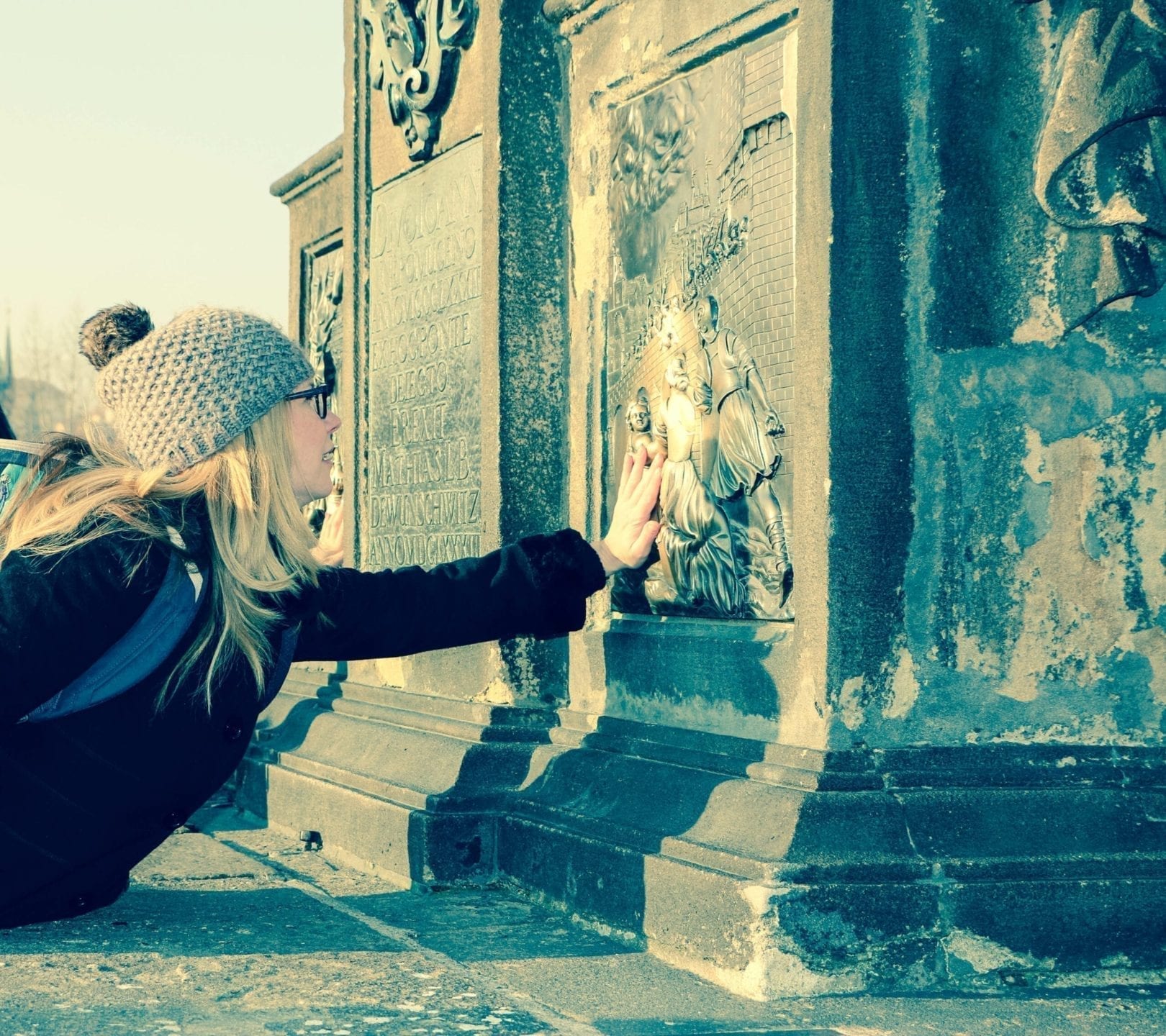 The legend is that John of Nepomuk was thrown in the river because he wouldn't tell the King of Bohemia the confessional secrets of the Queen. I guess that's why he's the Patron Saint of good confessions!
Just a few feet away is the actual spot where the priest was supposedly thrown in. More legends state that stars appeared above the water after he was thrown in, which is why there are stars on the plaque that marks the spot.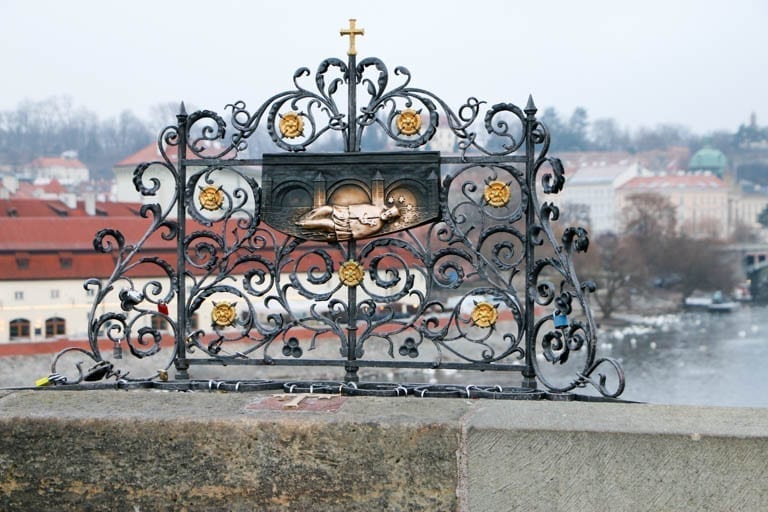 It's said that a wish made here will come true within a year and a day.
I can attest to that. On my first trip to Prague, I placed my hand here and wished for true love. I met Jeff less than a year later!
Approaching the foot of Charles Bridge on the Old Town side, you are welcomed by the bridge's namesake and commissioner, Charles IV. First the King and then the Holy Roman Emperor, Charles spoke five languages and certainly had a knack for bridge-building.
He also must have had a sense of humor, because people say that from this view, it looks a little like the Emperor is, well, peeing on all of the tourists.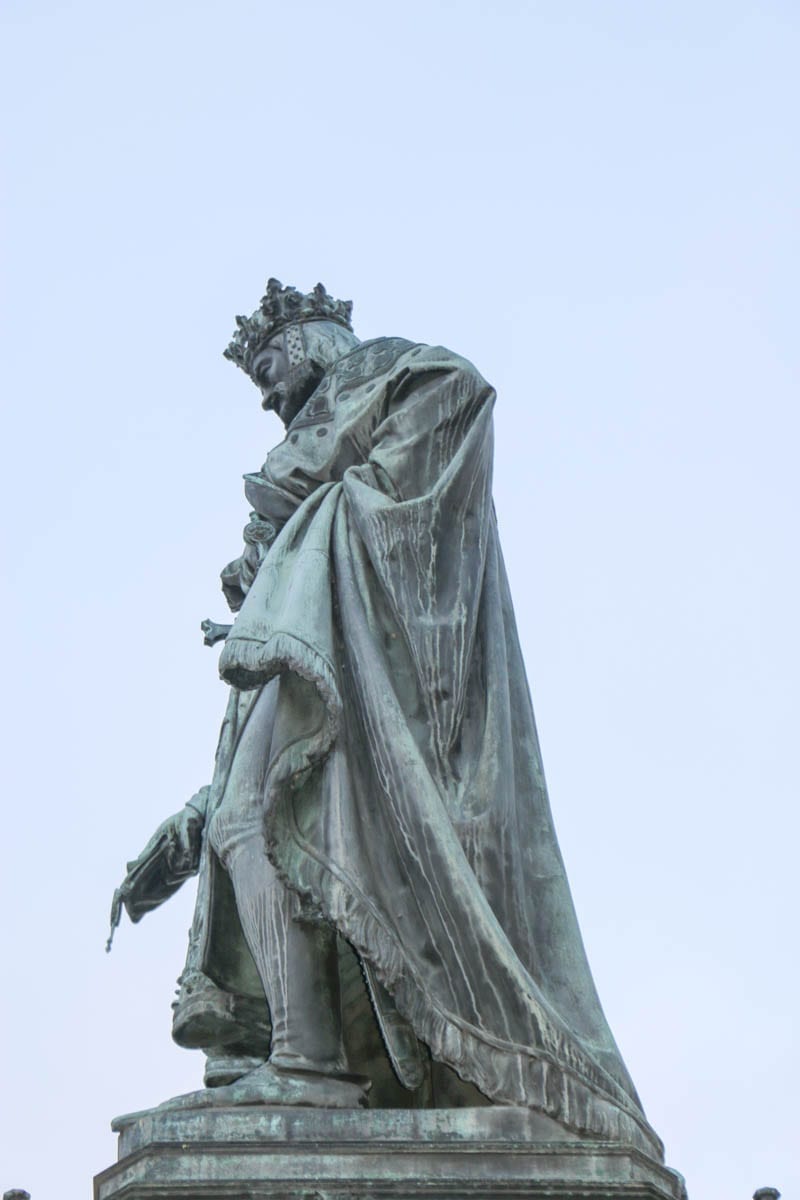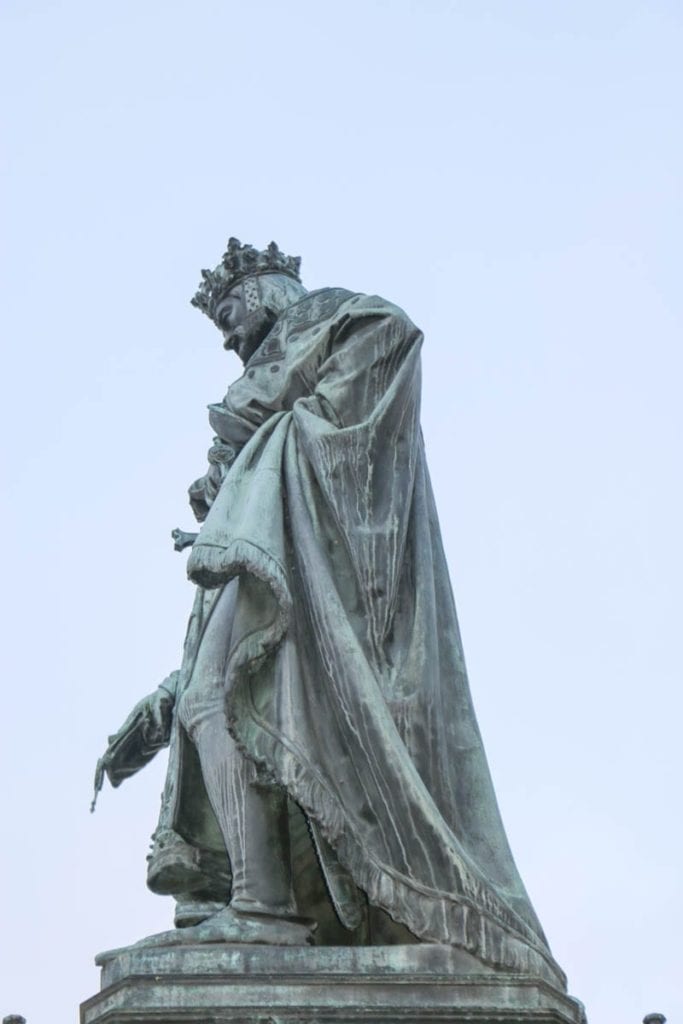 A New Lens on Old Town Square
Because I had previously photographed and recorded all sides of Prague, I mostly left my camera at home, and, frankly, I think I saw a lot more this way.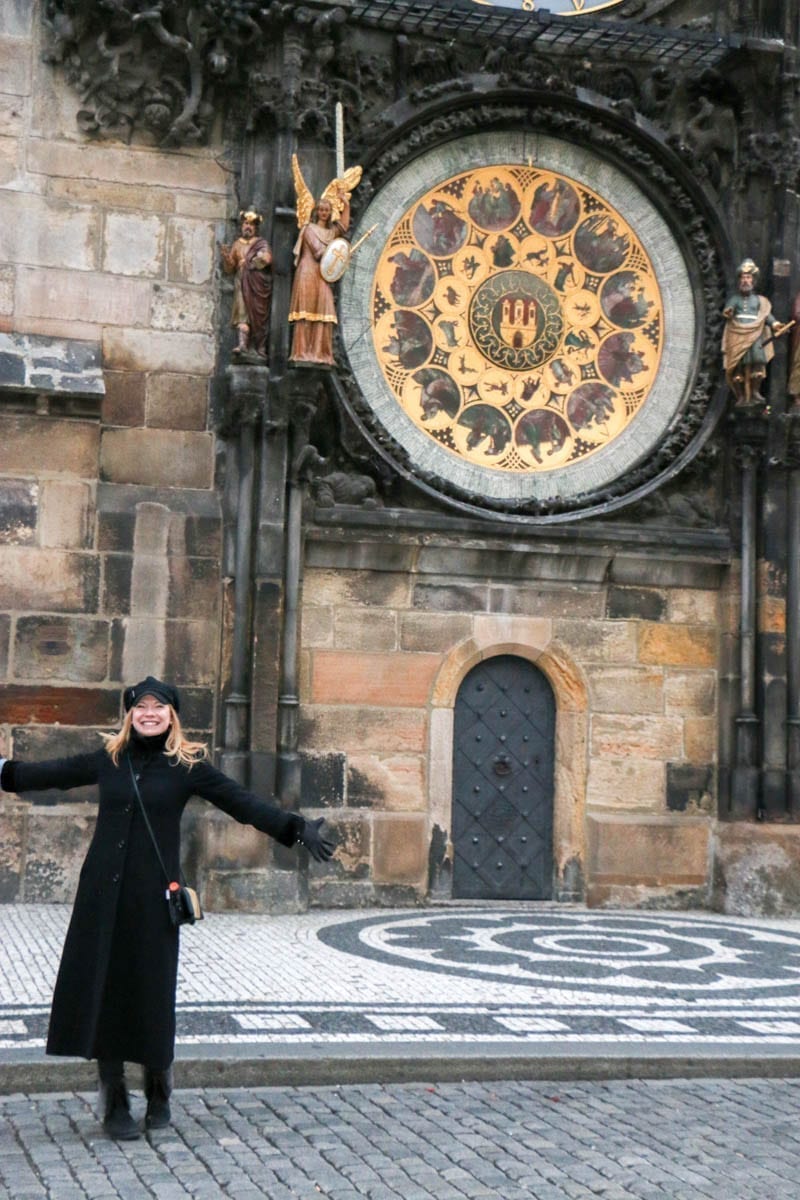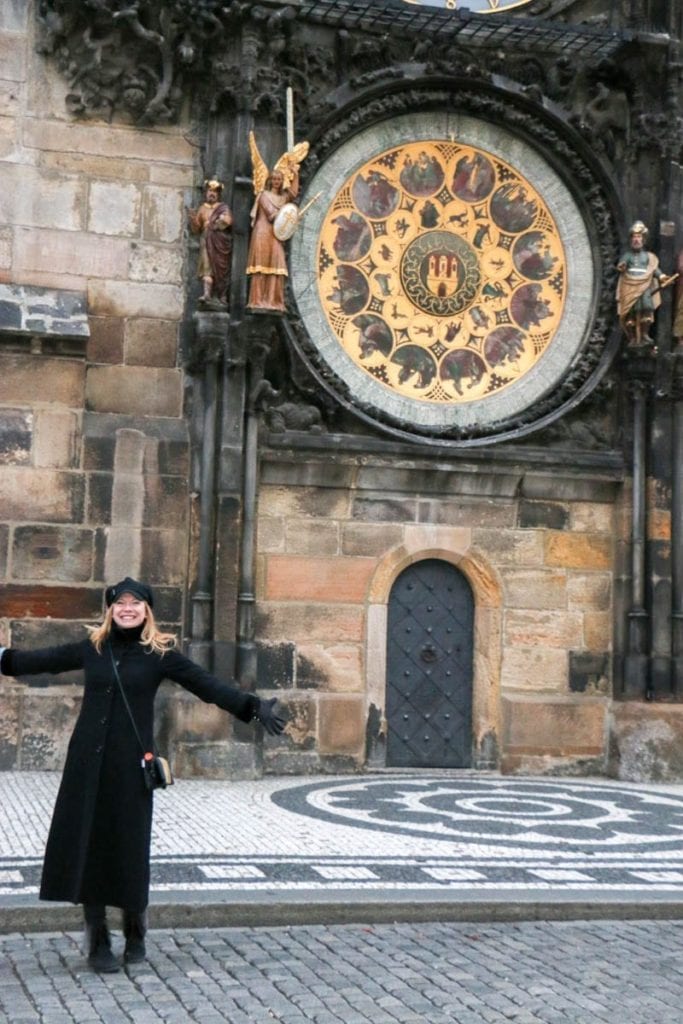 It sounds clichéd, but Old Town is magical. Unlike so many European cities, Prague wasn't as damaged in World War II, so the square is well, old.
A marketplace since the middle ages, this very square has seen its fair share of coronations, celebrations, parades, and executions. In fact, 27 Prague noblemen and leaders of a rebellion were executed right here by the Old Town Hall in 1621.
There are 27 crosses on the ground to mark the spot.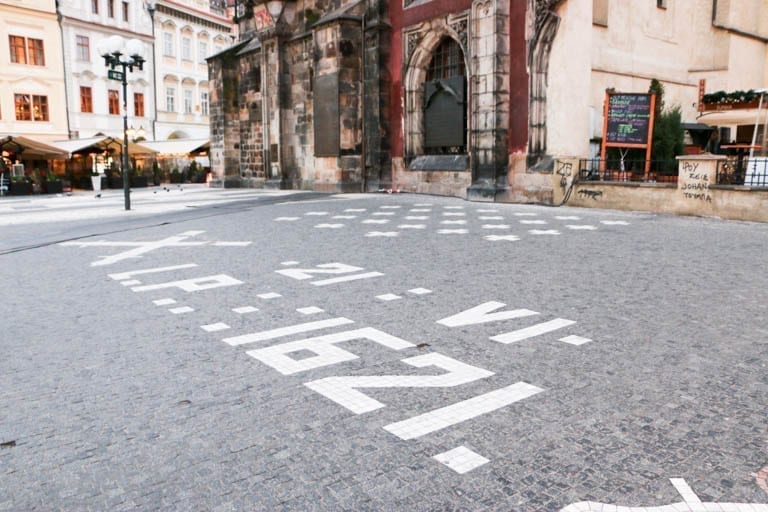 An Obsession with Time Marks this Walking Tour of Prague
The square is also interesting for a certain obsession with time. The Astronomical Clock is famous for the hourly "walk of apostles," featuring moving figurines, including a skeleton representing death who strikes the time.
In addition, if you shift your gaze down instead of up, you can spot the Prague Meridian – the mark where a column used to cast its shadow at exactly noon. This is the way time was once measured.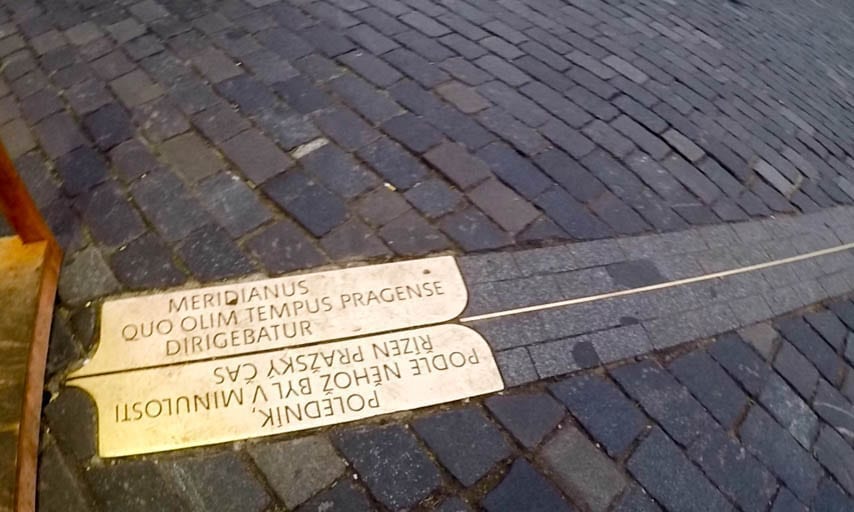 While you're wandering around the Old Town area, keep an eye out for this wild statue hanging over one of the alley-like streets.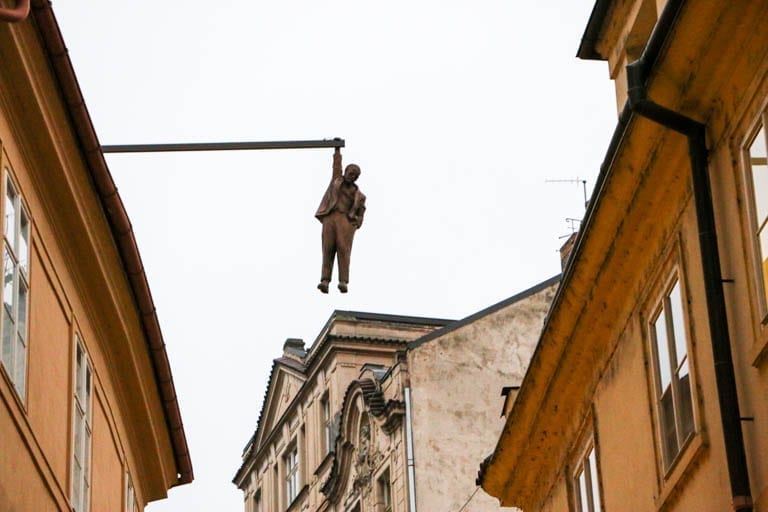 The Piss artist David Cerny has a lot of interesting and eye-popping creations throughout Prague including the Hanging Man!
Relax with a Cocktail at the Hotel Paris on this Walking Tour of Prague
Lucky for me, Jeff enjoyed his cocktails. So we're back to enjoying a beverage at a hotel, this time the Hotel Paris where Jeff grabbed a drink beneath this beauty of a statue.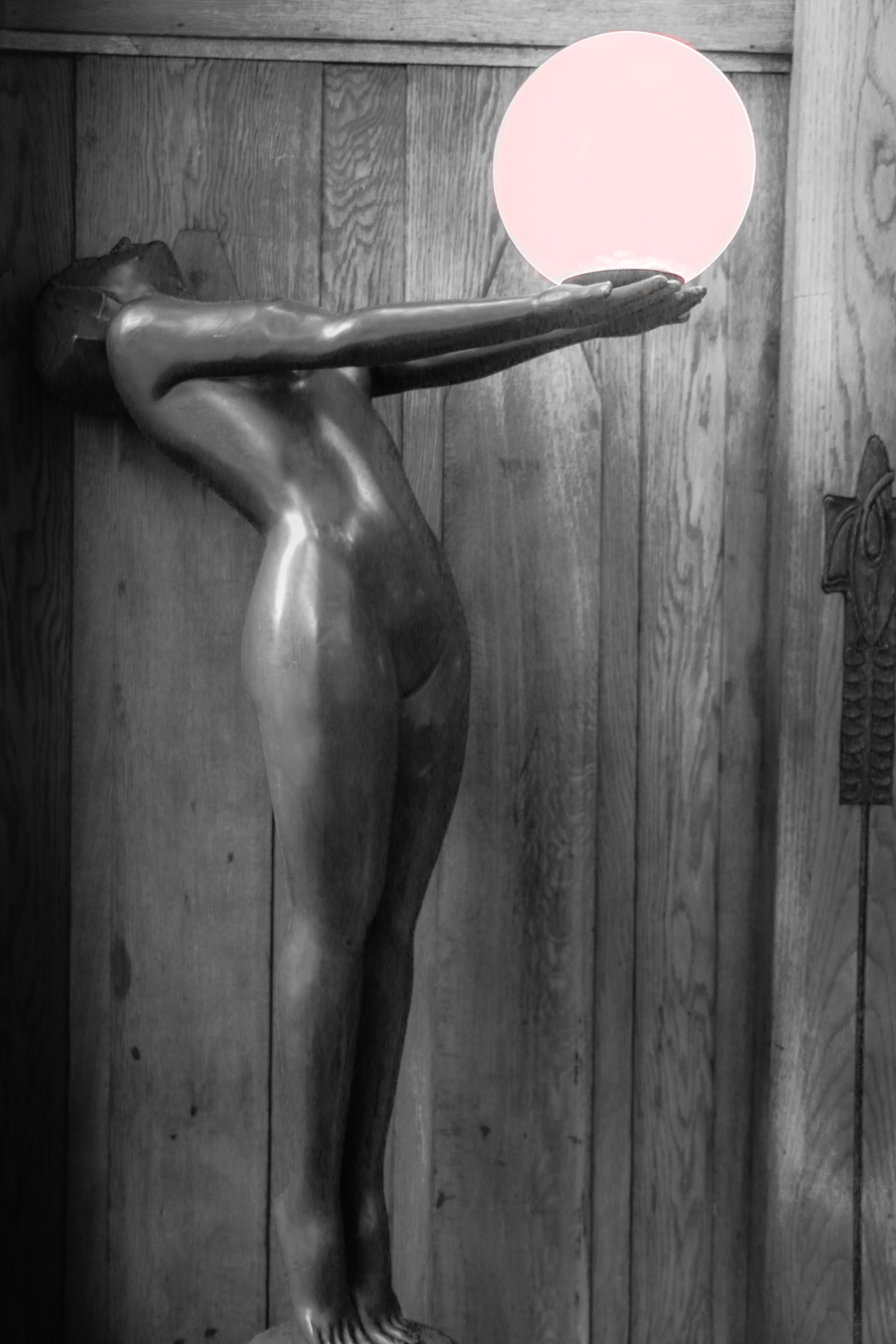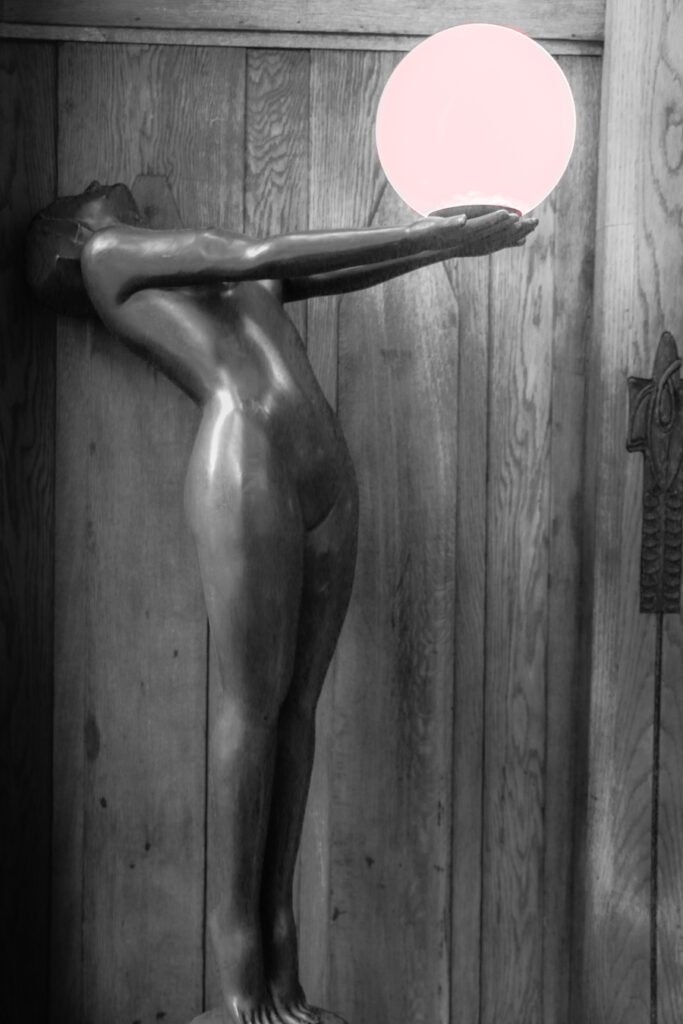 Then he headed for…
The Powder Tower of Prague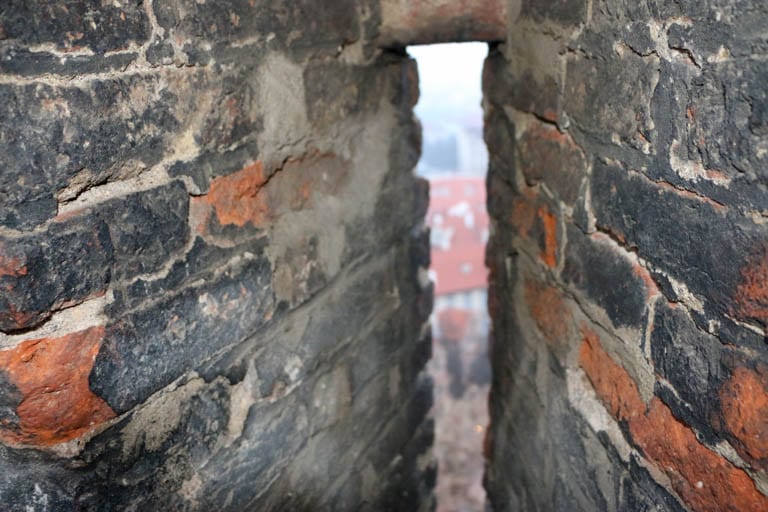 Originally a place to store gun powder (hence the name), the Gothic tower stretches over the street where the coronation processions of Bohemian kings first entered the city walls.
I've always loved the picture of Jeff hiding in a nook ready to surprise his family, and it was fun to find the place where it was taken.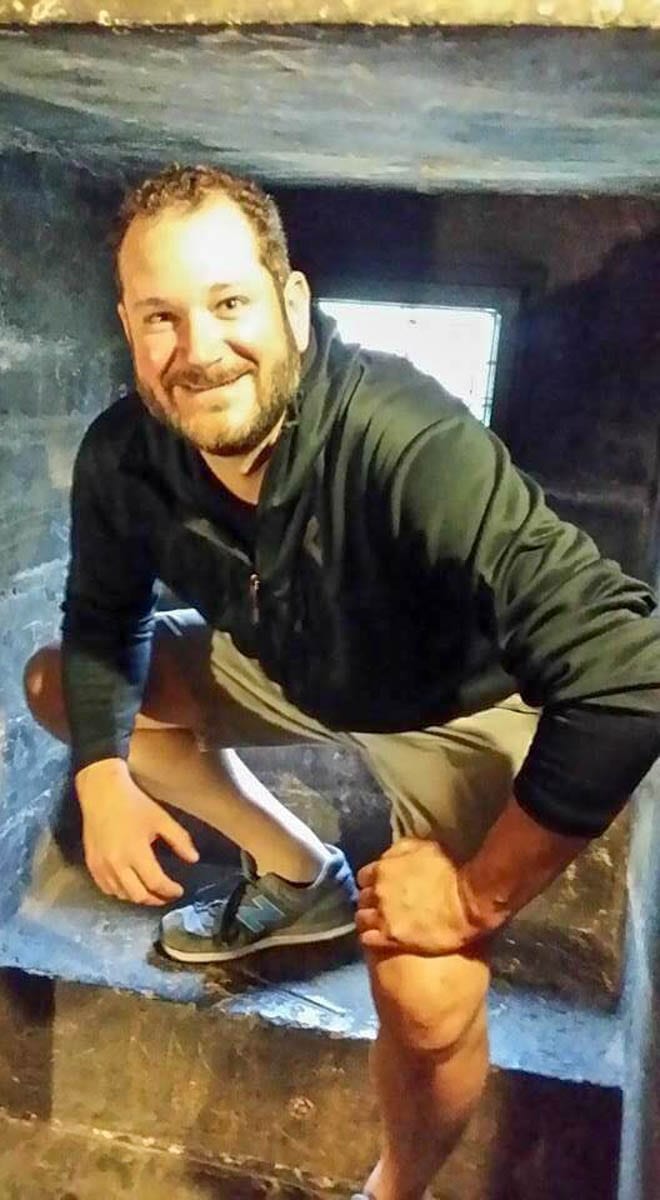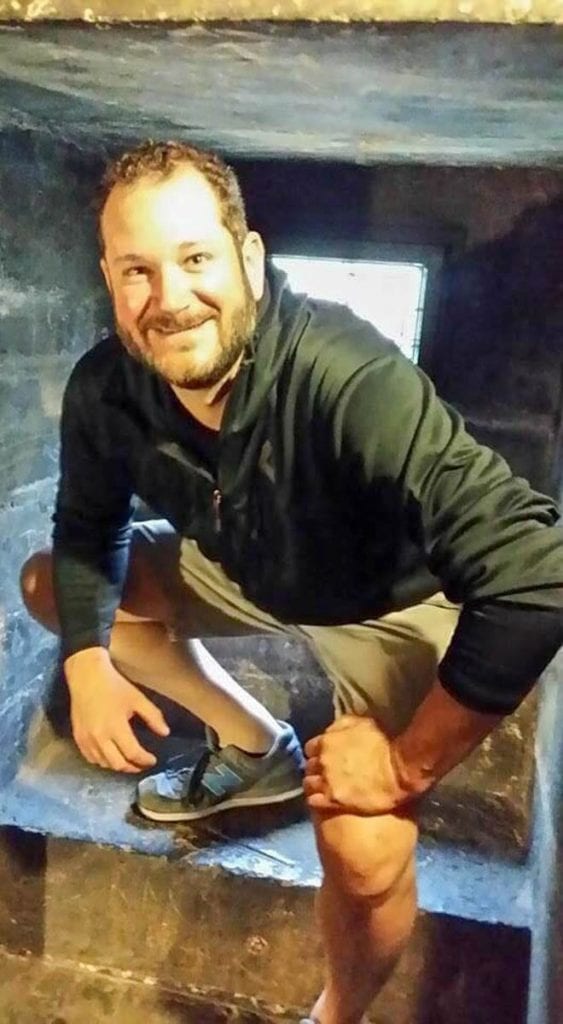 I found the spot and, seeing that others had scratched their initials into the wall, I committed my first act of vandalism.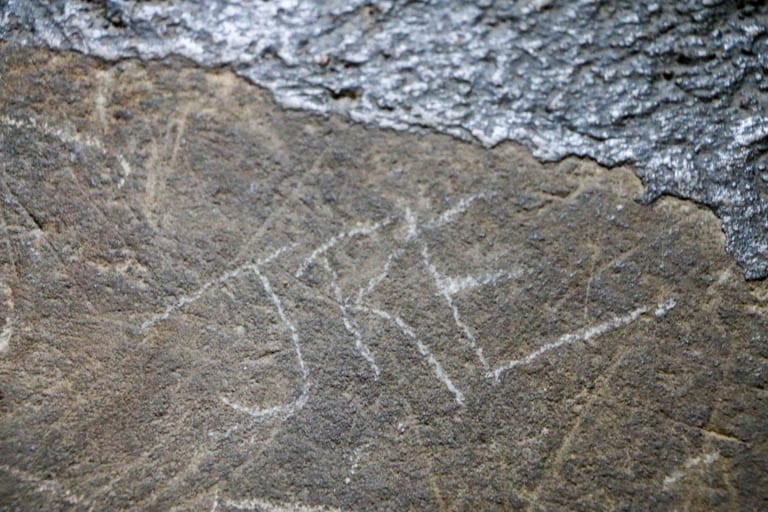 If you didn't have a 10-course meal at our first stop, then you're getting pretty hungry at this point on our walking tour of Prague. I've got the perfect place with great food, good beer, and big-busted ghosts.
What Was That Thing About Big-Busted Ghosts?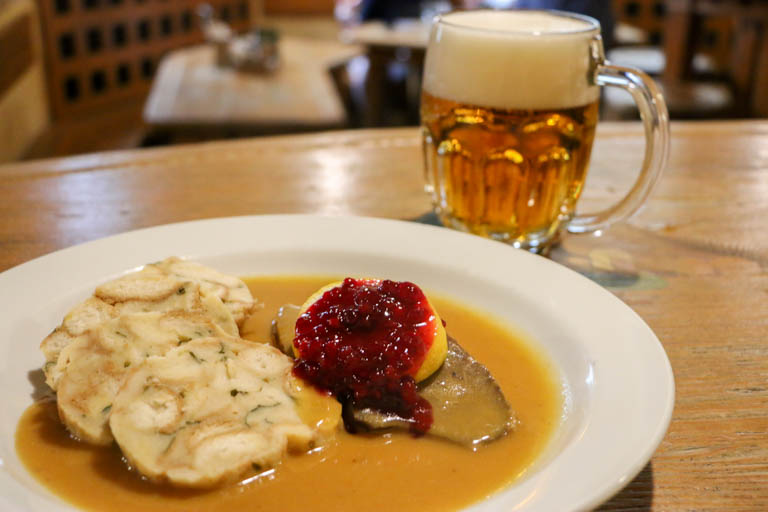 My very favorite restaurant in the city is U Provaznice or the Restaurant of the Rope-Maker's Wife. It's said to be haunted by the beautiful woman who once owned the bar. Legend has it that her husband got jealous of all the goings-on at the bar and strangled her with a rope.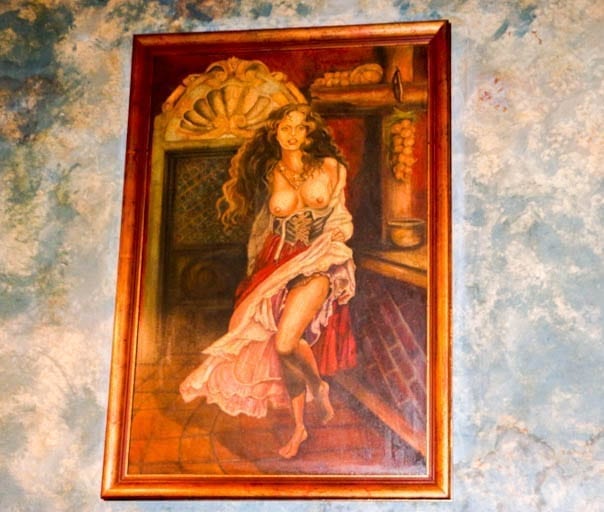 Today, it's a perfectly pleasant place filled with good food, good beer, and lots of locals. Though…people do still touch the portrait of the rope-maker's wife if they need a little luck in their relationships.
On this trip to Prague, and my final stop on my "footsteps" tour while I walk in my partner's itinerary, I didn't touch the portrait of the rope-maker's wife.
I didn't feel that I needed luck in love this time around. Since my last trip to Prague when I wished for love on both the Charles Bridge and with the rope-maker's wife, I have found it – and I have lost it. But I am forever grateful for all the gifts that Jeff's love continues to bring.
Thank you for following along on this journey.
Where to Stay in Prague
I really loved staying in the Little Quarter because I avoided the crowds of Old Town but was still close to all the action!
Here is a map of available accommodations in Prague:
I really loved staying in the Little Quarter because I avoided the crowds of Old Town but was still close to all the action!
Here is a map of available accommodations in Prague:
More ways to explore Prague:
About the Author
Hi! I'm Jen!
I'm a freelance writer and travel blogger who quit my nine-to-five after my fiancé, Jeff, died of cancer at the age of 40. When he died, I realized that life is just too short to delay our dreams. Since my dream was to travel and write, I now travel and write full-time. Today I wear hiking boots instead of heels and collect experiences instead of things.
You might also like