Looking for a Hike in Joshua Tree National Park? Here we go!
Hey there! This post may contain affiliate links, which means I'll receive a commission if you purchase through my link, at no extra cost to you. Please see my legal page for more details.
Hike in Joshua Tree National Park? Yes, please! A hike is an absolute must when visiting this natural wonderland where two deserts meet.
The park is a transition zone where the Mojave Desert and the Colorado Desert overlap, creating an area rich in biodiversity, beauty…and hiking trails!
Many of the hikes at Joshua Tree are short and sweet, which is a good thing in the summertime when the heat is extreme. (Download my hiking survival kit for a checklist of everything to carry in your backpack.)
Here is an interactive map of covering hikes in Joshua Tree:
For a map of available homestays and hotels near the park, visit here.
Let's dive in!
Video of a one-day itinerary in Joshua Tree National Park:
For an easy to moderate hike in Joshua Tree:
The Barker Dam Hike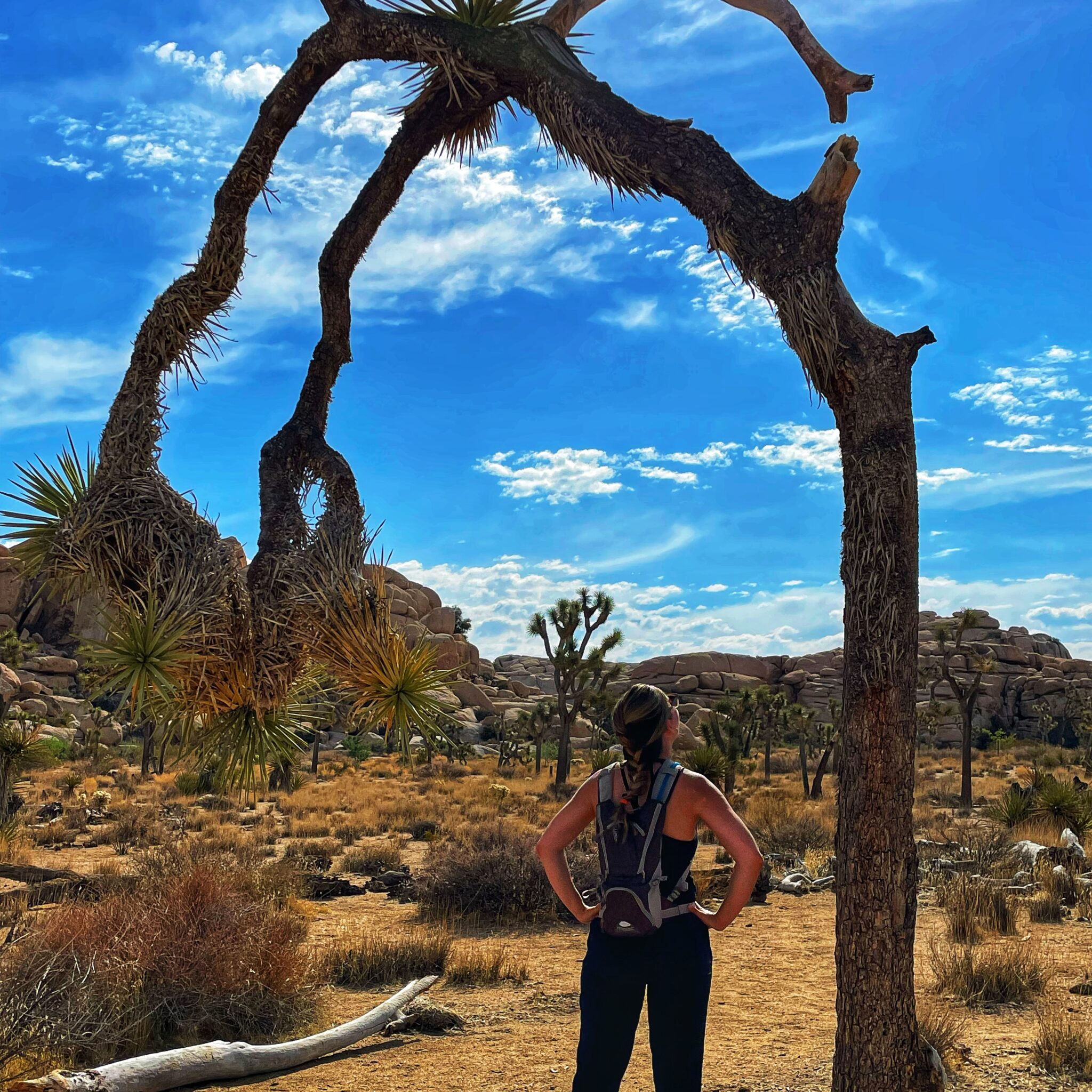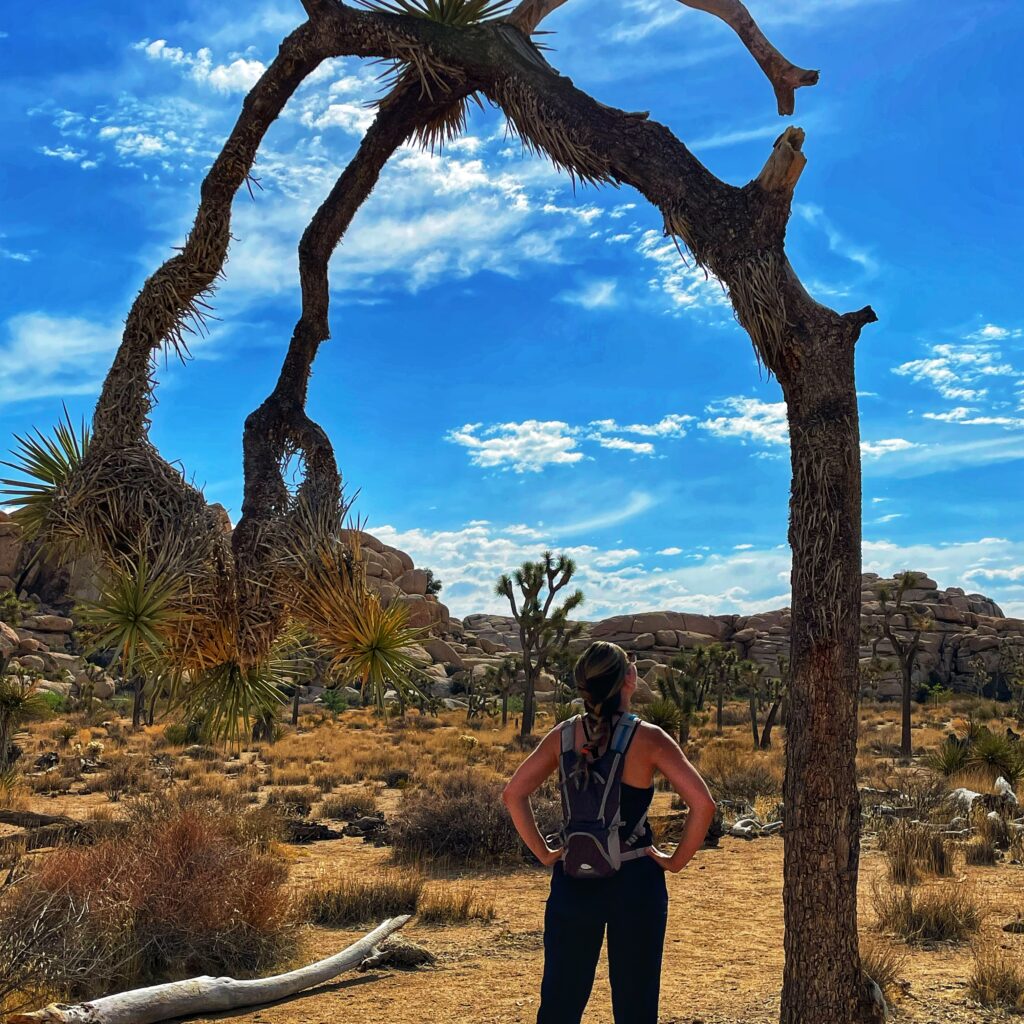 An easy 1.1-mile loop through Joshua Trees and monzogranite boulders, the Barker Dam Trail takes you by the man-made dam and past petroglyphs carved into the rocks by Native Americans.
The dam was created by cattlemen including C.O. Barker in 1900. When I visited in the summertime (end of June) there was no water in the dam, but it was still a fun little loop to explore.
Petroglyphs like the ones on the Barker Dam Trail are often found carved into desert rocks where water could be located nearby. The rock art found on this hike in Joshua Tree is a highlight of the trail. Unfortunately, people have painted over the petroglyphs so that we aren't seeing the carvings in their original form. Still very cool, though!
The Skull Rock Hike
There is no doubt why they call this one Skull Rock. Just take a look at this rock!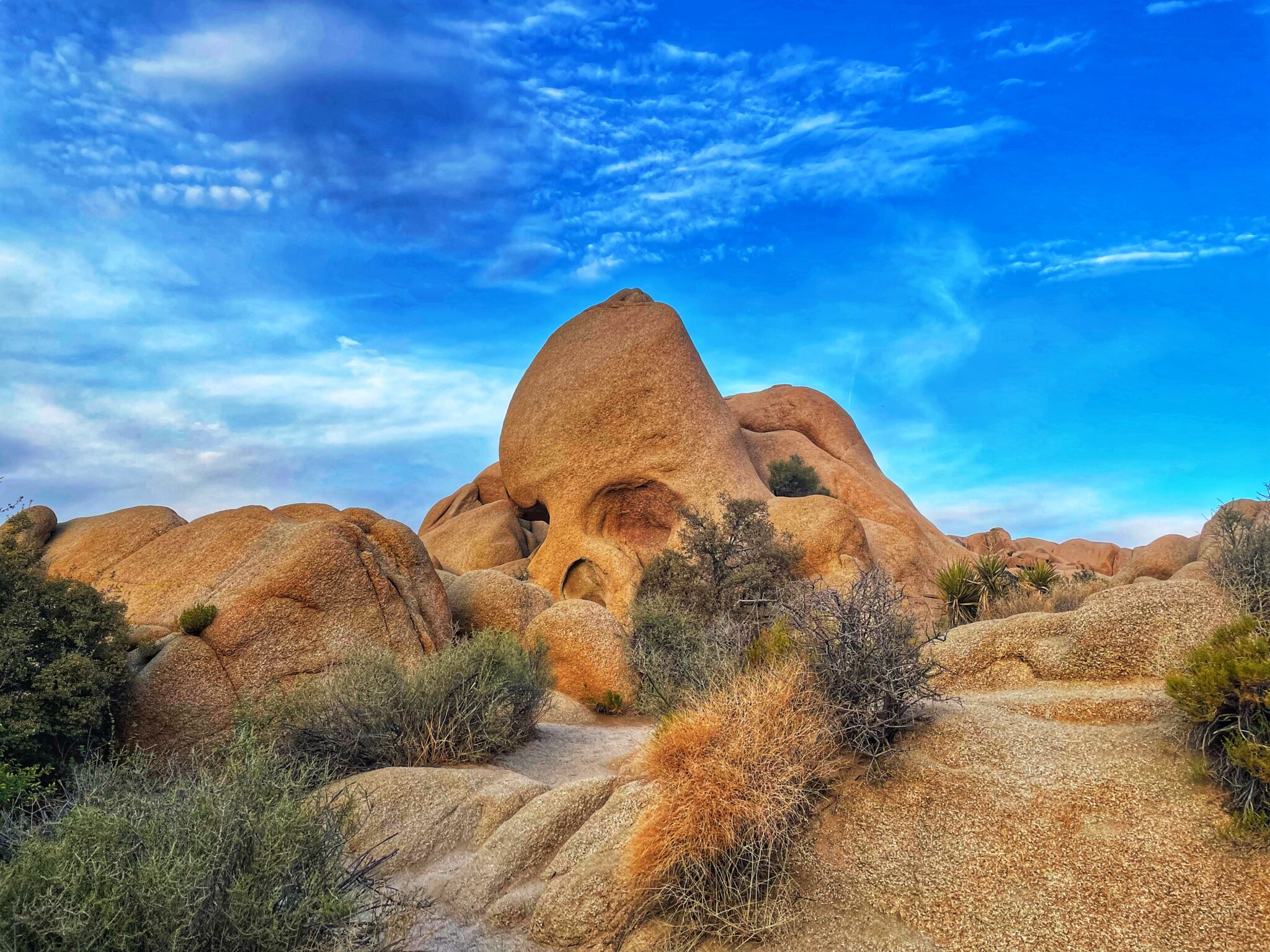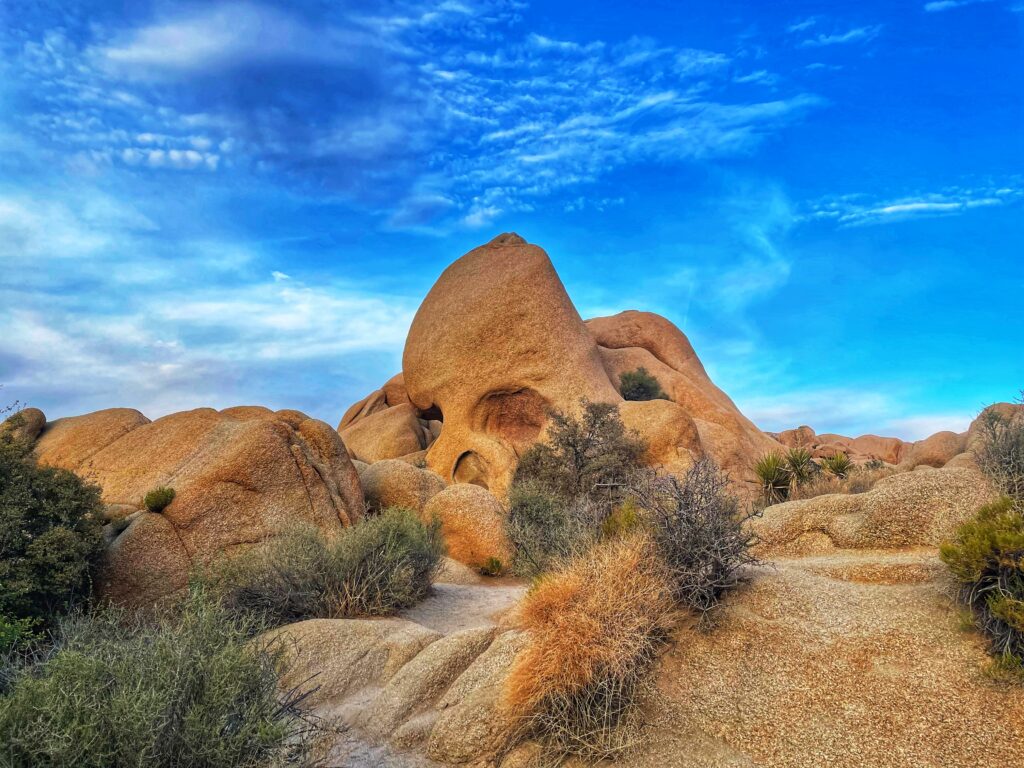 You can meet up with the Skull Rock Nature Trail at various points near the Jumbo Rocks Campground. From the campground itself, it's an easy 0.5 mile out and back. Or you can take the full 1.7-mile loop from the Skull Rock parking lot.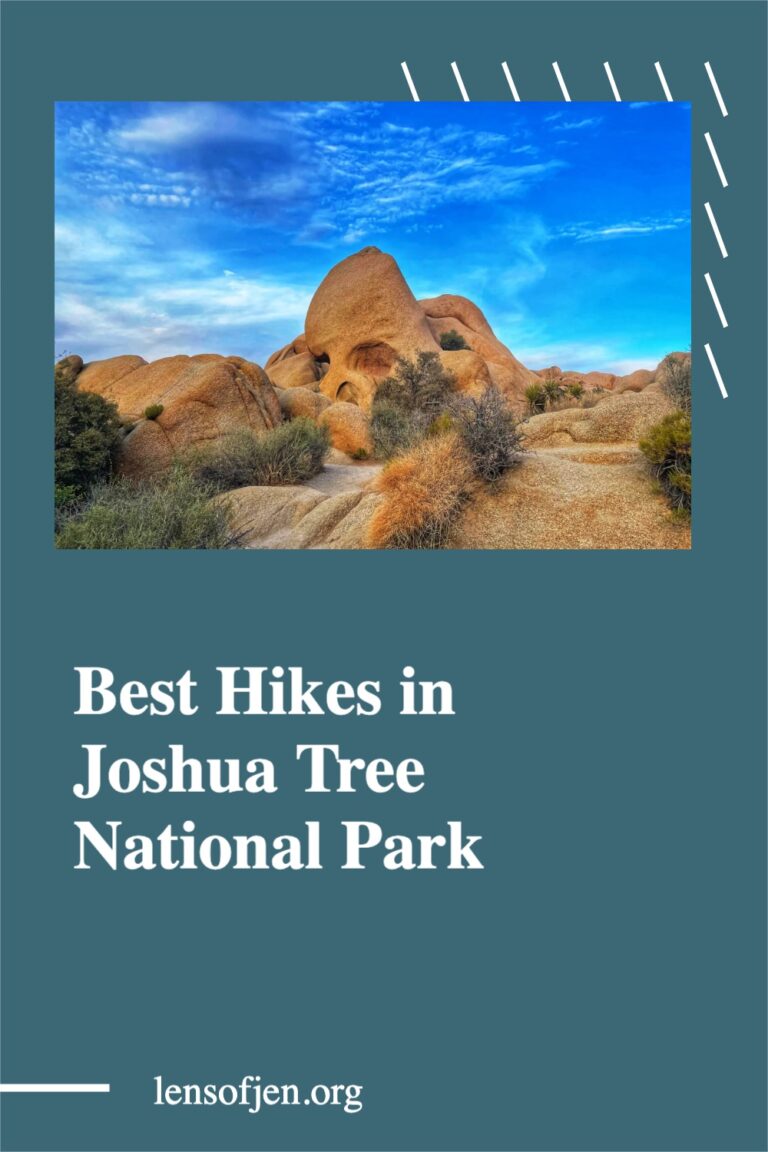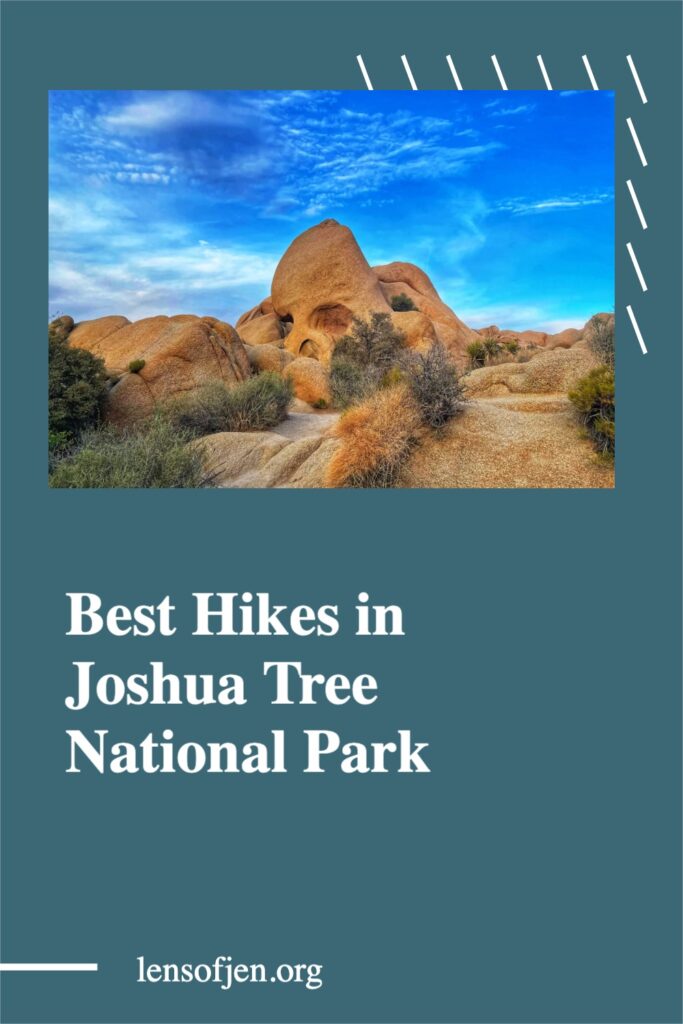 I recommend this one around sunset so that you can scramble up some of the nearby rocks and watch Mother Nature's show.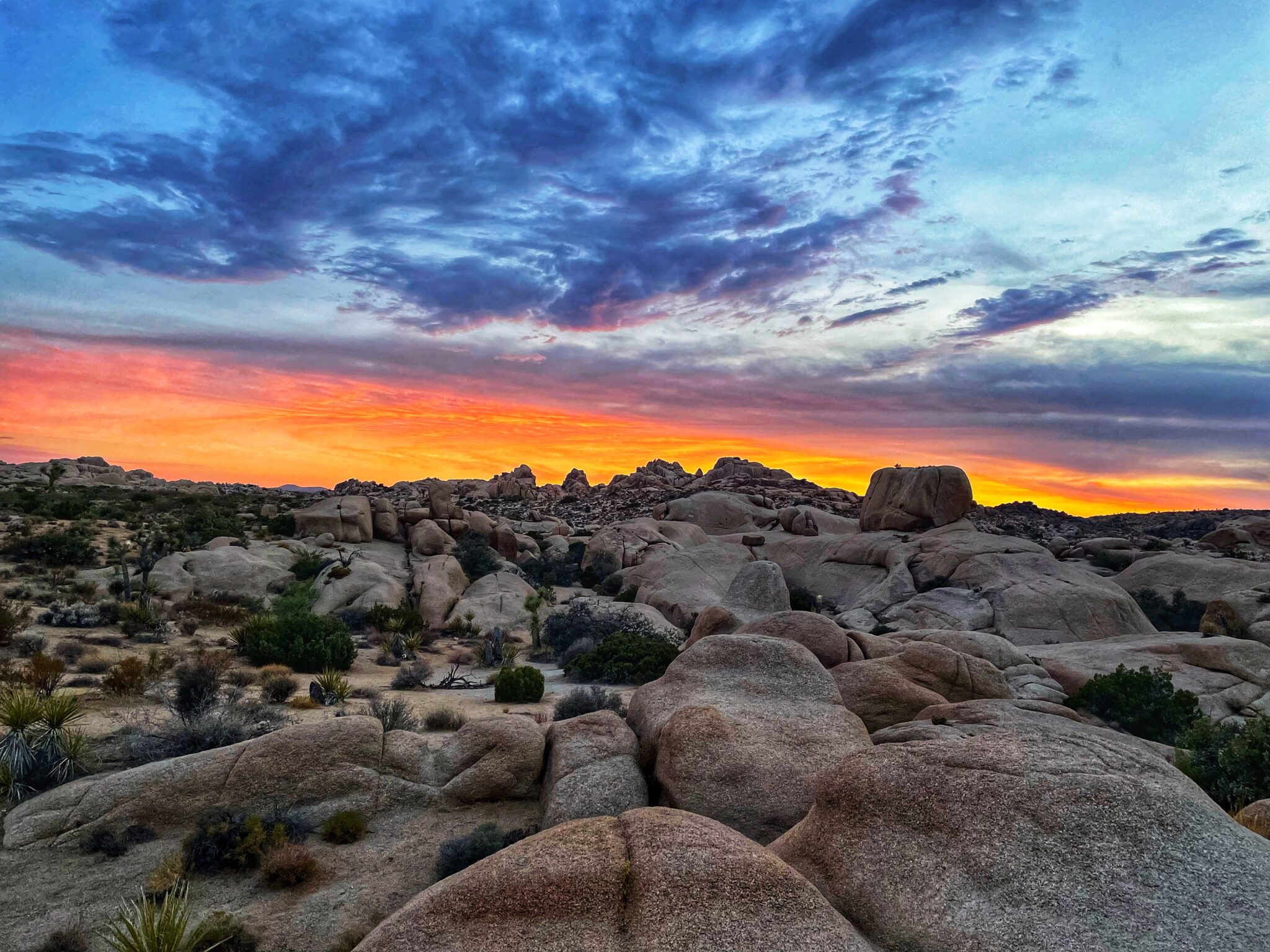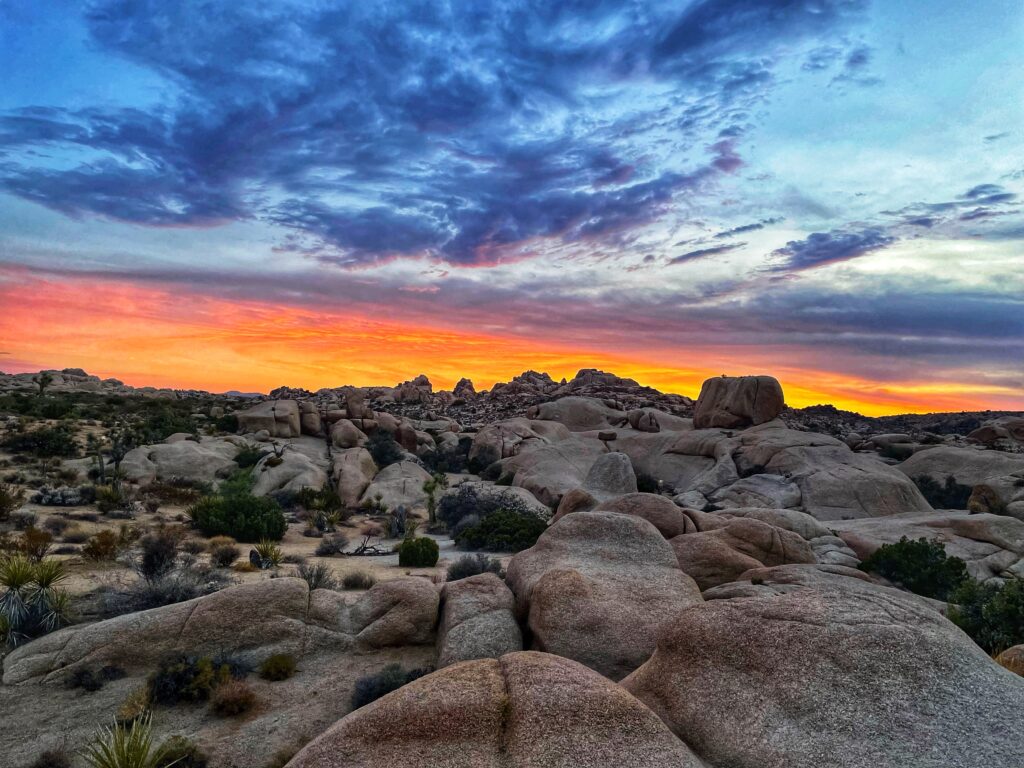 The Hidden Valley Hike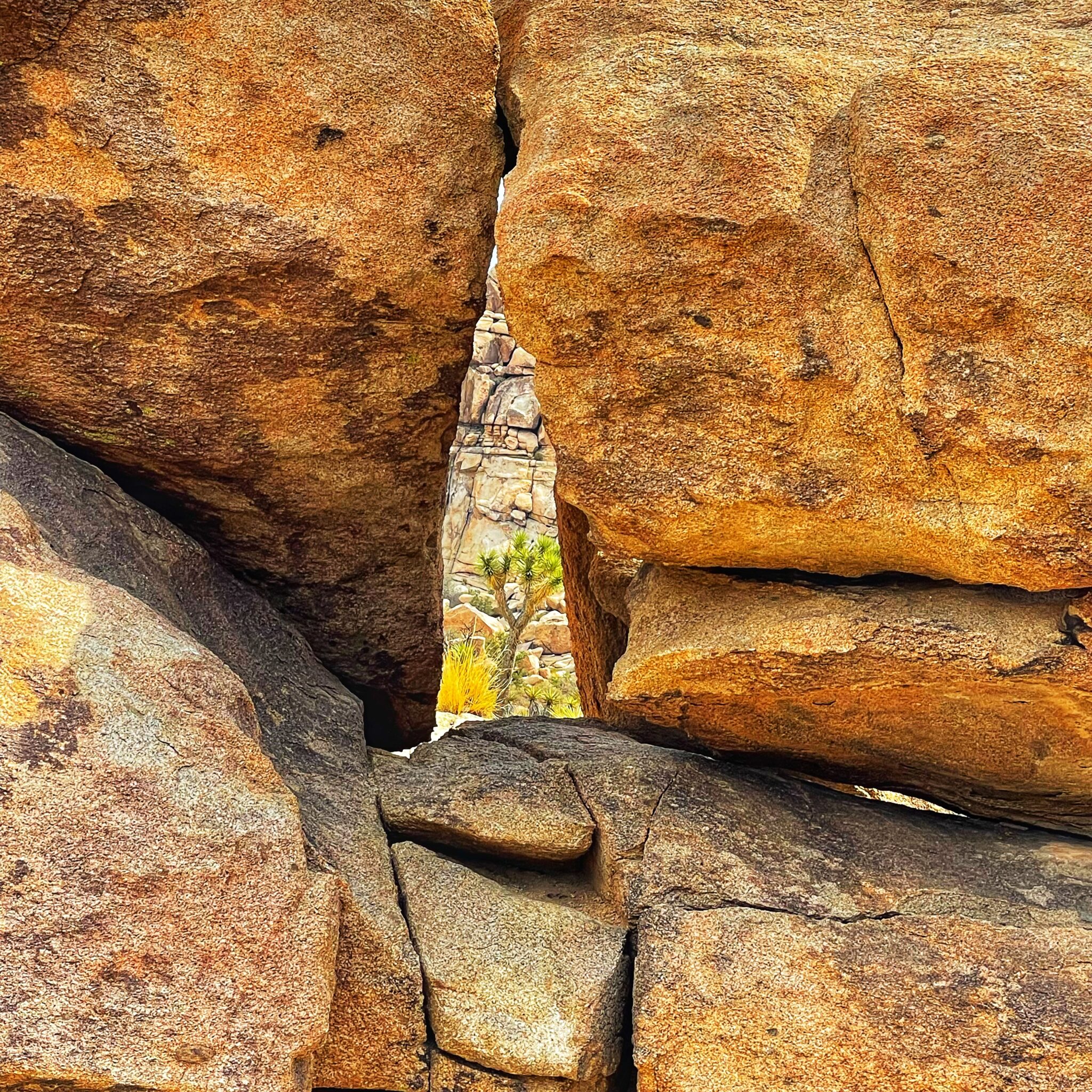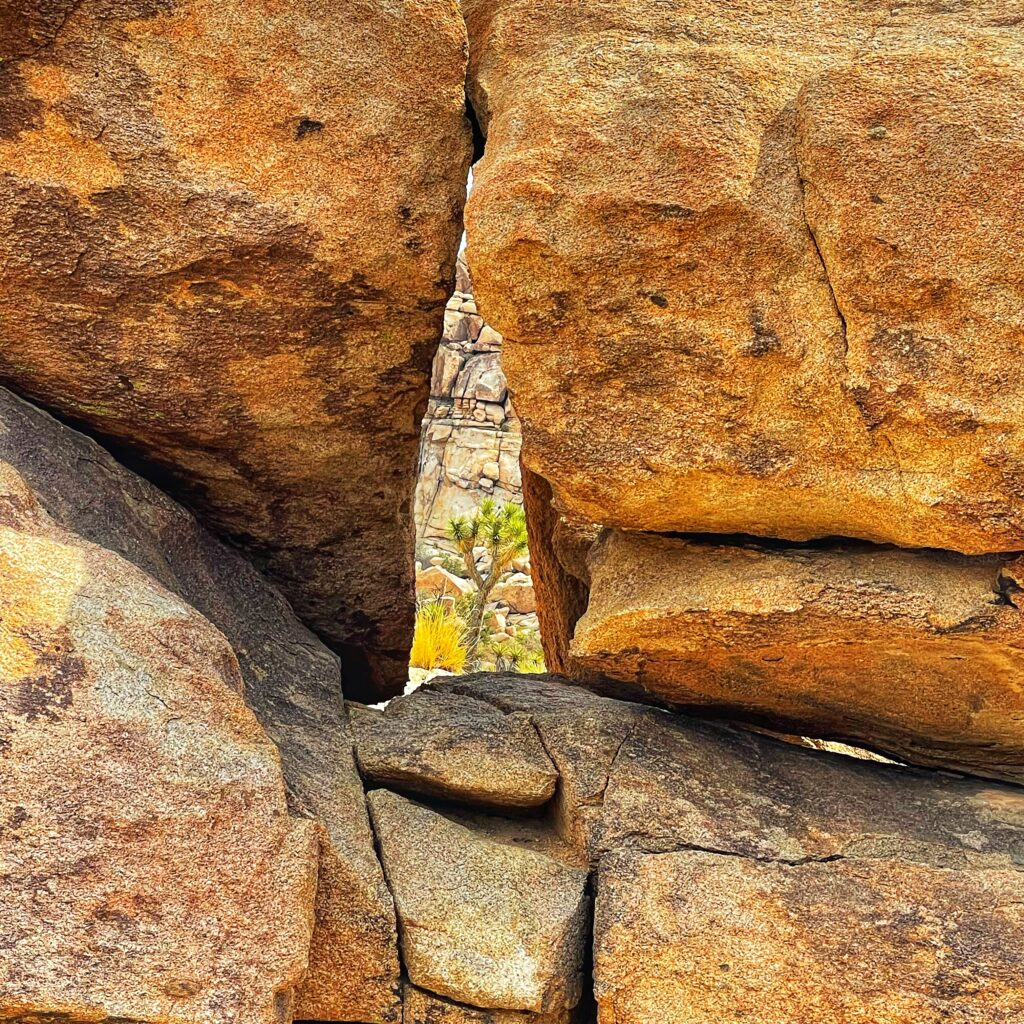 It's rumored that early cattlemen hid stolen cattle here! An easy one-mile loop through rocks and, of course, a valley.
The Cap Rock Hike in Joshua Tree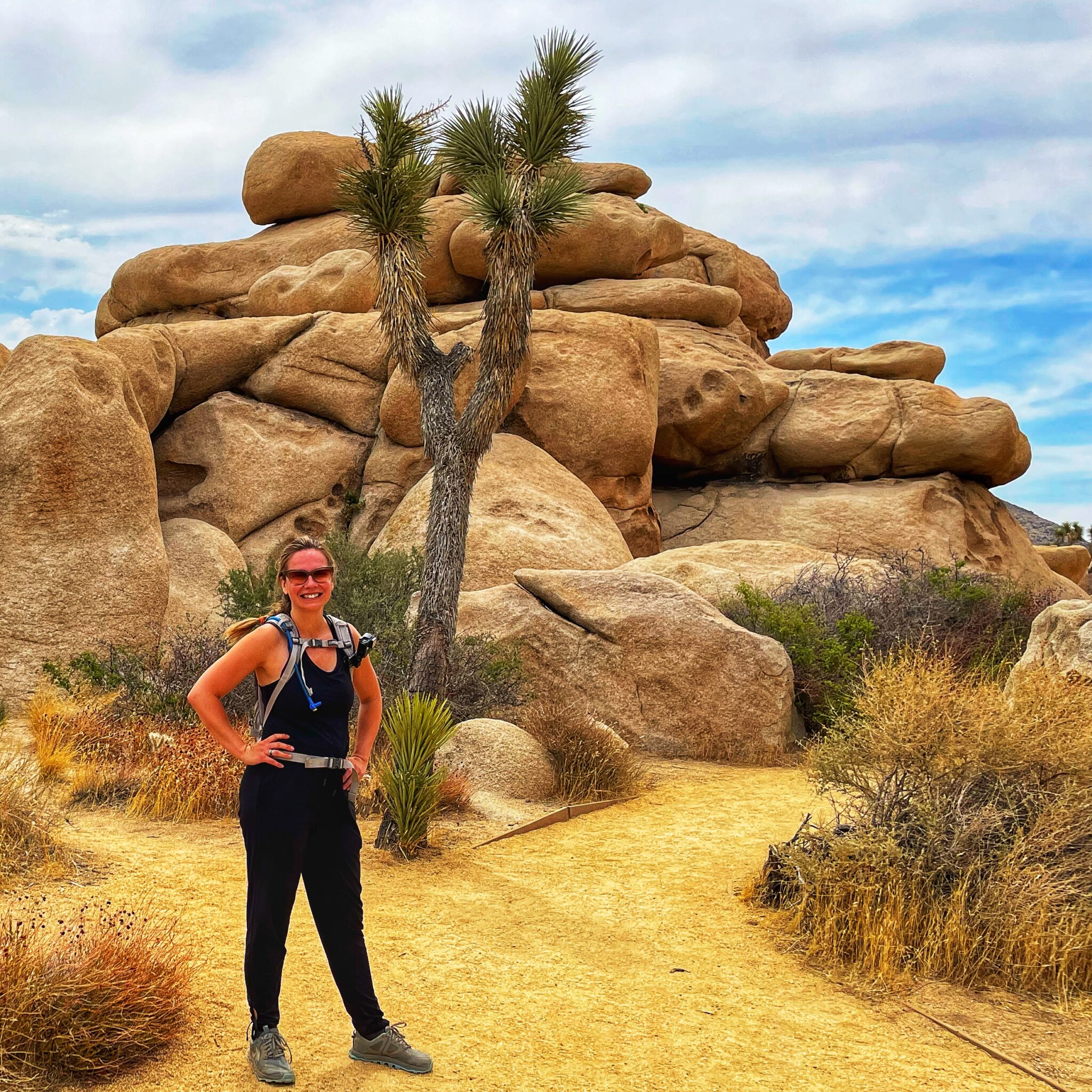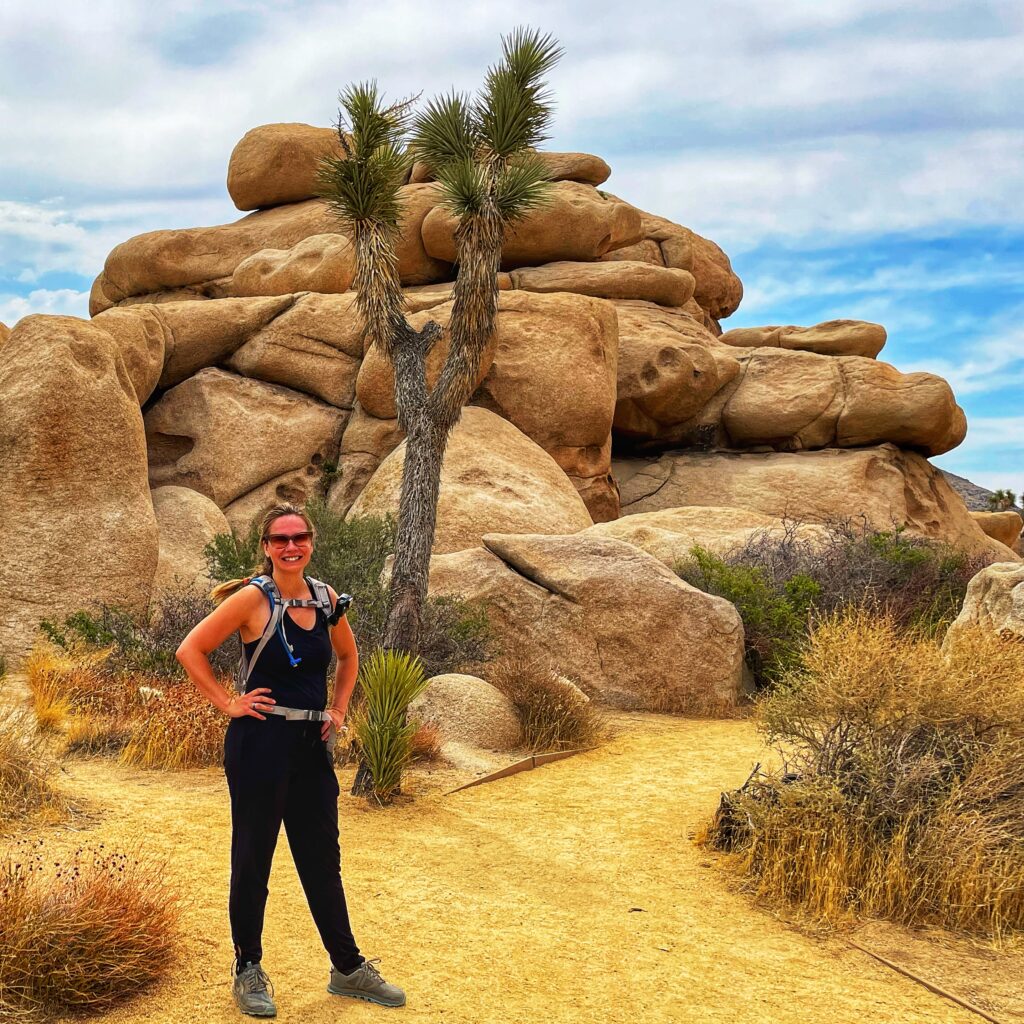 This easy 0.4-mile loop is a great one for kids because there are so many places to clamber! Like most of the hikes at Joshua Tree, there are informational signs dotting the trail to teach you about the plants and animals that make this seemingly inhospitable place home.
For a more strenuous hike in Joshua Tree:
In the summertime, it's really important to use caution on these trails. It gets hot so quickly out there!
The Fortynine Palms Oasis Hike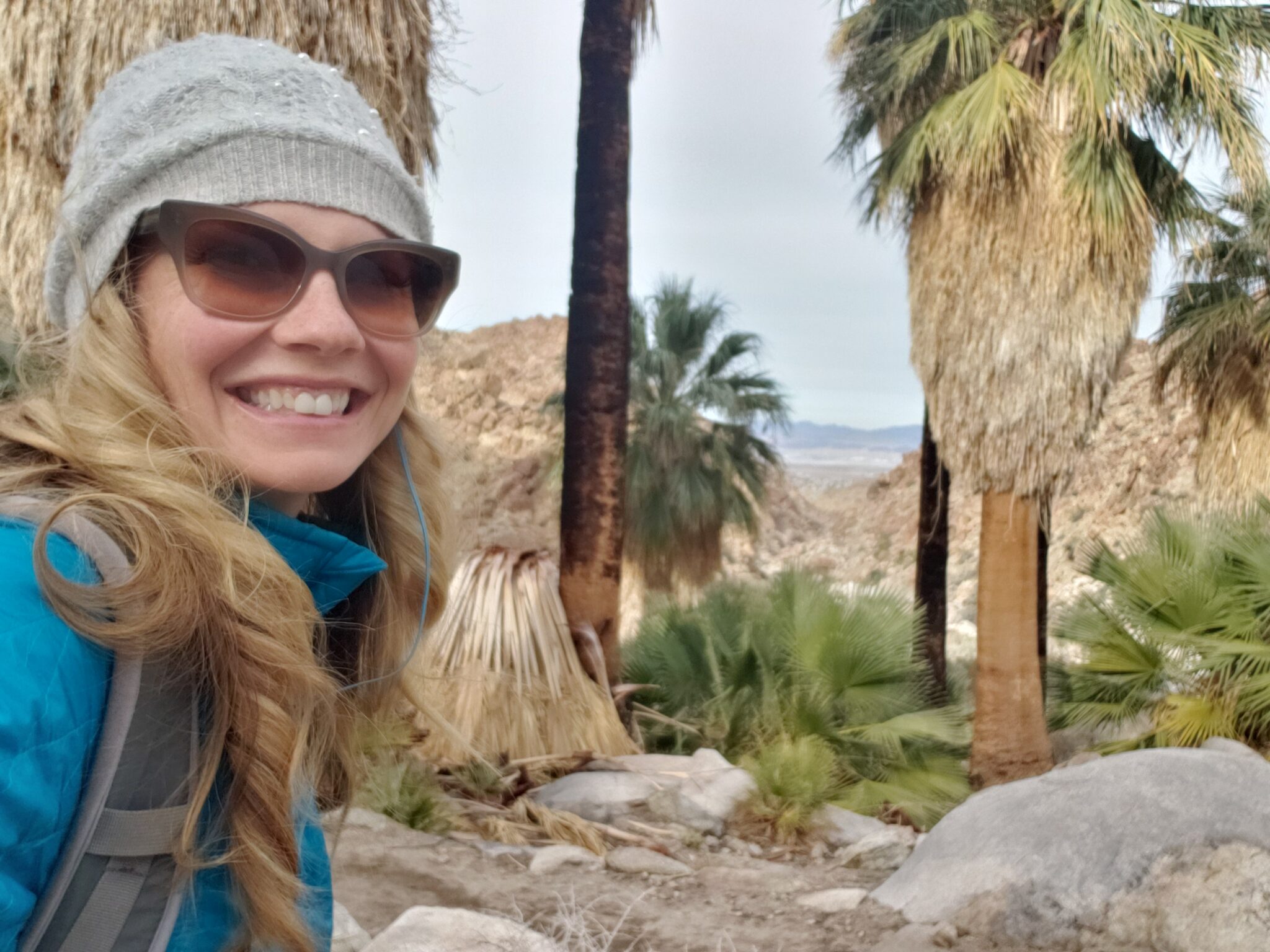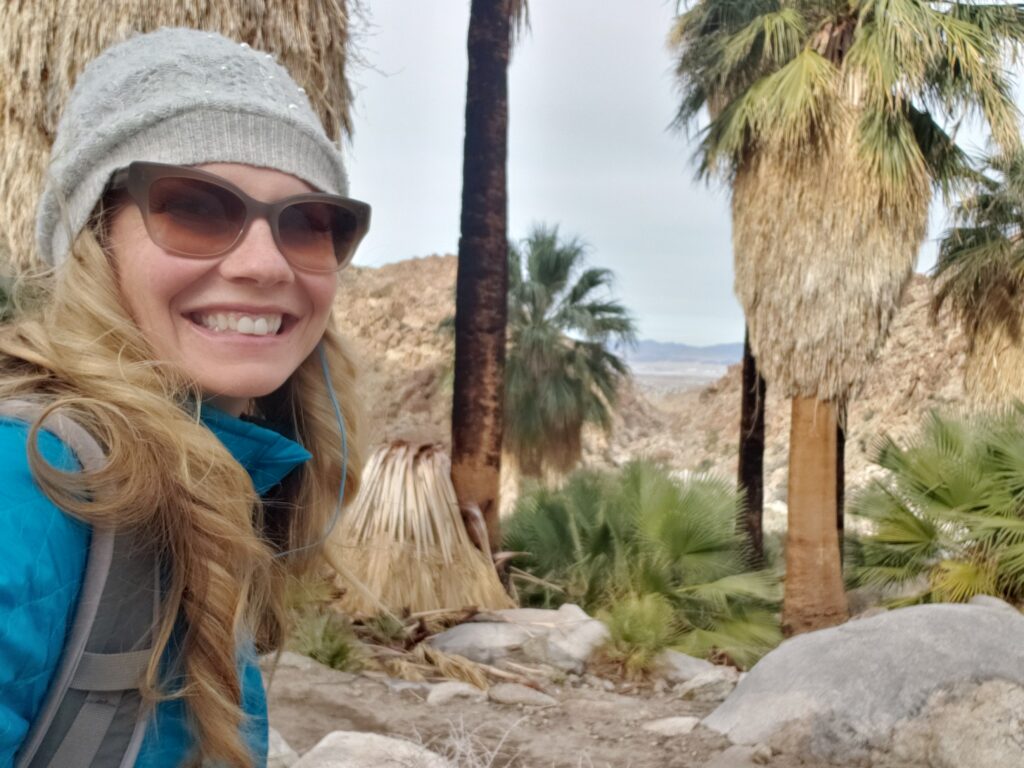 When I visited in June, the Fortynine Palms Oasis trail was closed due to extreme drought conditions with no plans of reopening until the expected summer monsoons create an adequate water supply. However, I was able to walk this beautiful hike on an October visit in 2019, and I highly recommend it if weather conditions allow.
A three-mile out-and-back that takes you over a ridge and to fan-palm oasis, this hike in Joshua Tree is an incredible experience.
The Ryan Mountain Hike in Joshua Tree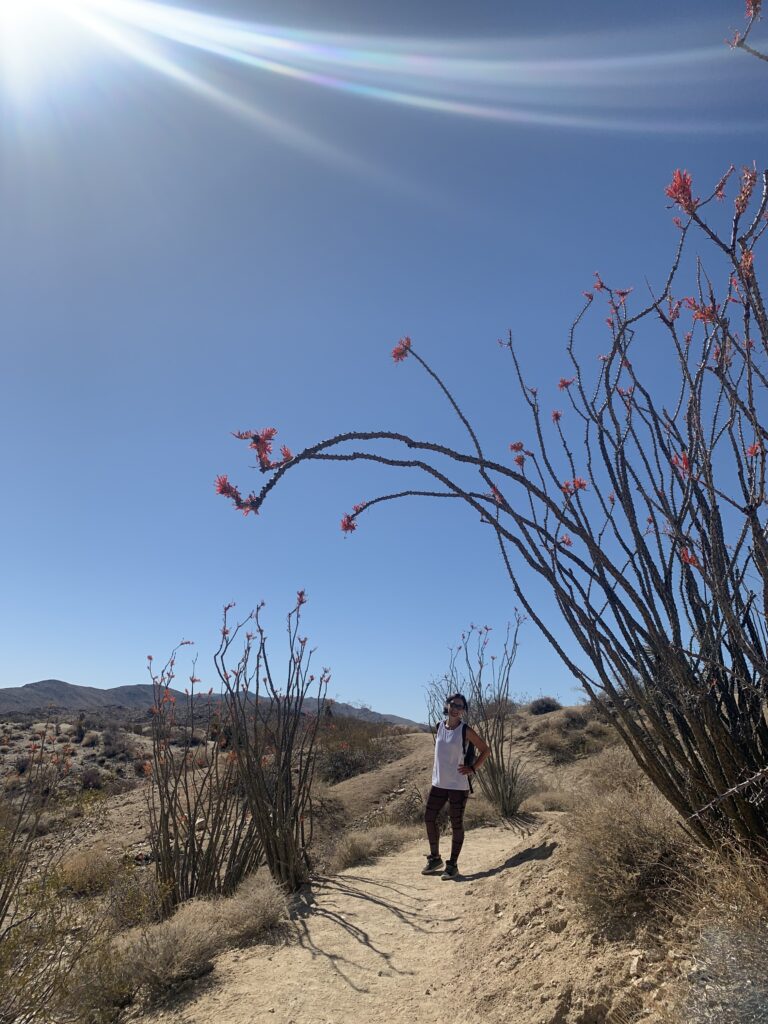 This is a classic hike in Joshua Tree. It's best to do this hike in the morning to avoid crowds and heat. A three-mile out-and-back that can really be described as an up-and-back, you'll summit Ryan Mountain (1,050 feet / 320 meters) and get rewarded with panoramic views of the park.
The Lost Palms Oasis Hike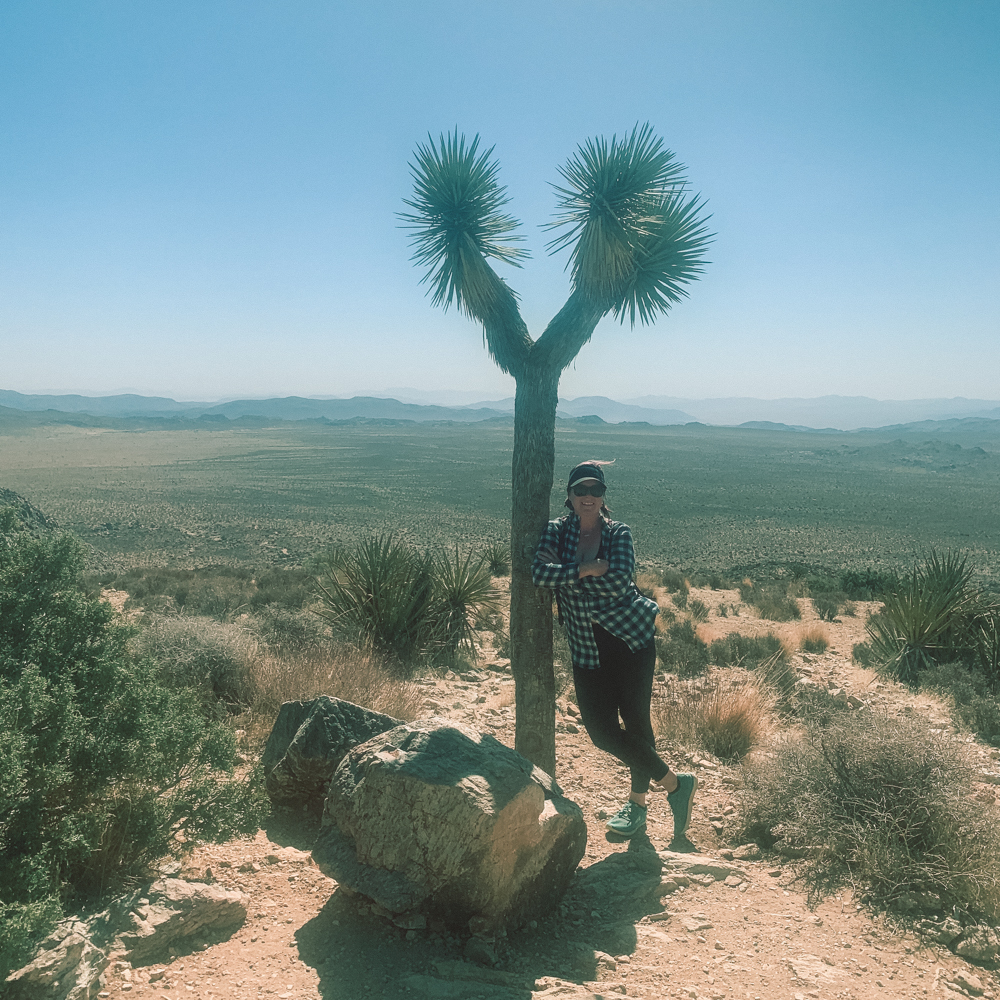 When you're in a Joshua Tree Oasis, you are right on top of an actual crack in the crust of the Earth! When water hits a geological fault, it rises to the surface and creates the right condition for the fan-palm oases of Joshua Tree.
The Lost Palms Oasis Hike is a 7.5-mile out-and-back down into a canyon where you'll find the oasis. It's a tough climb out, but well worth it!
Other places to visit at Joshua Tree National Park
Keys View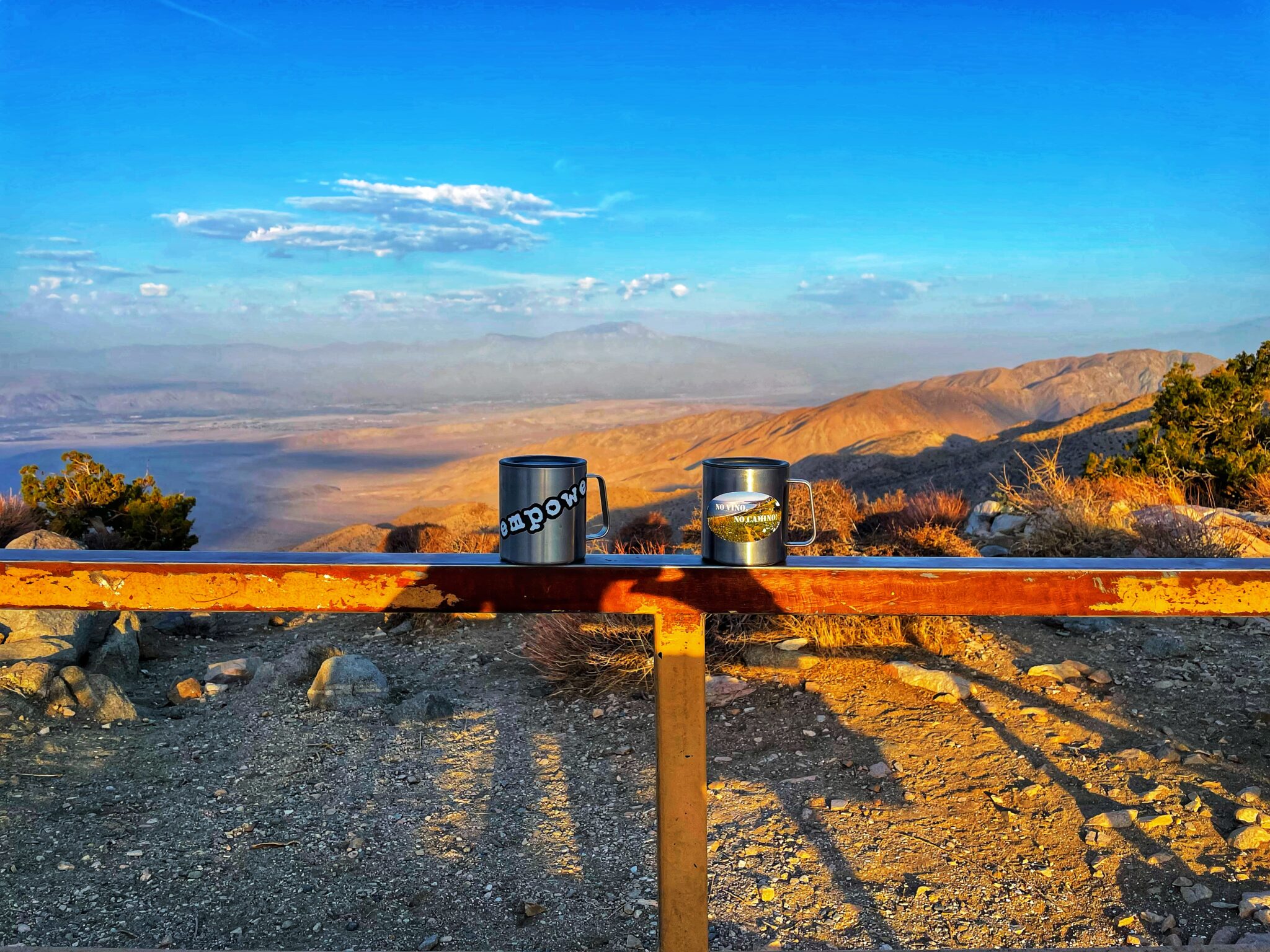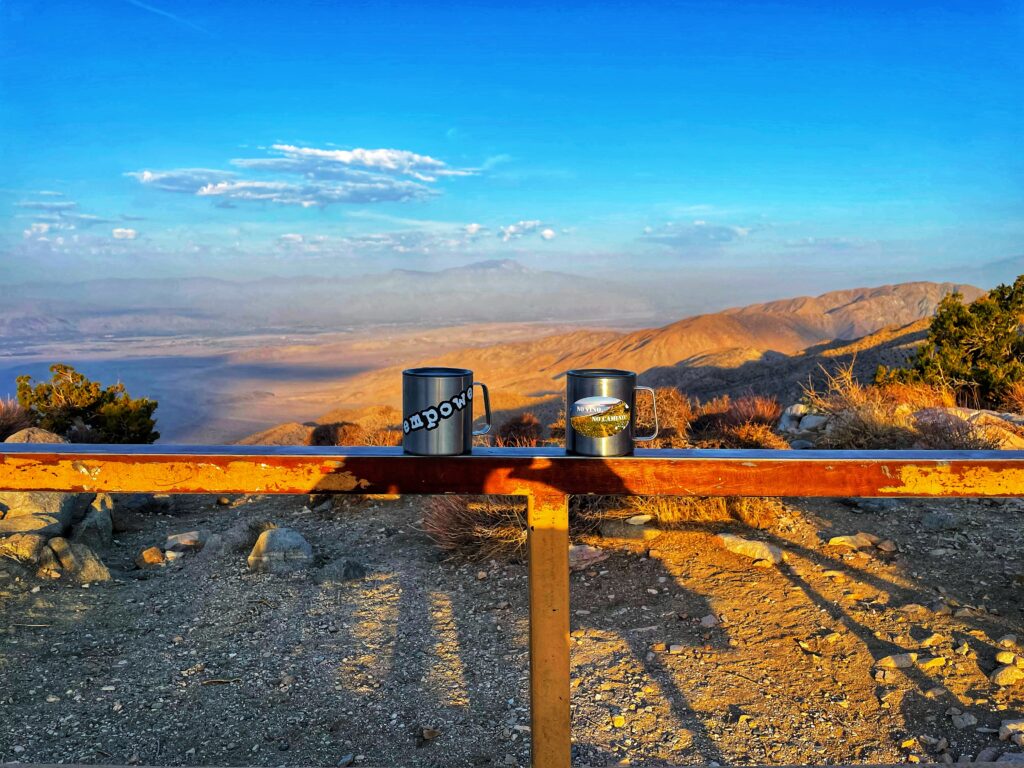 Take in the surrounding mountains and the nearby cities of Palm Spring and Palm Desert from this viewpoint in the park.
There is a pollution haze that often obscures the view, but even with the haze this is a beautiful place to watch the sunrise.
Oasis Visitor Center
There are two visitors centers in Joshua Tree National Park, the Oasis Visitor Center near the north entrance in the town of Twentynine Palms and the Joshua Tree Visitor Center at the West entrance.
The Oasis Visitor Center in Twentynine Palms includes interactive exhibits and the Oasis of Mara, a 0.5-mile loop on a paved walkway. Twentynine Palms grew up around this oasis and, as the visitors center guide told me, "it's what started it all around here".
The address for the Oasis Visitor Center is: 74485 National Park Drive, Twentynine Palms, CA 92277
Campgrounds at Joshua Tree
The most centrally located campground at Joshua Tree is Hidden Valley, but it's first-come, first-served, which can be a problem in the cooler months when the park is busy. ($15/night)
Ryan Mountain and Jumbo Rocks are convenient campgrounds as well. Here reservations are required ($20/night). When we stayed in June, Jumbo Rocks Campground was nearly empty except for the bees, which were everywhere.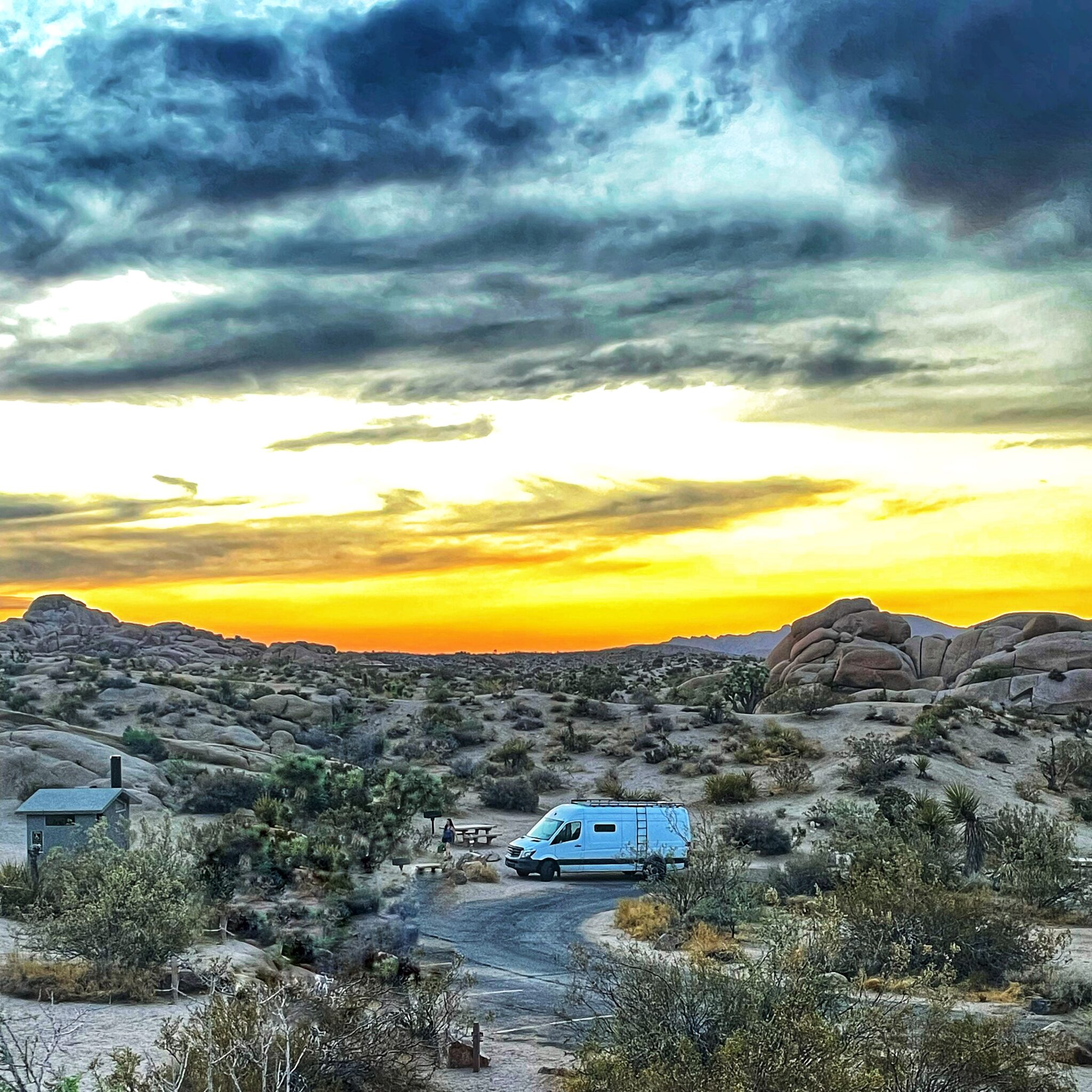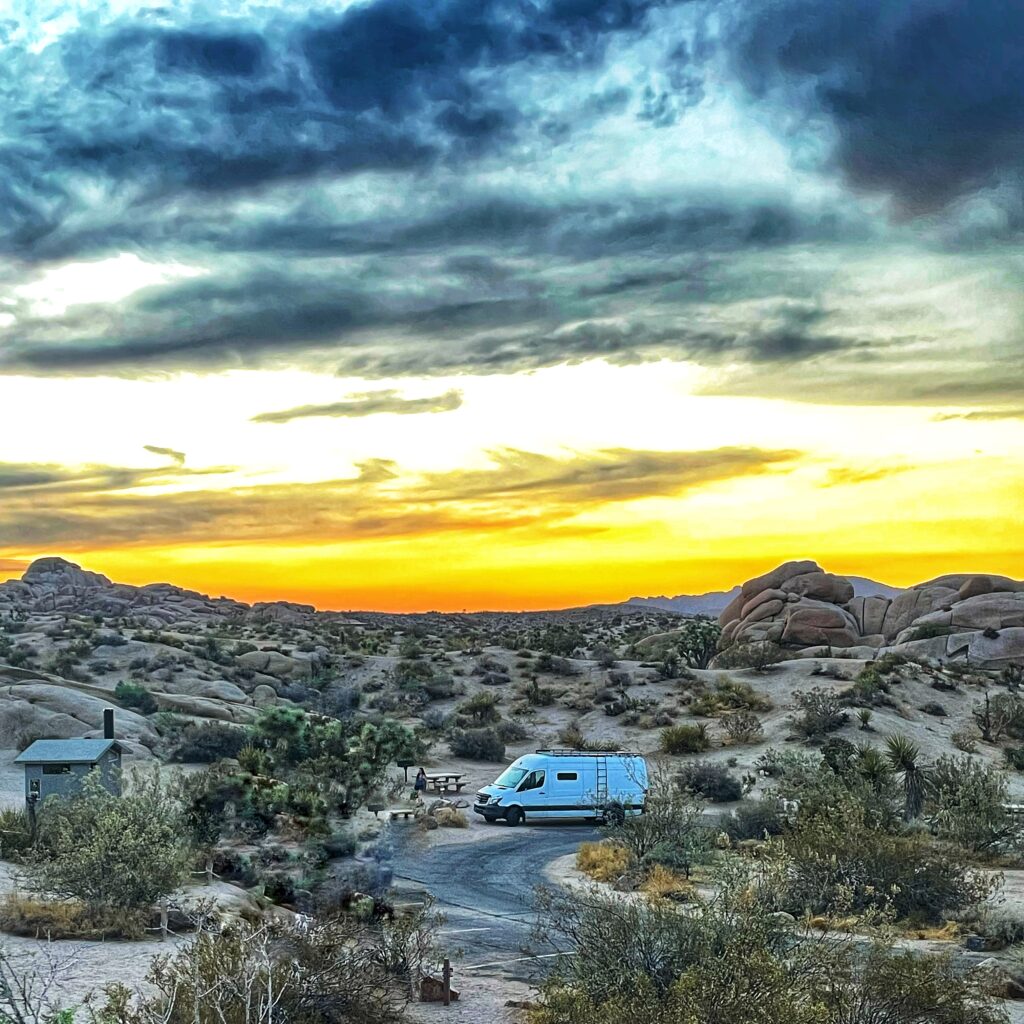 Indian Cove Campground is on the northern edge of the park and a longer drive from the centrally located trails. Reservations are required here ($25/night). On the northwest corner of the park is Black Rock Campground, which takes reservations (25/night).
On the eastern side of the park, there are two first-come, first-served sites at Belle and White Tank ($15/night). And finally, there is Cottonwood, which is further from action on the far southeast edge of the park, but the night sky is something to see out there. Reservations are required ($25/night).
Where to stay before your hike in Joshua Tree
For a full list of hikes in Joshua Tree, visit here. Visit here for a comprehensive California National Park Road Trip guide (including Joshua Tree) from my good friends at AlmostThereAdventures.
About the Author
Hi! I'm Jen!
I'm a freelance writer and travel blogger who quit my nine-to-five after my fiancé, Jeff, died of cancer at the age of 40. When he died, I realized that life is just too short to delay our dreams. Since my dream was to travel and write, I now travel and write full-time. Today I wear hiking boots instead of heels and collect experiences instead of things.