Ramona Wineries & Cideries: A Ramona Valley Tasting Tour
Hey there! This post may contain affiliate links, which means I'll receive a commission if you purchase through my link, at no extra cost to you. Please see my legal page for more details.
With more than 30 Ramona wineries to try, a visit to this beautiful California wine region – just a 45-minute drive outside of San Diego – will keep you more than busy for the weekend!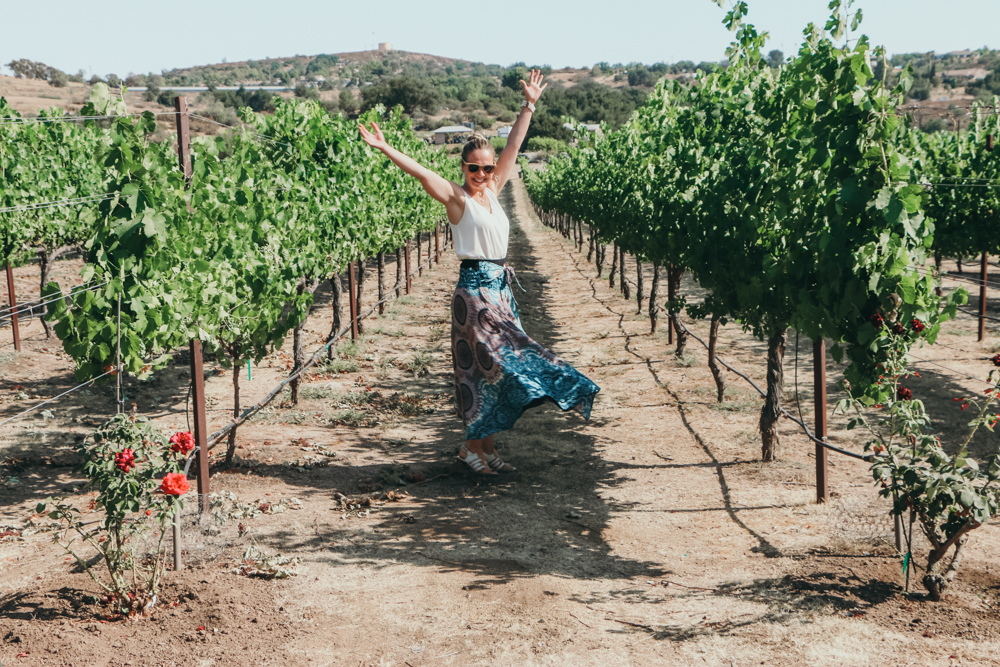 The Ramona Valley is one of the youngest wine regions in California, but making quality wine is nothing new to these winemakers. All of the following Ramona wineries (and the Julian cidery) are family-owned establishments where you can taste the labor of love in your glass.
Here's an interactive map of the area where we'll be exploring:
Many thanks to Ramona residents Nancy and Paulette for showing me the Ramona Valley wine scene!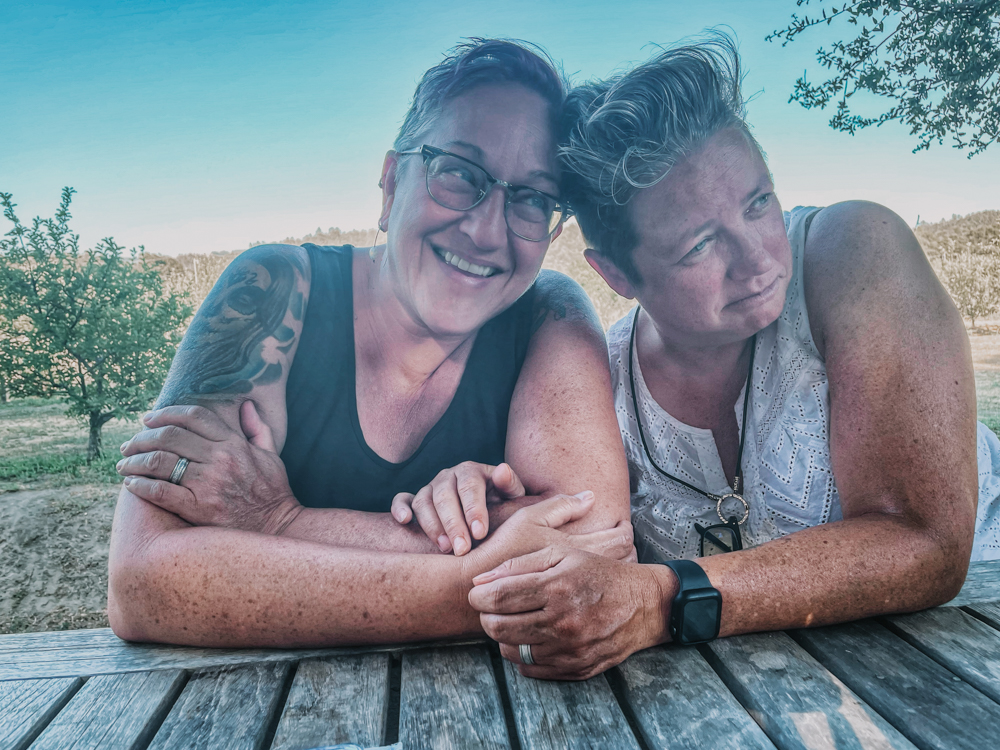 For a map with available homestays and hotels in Ramona and San Diego, visit here.
Let's dive in!
Chuparosa Vineyards (my favorite of the Ramona wineries!)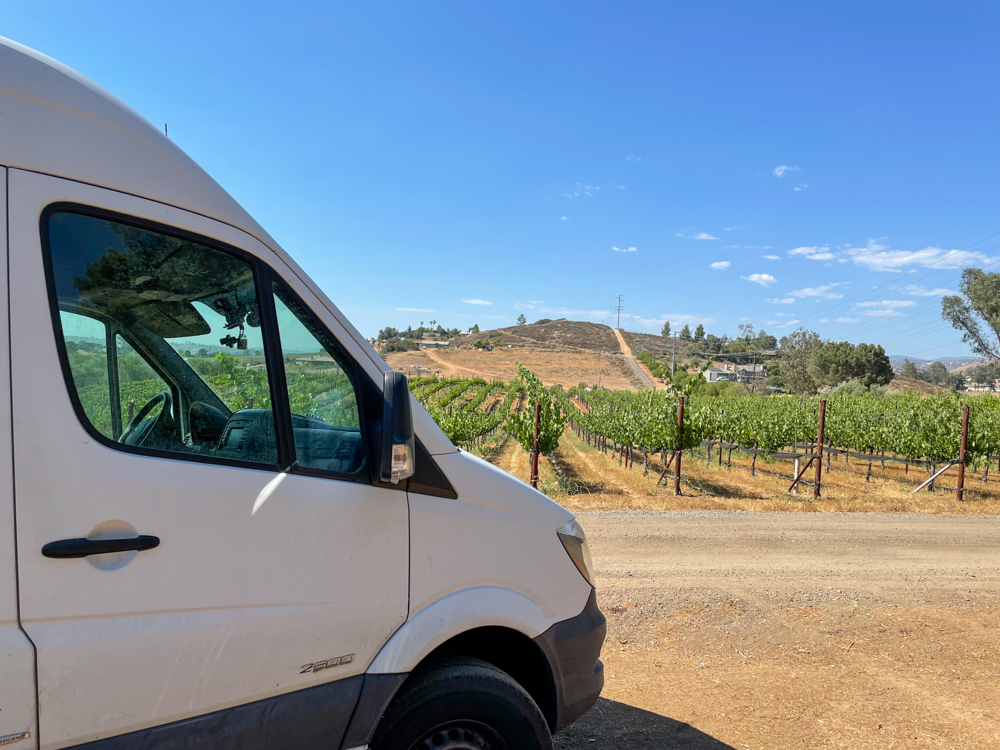 I want to visit ALL the Ramona wineries, but right now, Chuparosa Vineyards is my very favorite of the bunch. Both for the wine and for the company.
When we first walked into the tasting room at Chuparosa Vineyards, winemaker Andy Harris was busy pouring tasting glasses for a rowdy group, so we stayed out of the way, opting to sit around a large coffee table covered with magazines and surrounded by cozy chairs.
We chose the full tasting, which meant glass after glass of wine that just kept getting better than the last. As we tasted, Carolyn Harris came in from tending the vines and the couple joined us around the coffee table, sharing their philosophies on growing grapes and making good wine.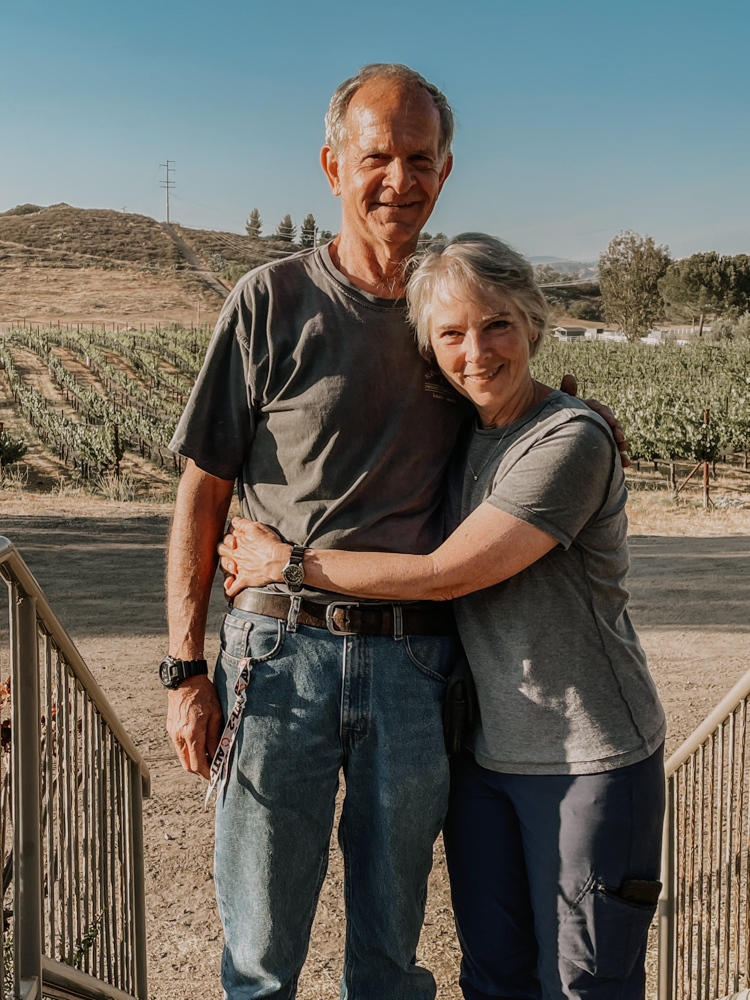 The first tip? Harvest with friends. For Carolyn and Andy, living their own-a-vineyard dream means inviting friends and family to join them on the property every year for the harvest season.
If you're lucky, you'll get to count these two among your new friends after a visit to Chuparosa! (Harvest-season duties not included.)


I walked out of there with many bottles of wine and a (small) dent in my wallet! My favorite was the Bordeaux-inspired red.
Chuparosa Vineyards Address: 910 Gem Lane, Ramona, CA 92065
Barrel 1 Winery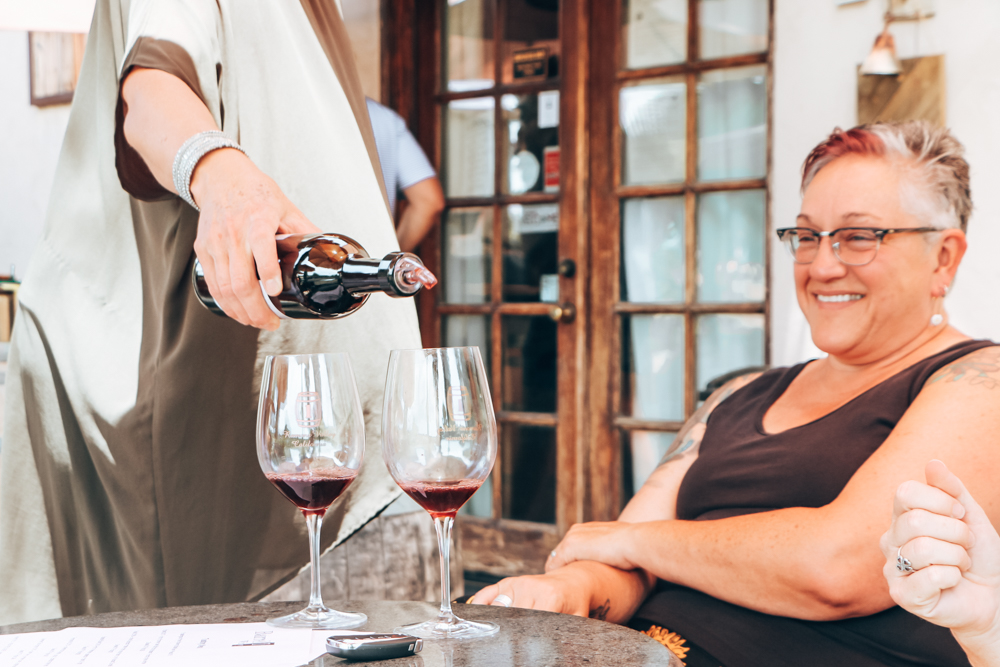 Are you sipping wine in a Tuscan vineyard or in a California vineyard? It is hard to tell when you are visiting the Barrel 1 tasting room on the Cassidy Family Estate!
The welcoming, open lawn with tasting tables and arching, shade-providing trees separates the tasting room from the Tuscan-style family home. The tasting lawn and patio feel like an extension of the house as members of the family pour your wine.
The signature Black Widow Merlot even comes with a family story along with the tasting. Apparently, a young apprentice (one of the kids) noticed a black widow creeping close to the wine during production and the winemaker shrugged it off. A bit of added protein never hurt anyone, right?
Whether the spider was in our glass or not, the Black Widow Merlot was the hands-down favorite for our group!
With over 3,000 vines, Barrel 1 is among the largest of the Ramona wineries. All of the wine is made from grapes grown on the estate, which is blessed by rich volcanic soil. No fertilizers are used.
Barrel 1 Winery address: 1007 Magnolia Avenue, Ramona, CA 92065
Hatfield Creek Vineyards and Winery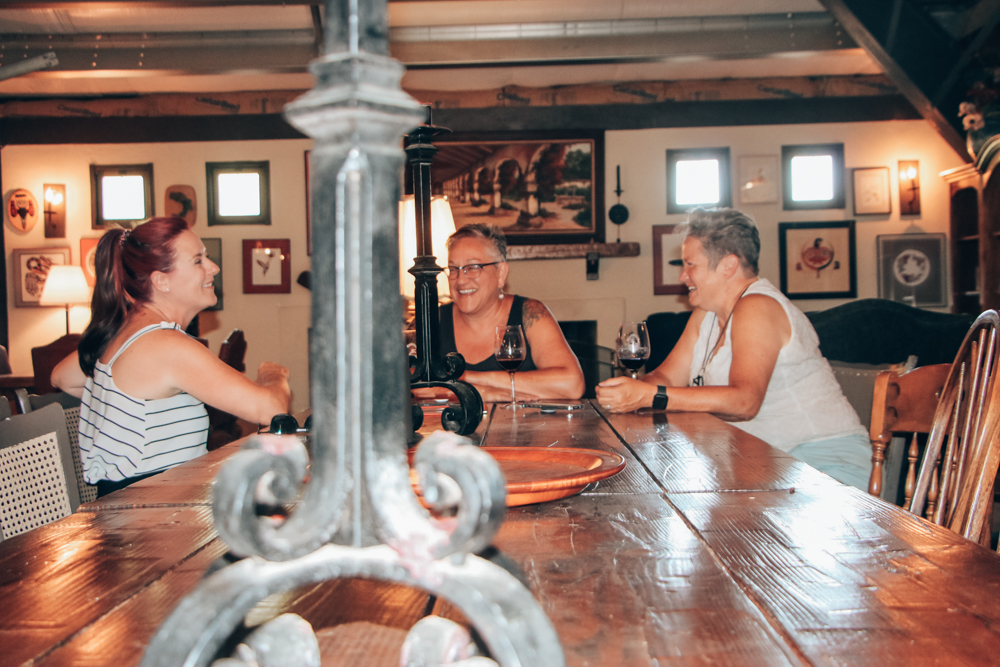 You will instinctively relax when you walk into the tasting room of the Hatfield Creek Vineyards and Winery where you can chat over your wine at a long, family-style dining table or put together a jigsaw puzzle at a cozy corner table.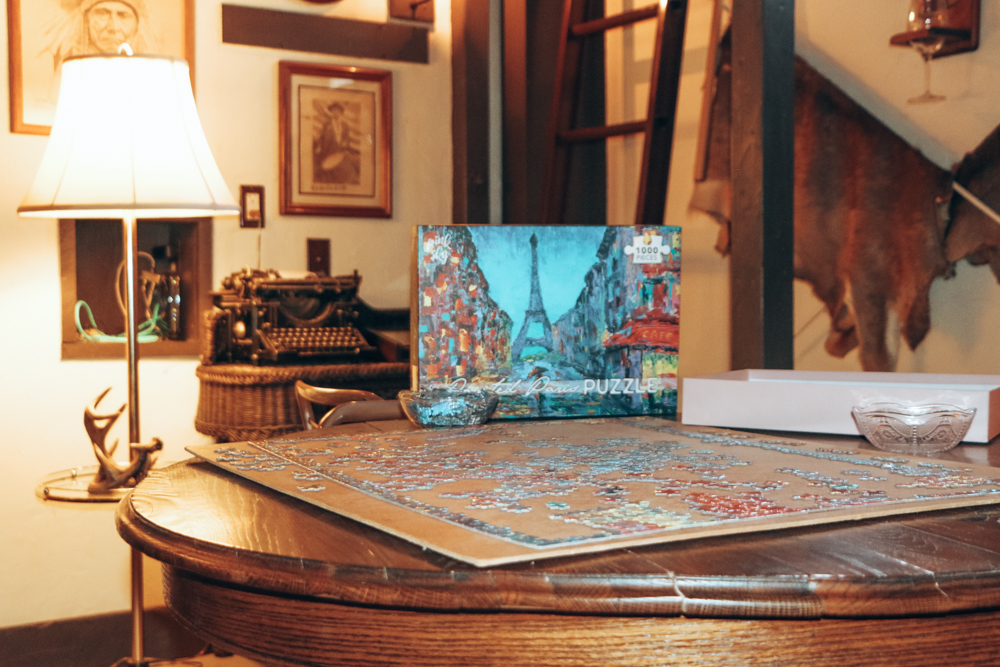 The friendly tasting-room baristas will tell you all about the eye-catching artifacts spread around the room, including remnants from an ancient native village and from a Navy jet that crashed in the vineyard in 1961.
They will also pour some of the most delightful glasses of wine found among Ramona wineries, including our favorite: the 2019 Estate Zinfandel.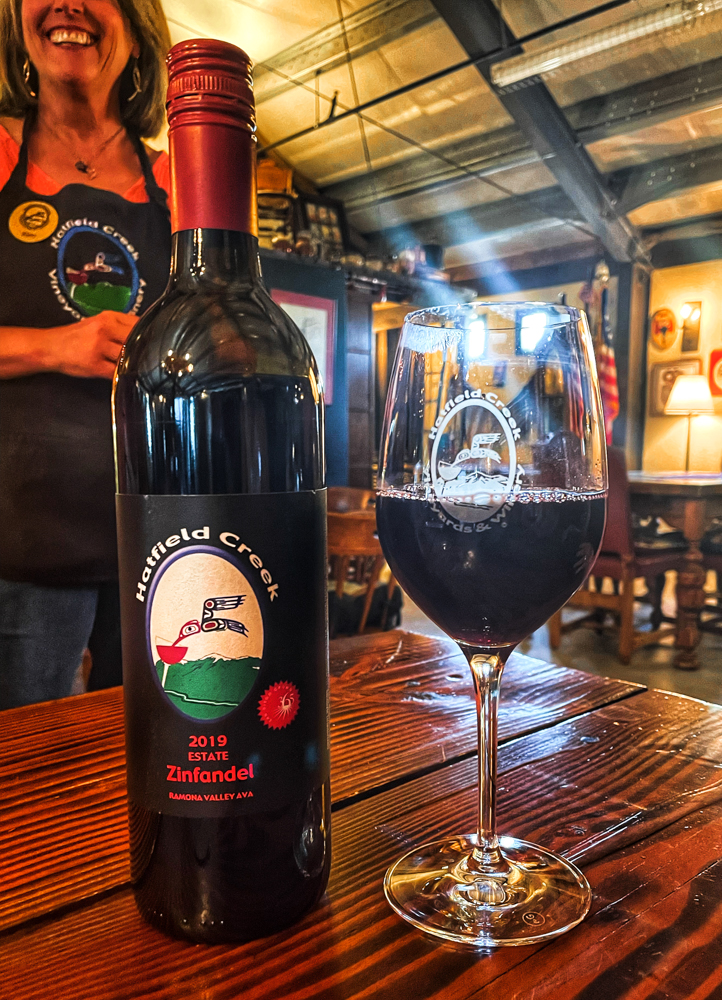 If you make it outside the tasting room to explore, there are beautiful outdoor places to sip or picnic in the vineyard, and there is even a darling vintage trailer for rent if you want to stay on the property.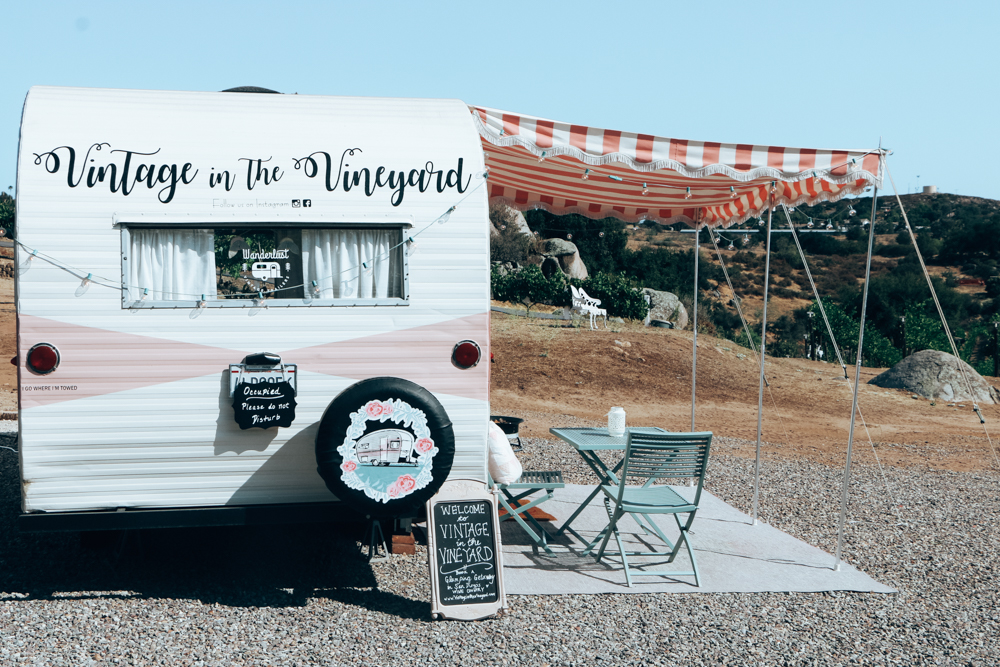 If you have your own RV or campervan, you can also stay on the property (for free!) This Ramona winery is also a Harvest Host! I learned about this amazing way to stay on participating vineyards, breweries, and farms when my friend Lizz and I traveled the U.S. in a campervan.
For 15 percent off your Harvest Host membership, use this link.
Hatfield Creek Address: 1625 Highway 78, Ramona CA 92065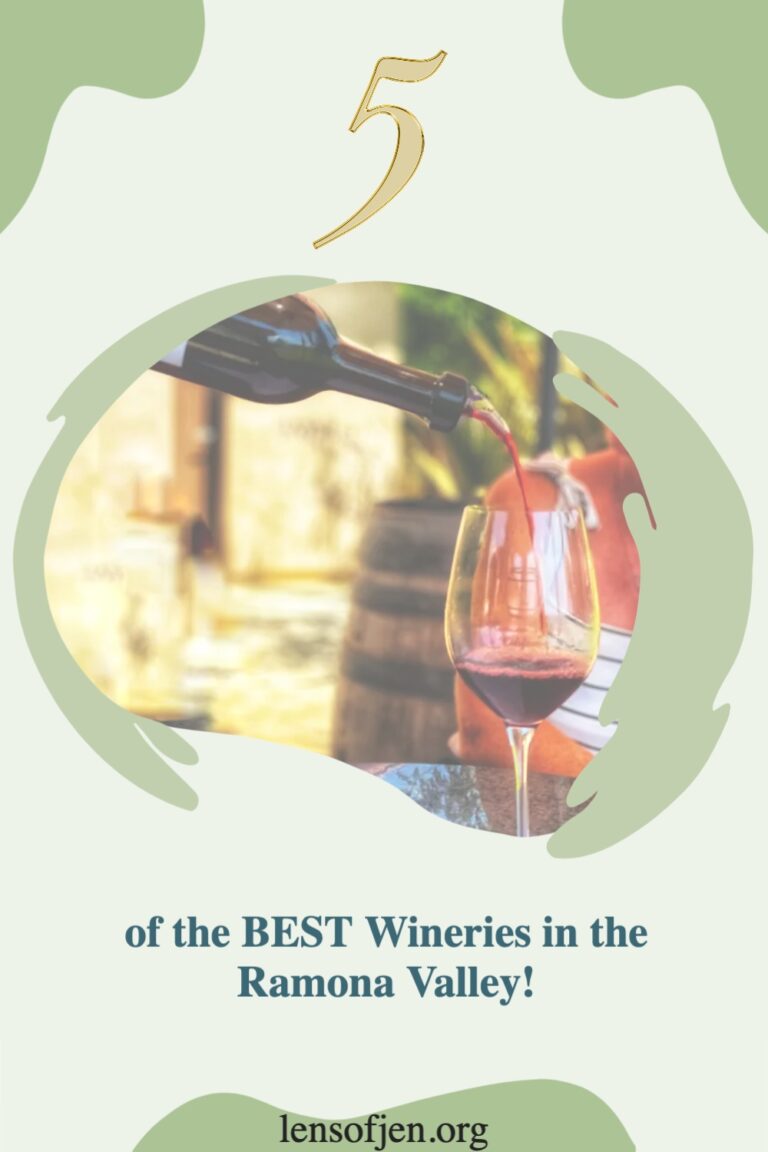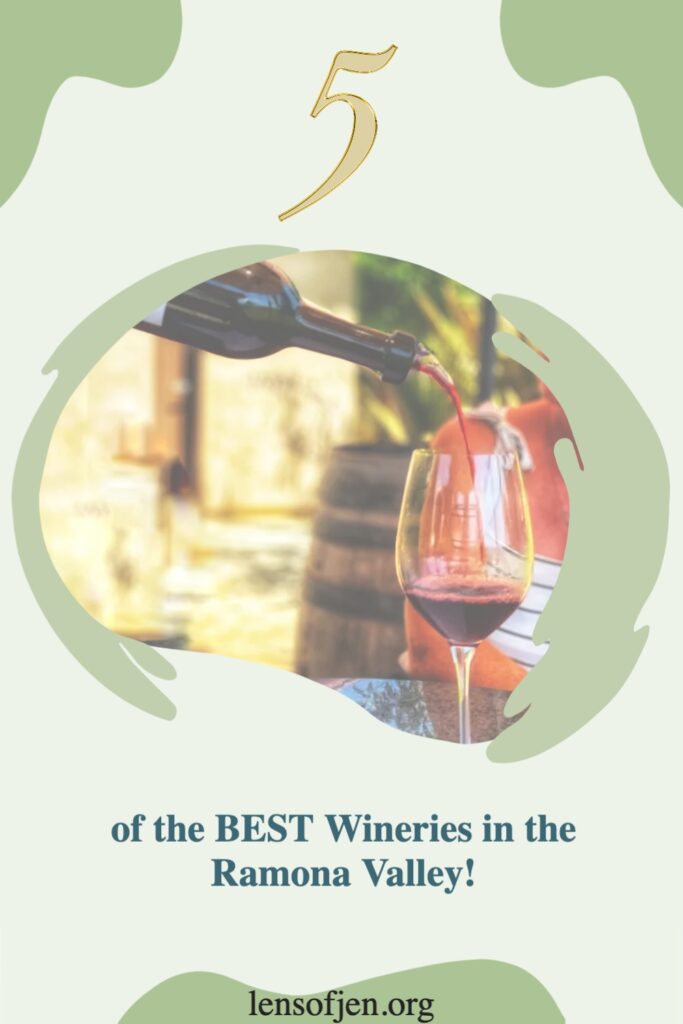 La Finquita Winery and Vineyard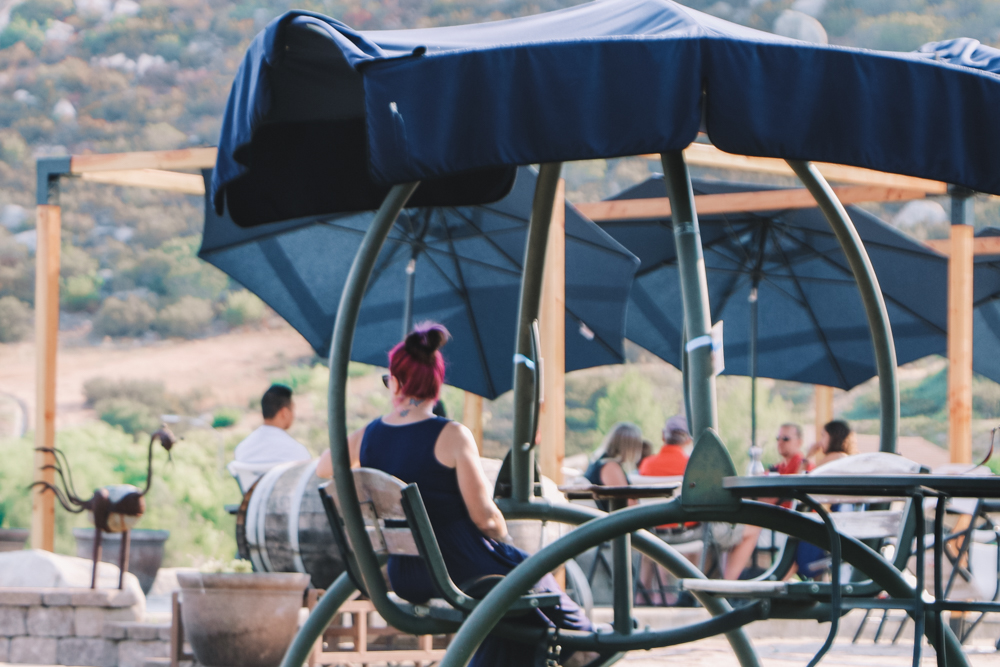 One of the more unique experiences of the Ramona wineries is at La Finquita Winery and Vineyard where you can reserve a table that doubles as a swing!
Swing right on out into the vineyard with its sweeping views of the Ramona Valley. Of all the wines we tried, the 2015 Passionate Kiss red stood out, and, don't worry, the tasting glasses stay put on that swing. We tested!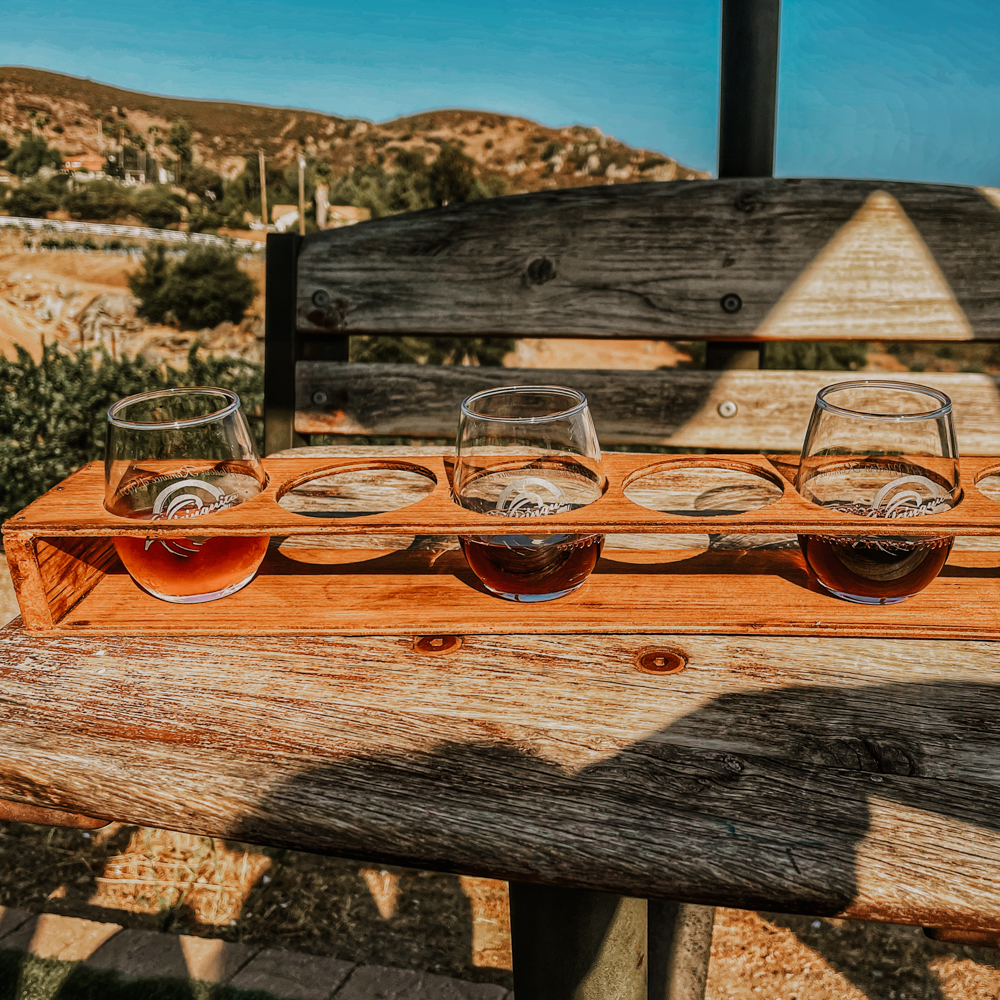 You can also wander down into the wine cave that's built into the side of the hill beneath the tasting room! Tables (and swings!) are only by reservation at La Finquita.
La Finquita address: 23123 Vista Ramona Road, Ramona, CA 92065
Calico Cidery (a tasty way to mix it up when touring Ramona wineries!)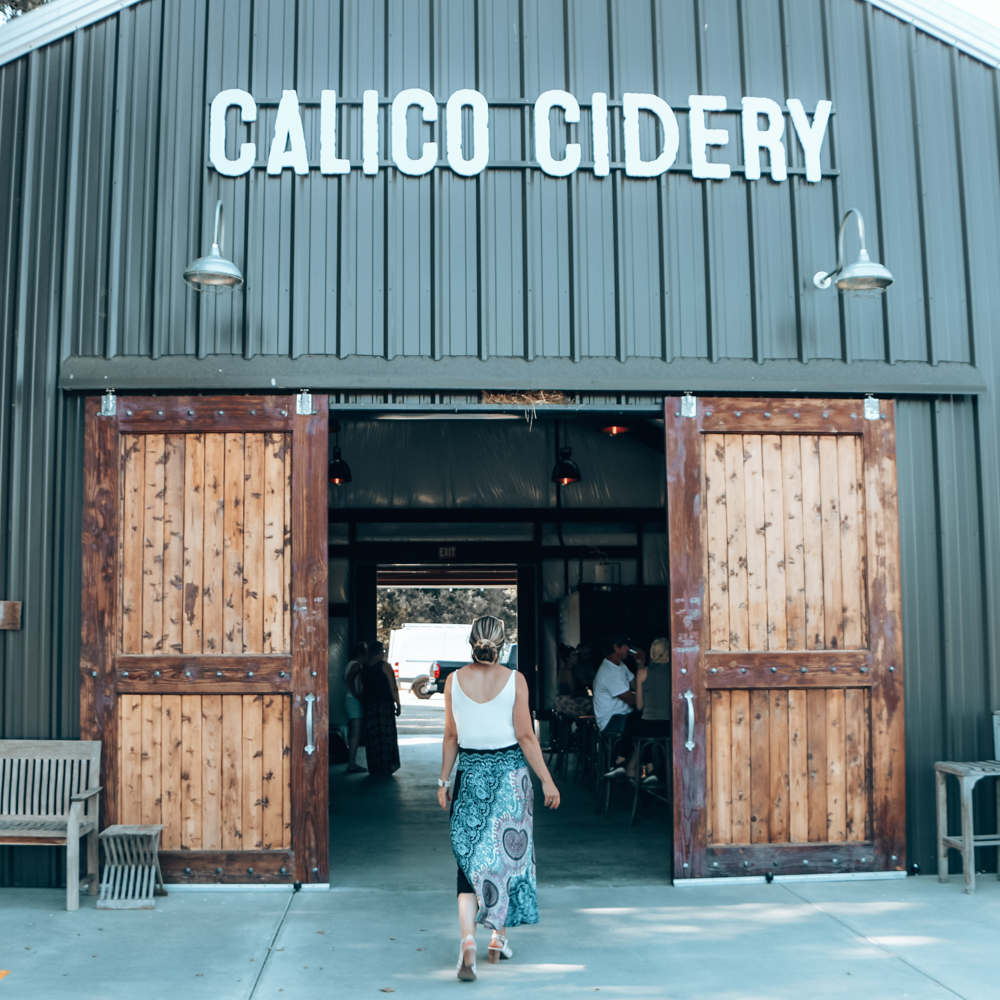 Located on Calico Ranch in Julian just outside of Ramona, is the Calico Cidery. Here you can drink hard cider made from two ingredients – apples and yeast – while sitting in a barn in the midst of the apple orchard!
Whether you sit on the picnic tables outside or on the blanket-draped hay bales inside, you're sure to enjoy the scenery and the simplicity of the cider. Calico Cidery offers growlers, pints, and tasting flights. We tried all four ciders on tap and loved the Jonagold.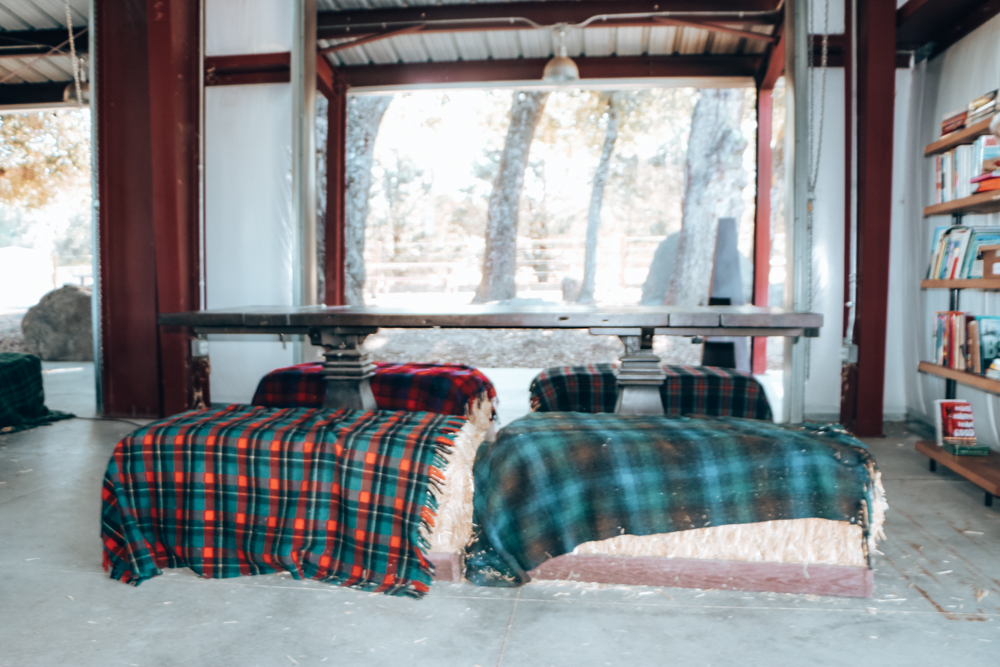 The Calico Cidery does not offer food, so here's a tip if you're hungry at this stage of your wine tasting tour, pick up a pizza for carryout at nearby Wynola Pizza and Bistro. You can eat the pizza at the cidery while you enjoy views of the orchard.
Calico Cidery Address: 4200 Highway 78, Julian, CA 92036
Take a tour of Ramona wineries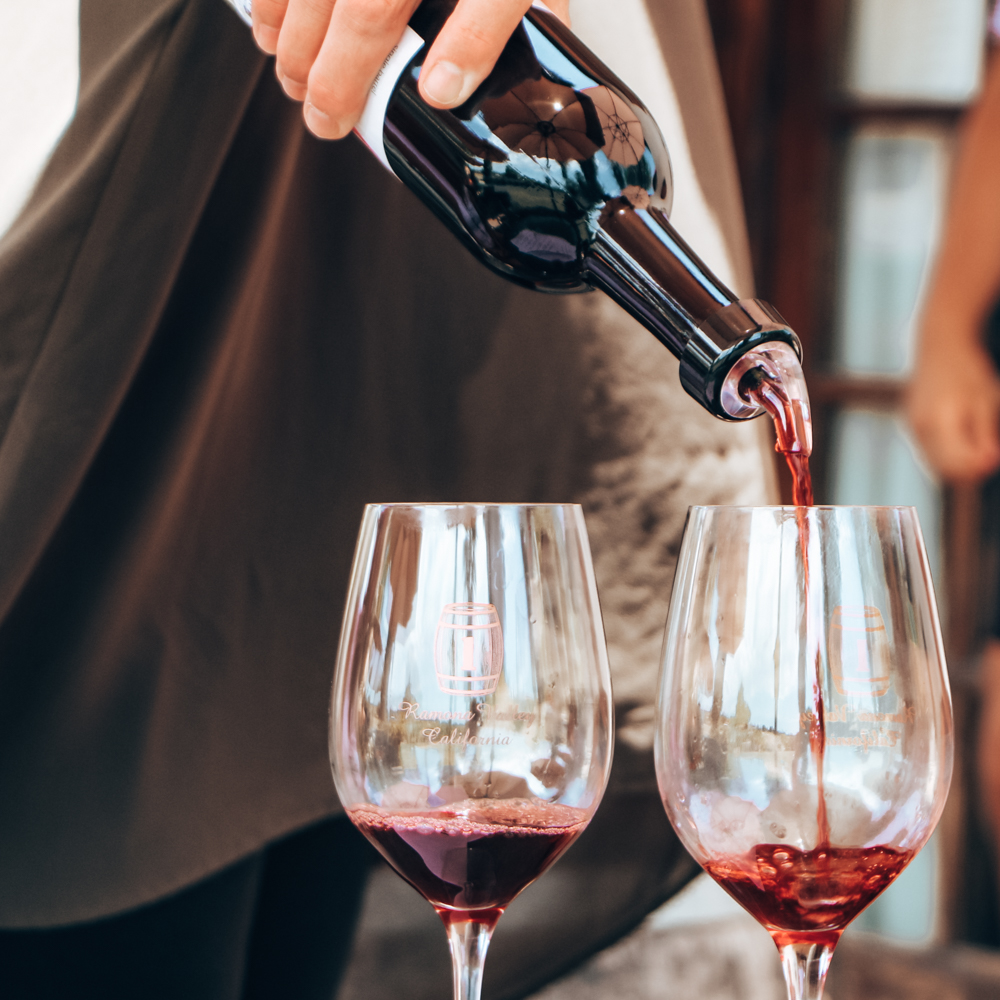 Whether you're looking to build your own tour of Ramona wineries as we did or whether you want to turn over the keys to a tour guide, RamonaValleyVineyards.com has you covered in the Ramona Valley and nearby Highland Valley wine regions.
Where to stay to visit Ramona wineries
We talked about the really cool vintage trailer for rent from Airbnb on the Hartfield Creek Vineyards. And if you have a van or RV, you can stay on the Hartfield property as a Harvest Host guest.
But if trailers and RVs aren't your thing, here are available hotels and rental homes near the Ramona wineries:
Where to eat near the Ramona wineries
In Ramona:
The southern belle salad with a mimosa flight hit the spot in the delightful backyard courtyard at Marinade on Main (though if you're wine tasting that day maybe skip the mimosa flight!) And for dinner, don't miss the traditional noodles at Pinto Thai.
In Julian:
I loved the vegetable pizza at Wynola Pizza and Bisto, which we carried out and ate on the picnic tables at Calico Cidery. And, though I wasn't lucky enough to sit down at this farm-to-table spot, my friends love Jeremy's on the Hill and highly recommend it to anyone visiting.
You can bet that I"ll be updating this post with more Ramona wineries when I return to the Ramona Valley! Stay tuned! Until then, please check out these hikes and urban walks in the San Diego area.
About the Author
Hi! I'm Jen!
I'm a freelance writer and travel blogger who quit my nine-to-five after my fiancé, Jeff, died of cancer at the age of 40. When he died, I realized that life is just too short to delay our dreams. Since my dream was to travel and write, I now travel and write full-time. Today I wear hiking boots instead of heels and collect experiences instead of things.