Camino del Norte Stage-by-Stage: A Walking Guide (2022)
Hey there! This post may contain affiliate links, which means I'll receive a commission if you purchase through my link, at no extra cost to you. Please see my legal page for more details.
Each Camino del Norte stage is described briefly below with links to a full post with the day-by-day story. Each individual post includes videos and tips for that stage on the Camino del Norte.
This Norte stage-by-stage guide is meant to be a resource so that you can read about what's coming next on your pilgrimage as you walk. You'll still want a guidebook as I often tell the story of the trail rather than the twists and turns and detours of The Way.
Here's a map of the route, including a detour to Oviedo on the Camino Primitivo:
(Note: I updated this Camino guide and resource in 2022, checking for the albergues that were still open and making a note if it appears they closed in the recent difficult pandemic years.)
Buen Camino!
The Camino del Norte Stage One is Irún to San Sebastián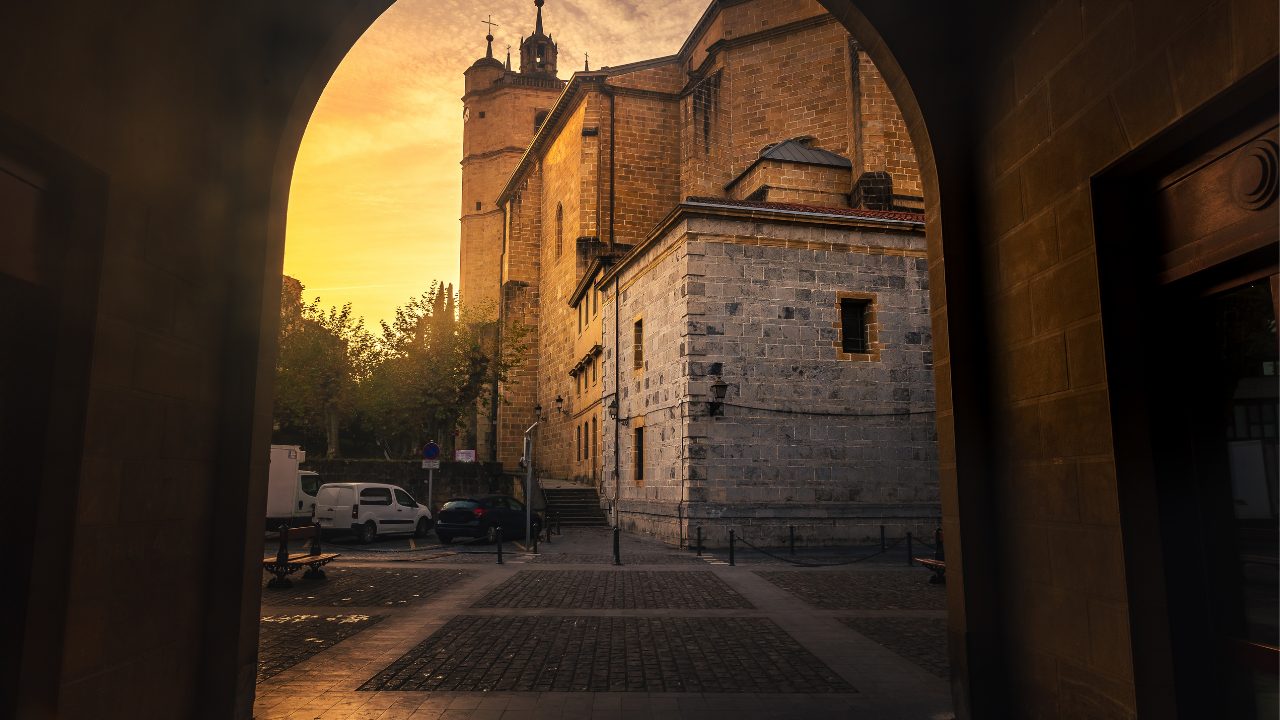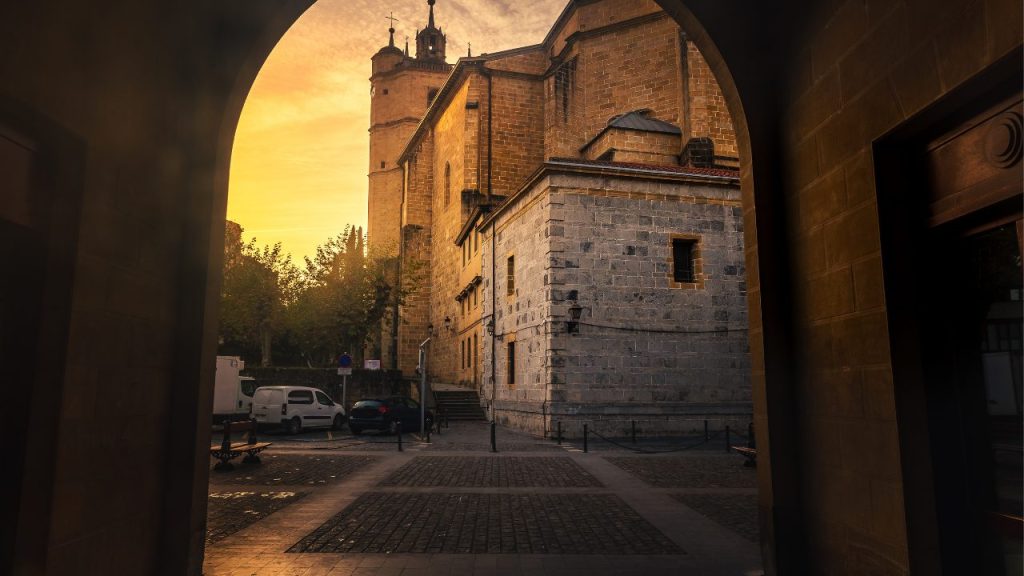 We opted to skip this stage and start our pilgrimage on the Camino del Norte in San Sebastián. It's supposed to be a seriously beautiful stage but incredibly difficult. We skipped it because we were tight on time and also because we didn't want our first day to be an uphill climb.
If I could do it over again, I wouldn't skip the first stage. But I would plan to take a rest day on Day 2 of my pilgrimage in San Sebastián. Your body really hurts on Day 2 and San Sebastián has the outdoor shops that you may need if you now realize that you need extra socks or walking sticks.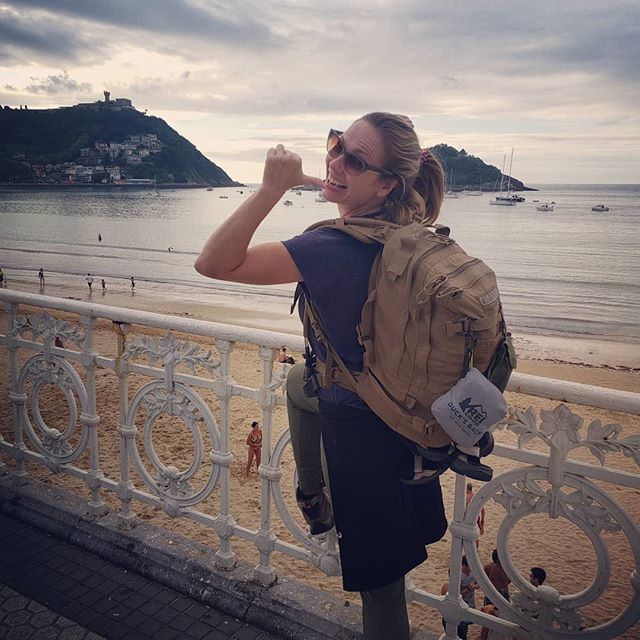 The day when our journey on the Camino del Norte began.
This was our first day of walking the Camino del Norte and, since we chose to start our pilgrimage in San Sebastián rather than at the traditional start in Irún, we skipped the really difficult but seriously rewarding previous stage.
We were full of excitement and awe at the breathtaking coastal views on the Norte stage from San Sebastián to Zarautz. This is a really beautiful stage, but it often gets overlooked because people are hurting so much from the day before.
If you started in Irún and you have the time, consider taking a rest day in San Sebastián where you can buy any items that you now know you need (like hiking sticks, silk sock liners, blister kits, etc.)
This Camino de Santiago packing list will help you avoid the need to shop too much along the way, but it's still worth considering spending a day in San Sebastián and planning your next stages with all of the newfound knowledge from your first day.
And especially since Day Two on the Camino de Santiago can be really hard on the body (as we are about to find out the hard way!)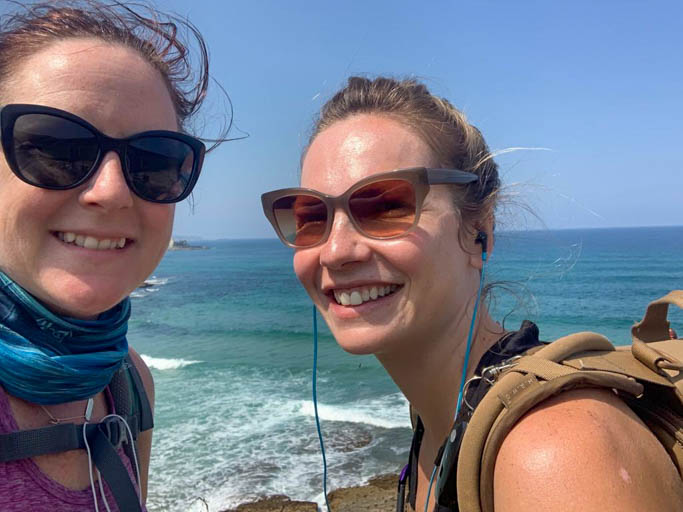 The day we nearly turned back.
The walk from Zarautz to Deba is stunning. However, our bodies ached so much from our Norte stage one adventure that we nearly turned back!
Arrival in Deba didn't help. We walked in, exhausted, during a festival. It could be very different when there isn't a citywide party, but we found that pilgrims were not welcomed and beds were non-existent even at the albergues. Many of our new pilgrim friends slept outside, huddled together for warmth, while we had to take a bus to a different town.
Plan in advance for this stage and, if possible, plan to walk right past Deba and get a jump on the next stage.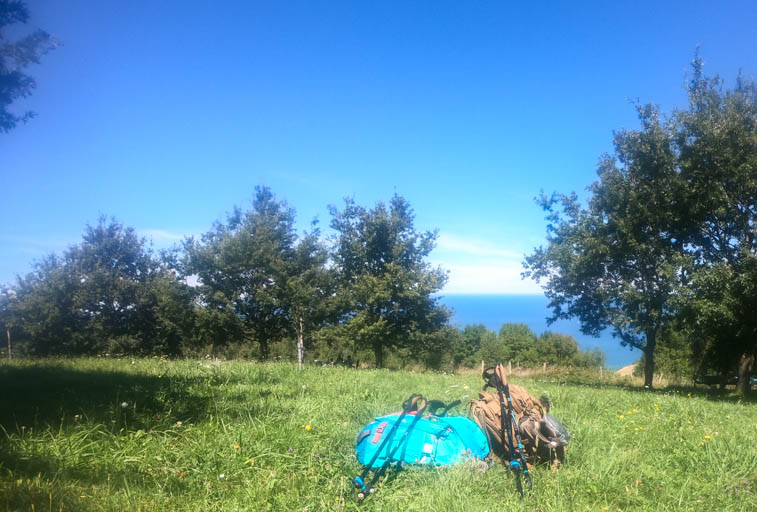 The Camino del Norte stage from Deba to Markina contains a 10-mile stretch with no accommodations. This could have been very problematic for us since we found the city of Deba to be in the midst of a party that didn't welcome pilgrims or our needs (like food and water!)
But we learned on this day that the old saying "the Camino will provide" is true. That being said, best to plan better than we did!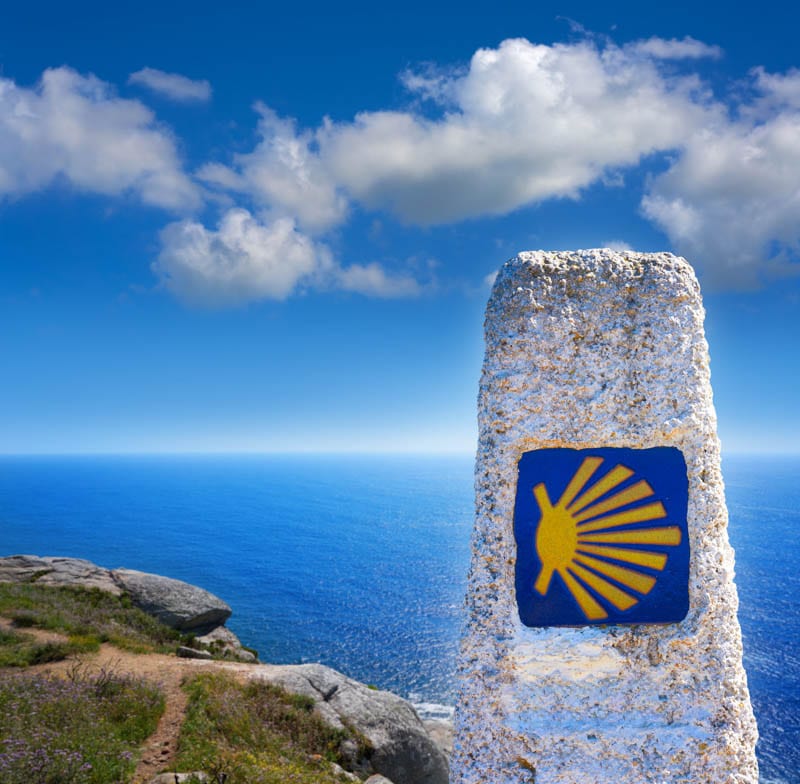 The traditional Camino del Norte stage five is Markina to Guernica, but this marks the first day that we modified our stages. This is something that you'll definitely do too! Our reason for modifying this time was because we got epically lost and took a detour that cost us a couple of miles and a lot of scrapes from thorn bushes.
We were exhausted by the time we walked into Mendata and another eight miles/14 kilometers was going to be really hard. Luckily for us, a beautiful albergue in Mendata created extra space for us by tossing mattresses onto an upstairs attic floor! Walking the Camino del Norte route from Markina to Mendata is where we learned how much we really enjoy the albergue experience.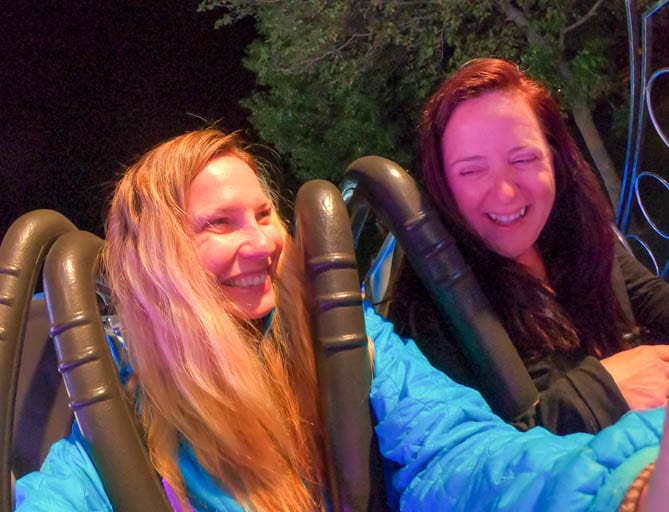 The traditional Camino del Norte stage six is Guernica to Bilbao, but we stopped early in Mendata. Because of this, we needed to make up for some lost time and we participated in a Camino tradition: bussing forward.
We walked the lovely miles from Markina to Guernica, had a long pilgrim lunch there, and hopped a bus to Bilbao where we found ourselves in the midst of an epic party! Sometimes in Spain, you must join the impromptu streetside celebration!
Camino del Norte Stage Seven: Bilbao to Pobeña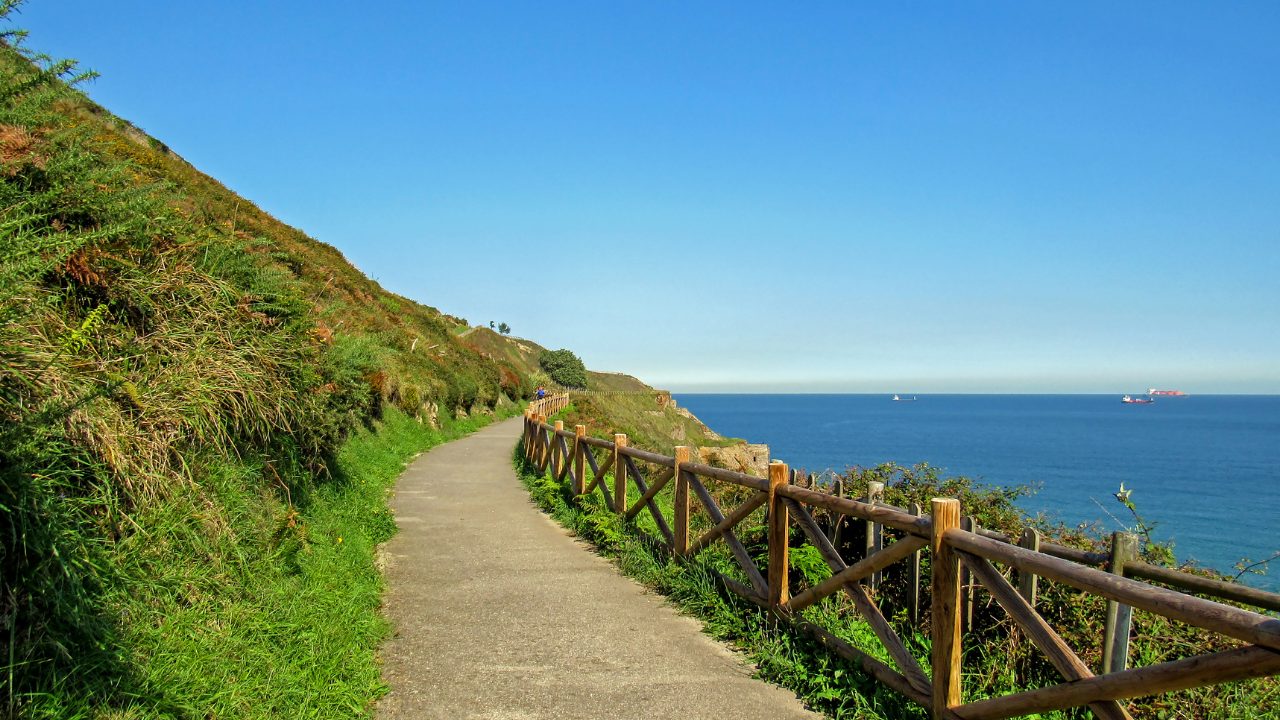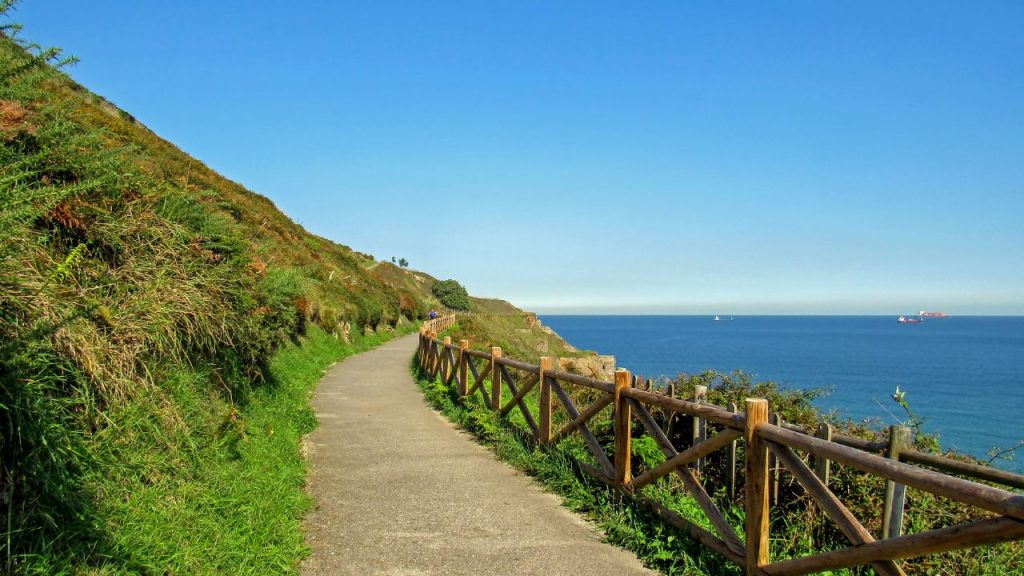 Because I wasn't feeling well, we broke up stage seven into two days, walking from Bilbao to Portugalete and then from Portugalete to Pobeña.
Because of the route we took into Portugalete (walking along the waterfront out of Bilbao), we were able to take a ferry into Portugalete, which was really cool. I also enjoyed staying in this beautiful, hilly town on the water and recommend an overnight stop if you have the time.
We re-joined "the way" from Portugalete to Pobeña and found the beautiful coastline again. We needed to walk just past Pobeña to Ontón where we stayed directly on top of the border between Basque Country and Cantabria.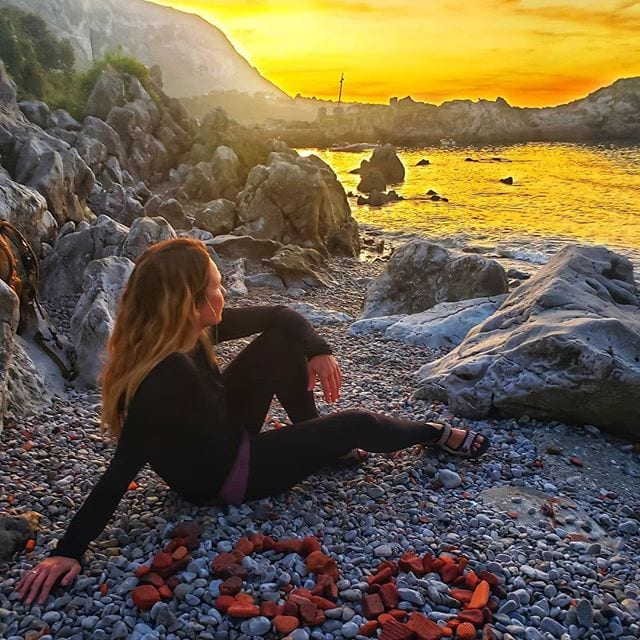 The day we hit 100 miles walked!
We did this stage a bit differently. The traditional stage eight on the Camino del Norte from Pobeña to Castro-Urdiales is an 11 mile/17.5 km day followed by a long stage nine of 18.6 miles/30 km. We walked a bit past Pobeña on our stage seven to Ontón and walked 4.5 miles/7.4 km farther than Castro-Urdiales to Islares. We also opted for a way-designated shortcut to Castro-Urdiales.
This shortened up our upcoming stage nine and made stage eight a manageable 12 miles/19 km from Ontón to Islares. We also heard about the great beachside campground in Islares and we were lucky enough to snag two bunks there.
We liked the Islares campground much, in fact, that we stayed two nights and enjoyed our first rest day on the Camino del Norte.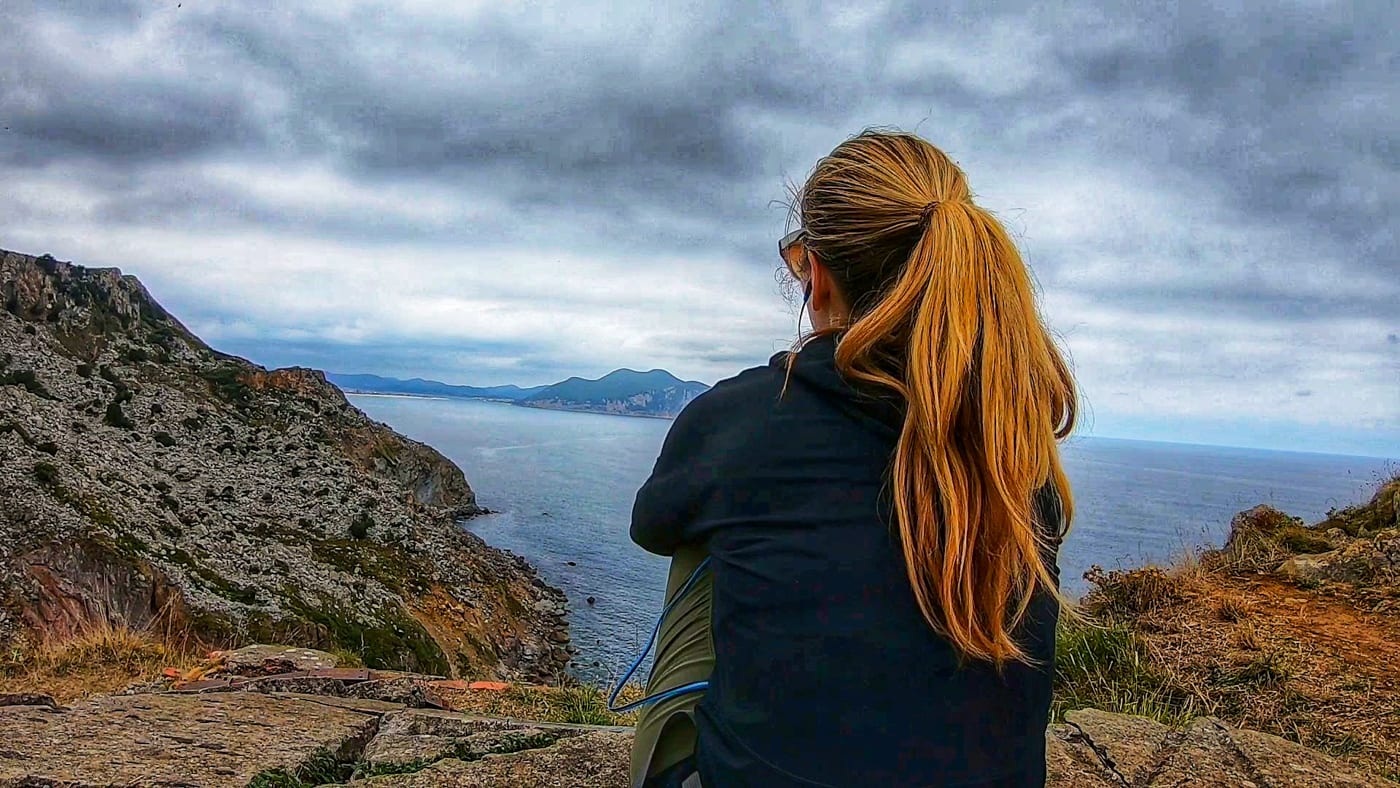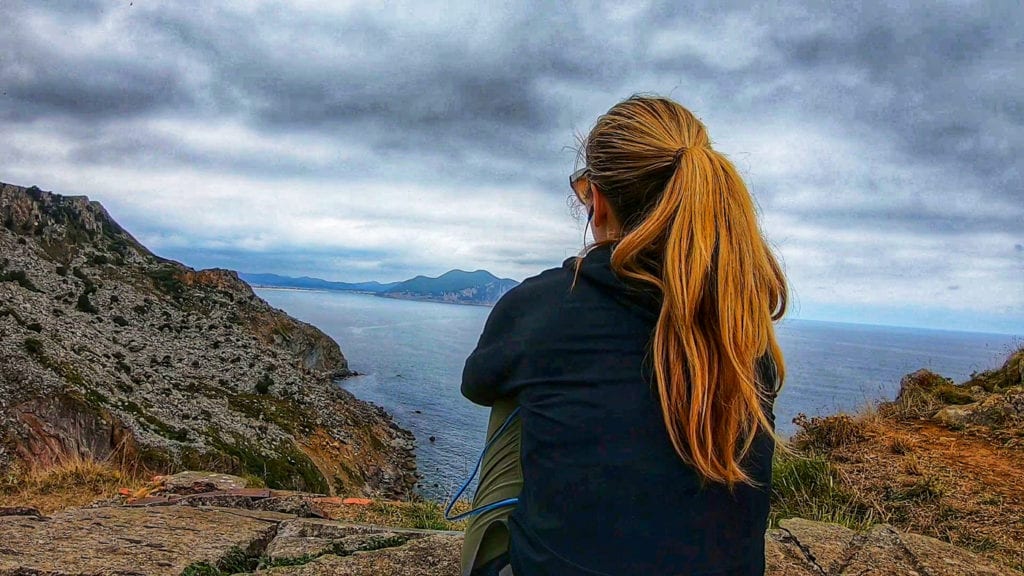 Our Camino del Norte stage nine was a bit shorter than the traditional stage from Castro-Urdiales to Laredo. We walked, instead, from Islares to Laredo.
After our rest day, I had all kinds of pep in my step, but Lizz's feet were still hurting her. She walked directly to Laredo while I took the meandering waymarked path, climbing into the hills for a beautiful solo walk.
When we reunited, we stayed with the nuns of Laredo!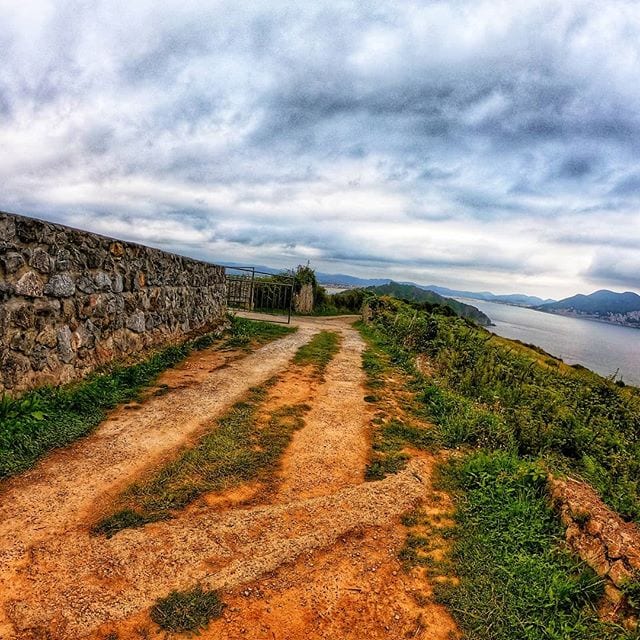 The day I put my blistered feet in the sand.
The classic Norte stage 10 is from Laredo to Guemes and we intended to walk it just that way, especially since we wanted to stay at the famed the Albergue La Cabana del Abuelo Peuto where there are post-dinner songs and storytelling.
But I couldn't make it.
I had a rough day when I put my blistered feet into the sand for a stretch of "the Way" that navigated the beach. The day started out strong with a blessing from the Sisters in Laredo, but I really struggled by the end of the stage. So much so that, at one point, Lizz offered to carry my bag!
Of course, I refused, but the planned 18-mile stage from Laredo to Guemes was out. At the 12-mile mark, I was so happy to see an albergue right along the route with open beds. We stopped short of the full stage and rested up in San Miguel de Meruelo.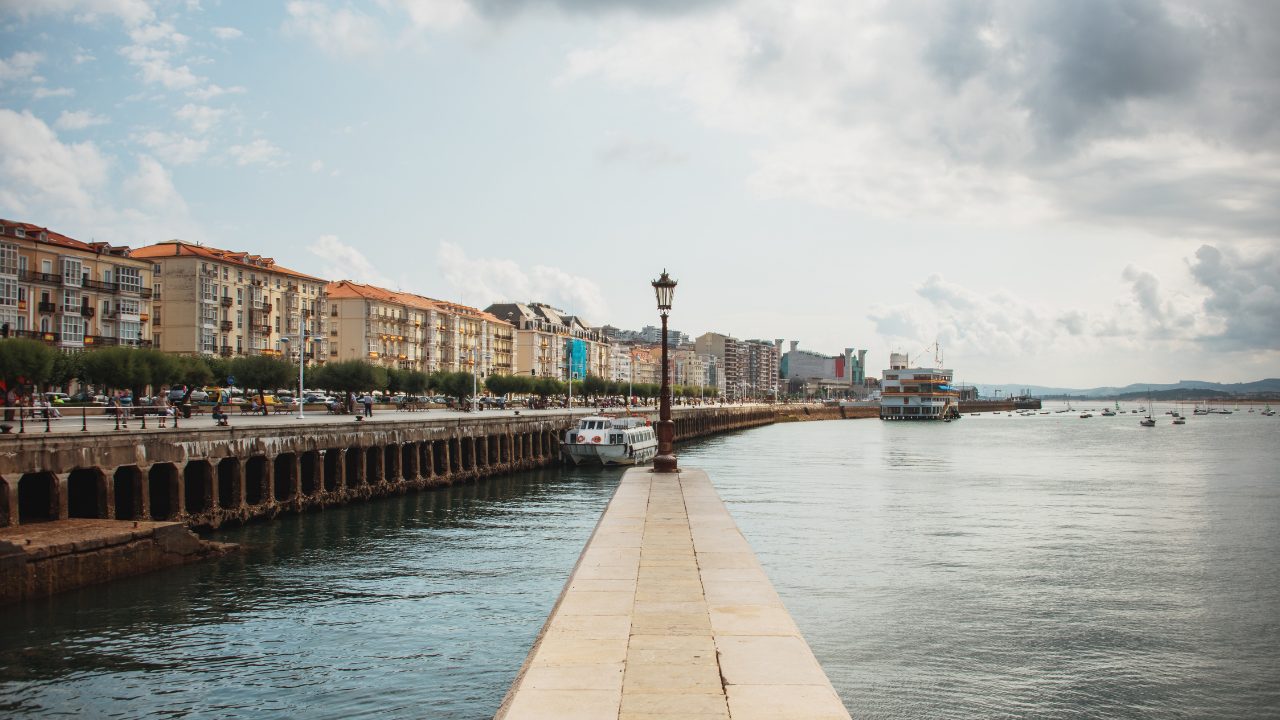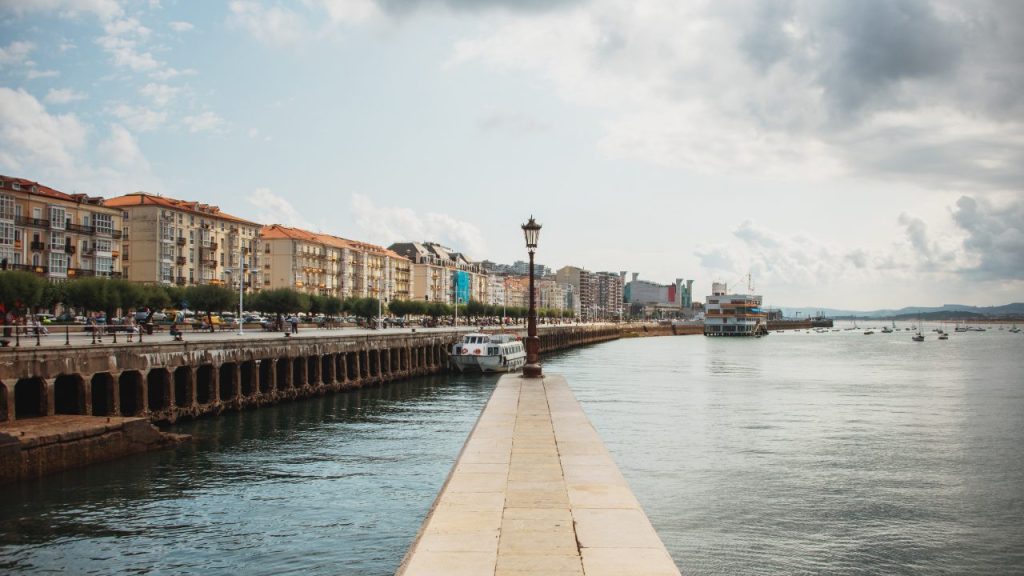 The day we discovered reindeer grease.
The traditional Camino del Norte stage 11 is Guemes to Santander, but we were coming from a little farther away in San Miguel de Meruelo. It was a beautiful walk, and we meandered our way, ignoring the pain in our feet to the beautiful city of Santander where you take a ferry from the route into town.
Stage 12: Santander to Santillana del Mar
We bussed forward from Santandar to Santillana del Mar, skipping Camino del Norte stage 12. We did this because we were tight on time to finish our pilgrimage in 35 days and our guidebook told us that this is one of the drearier Norte stages. So there is no post for this stage.
I can tell you that Santillana del Mar is a beautiful town, and I wish we would have stayed a night. But, we walked straight on and into Norte stage 13.
The day with a Camino Catch 22
If I put my hiking boots on, my right achilles was a world of hurt. If I put my hiking sandals on, my blisters screamed. A Camino Catch 22.
But the views…this is a beautiful Camino del Norte stage.
Camino del Norte Stage 14: Comillas to Colombres
The day we followed a sign and walked right into masturbate-gate.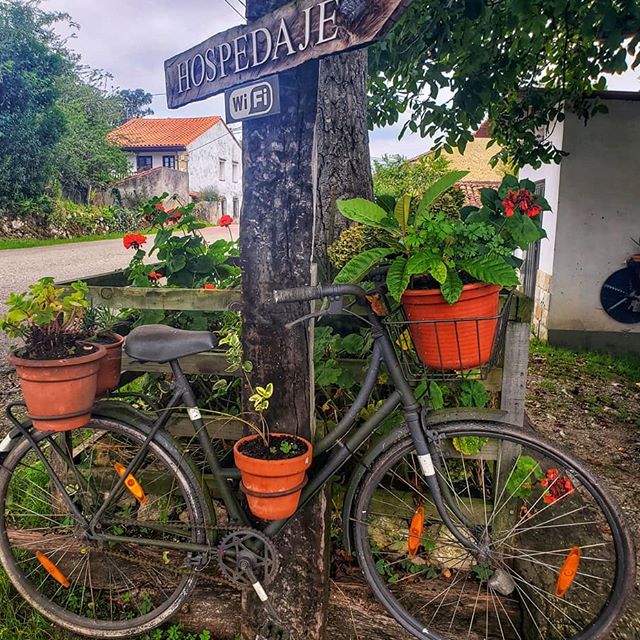 Yeah, you read that right.
We meant to follow the traditional Norte Stage all the way to Columbres from Comillas, but we stopped early in Serdio when I saw a sign that compelled me to stop. This was one of the best walks of our pilgrimage, and it's the day when I officially figure out how to overcome the pain and experience the joy of walking the Camino de Santiago.
The next day we walked from Serdio past Colombres to Vidiago, and we solved masturbate-gate.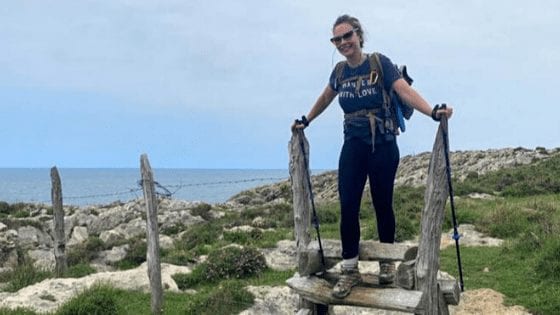 We meant to walk all the way to Llanes from Serdio, but we stopped in Vidiago after we ran into barbed wire and stinging nettle, and we were forced to walk on railroad tracks.
It was a tough (but memorable!) walk. And in Vidiago we would solve the mystery of masturbate-gate.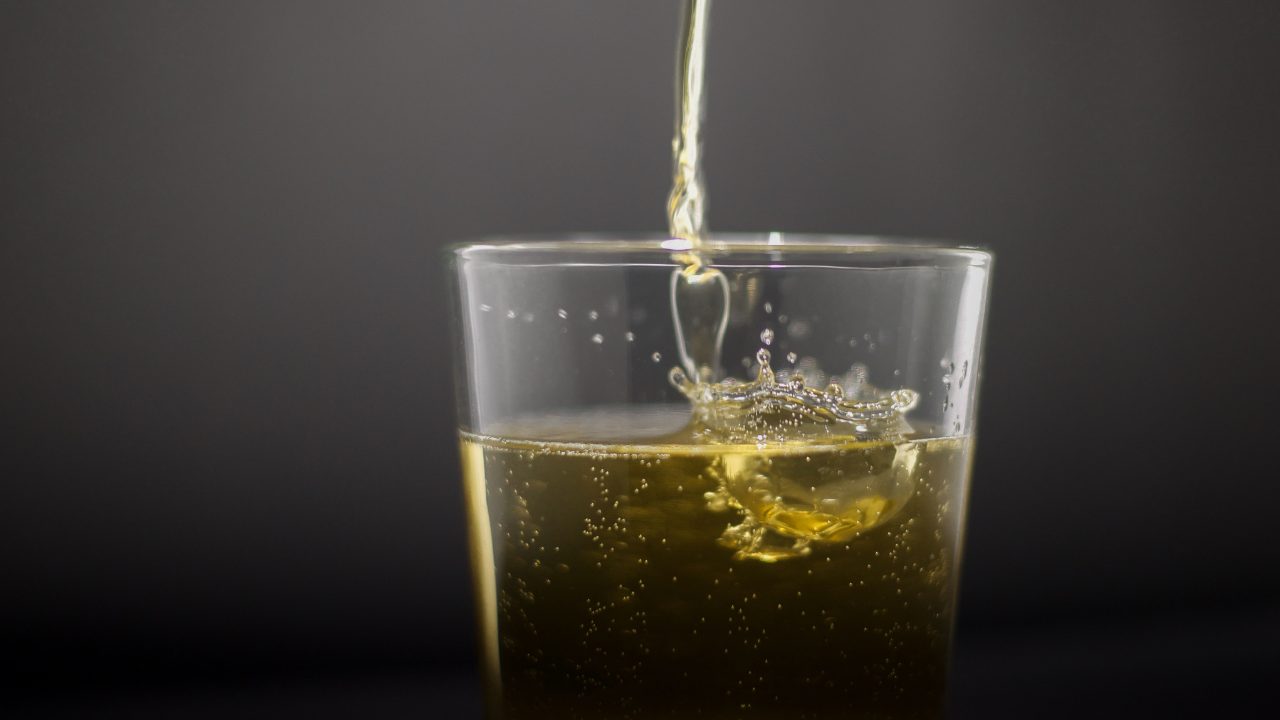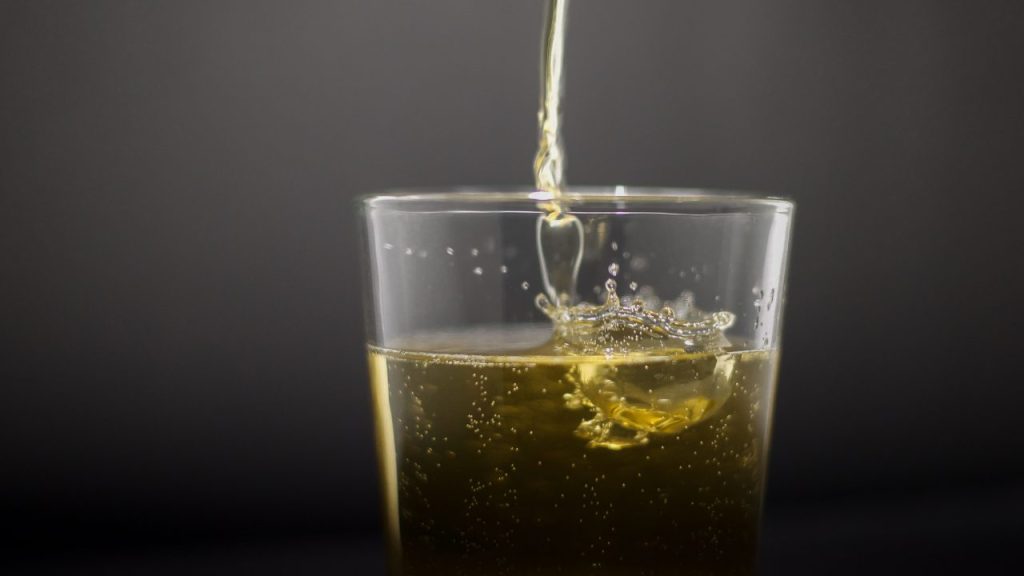 We walked from Vidiago and finally arrived in Llanes.
This is where we took our second rest day on the Camino del Norte, and also where we learned how to properly pour cider in Asturias.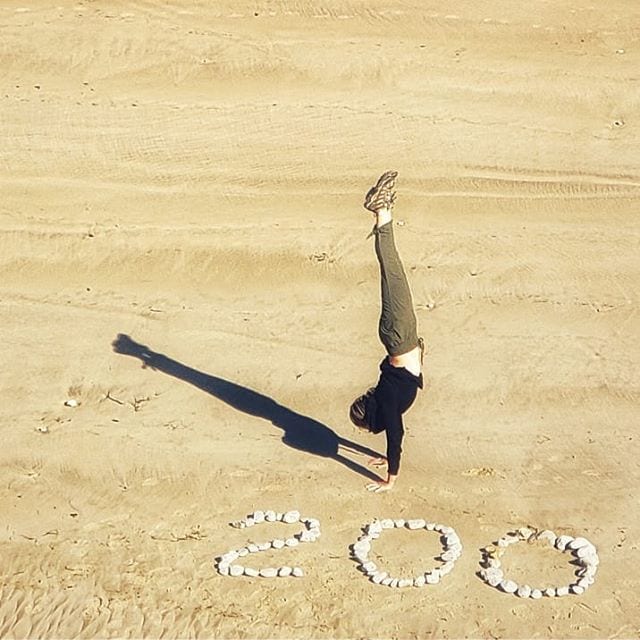 The day of the food poisoning.
Most days on the Camino de Santiago come with challenges wrapped up in reward. For all of the pain, it is well worth it for the beauty and the feeling of accomplishment.
Day 18 on our 500-mile walk on the Camino del Norte was no different. We hit a huge milestone of 200 miles walked. BUT…it isn't easy to walk with food poisoning.
Ugh. We still walked eight miles, and I managed a handstand, but walking with food poisoning meant we bussed forward to Ribadesella.
Stage 17: Ribadesella to Sebrayo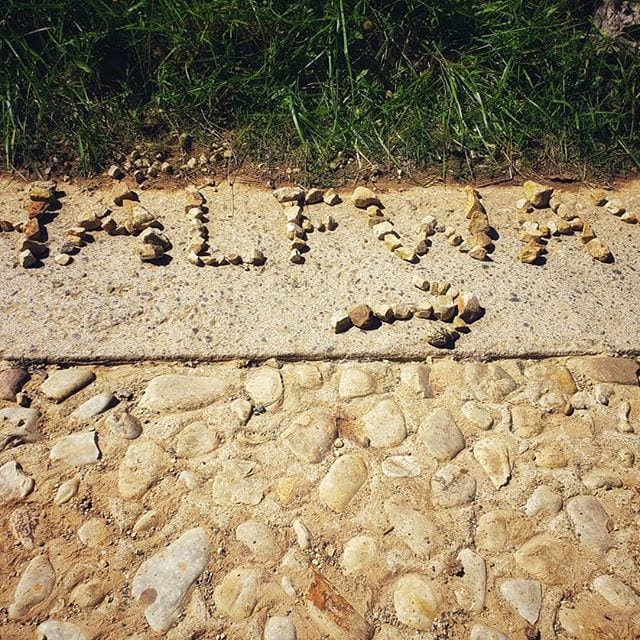 We broke this Camino del Norte stage 17 into two stages, walking from Ribadesella to Colunga and from Colunga to Villaviciosa, walking right past Sebrayo.
Villaviciosa is near where the Camino del Norte meets the Camino Primitivo, and you will have a decision to make about whether you stay on the Norte or detour to Oviedo.
On this part of our piligrimage on the Norte, we became tourists again. It was at the halfway point that we officially enter into the mind phase of the Camino, forgetting about pain and enjoying the ride.
To Detour or Not to Detour?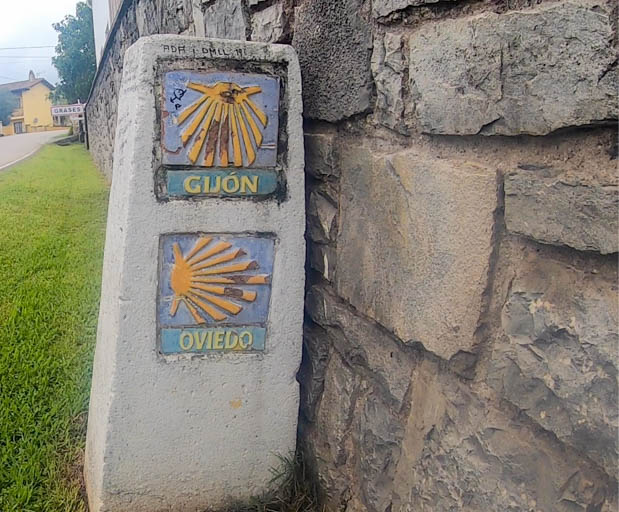 Here is where you'll need to make one of your biggest decisions yet on the Camino del Norte.
Will you continue on the Camino del Norte stage 18 from Sebrayo to Gijon? Or will you detour to the Oviedo where it all began?
We chose to detour to Oviedo, walking on the Camino Primitivo. We then took a train back to the Norte.
If you are continuing on the Camino del Norte, you'll walk to Gijón. Then from Gijón to Avilés, and then Avilés to Soto de Luiña, and then on to Cadavedo. That's where we'll join you again, on the Camino del Norte stage 21: Cadavedo to Luarca.
If you are coming with us on the Camino Primitivo, let's go!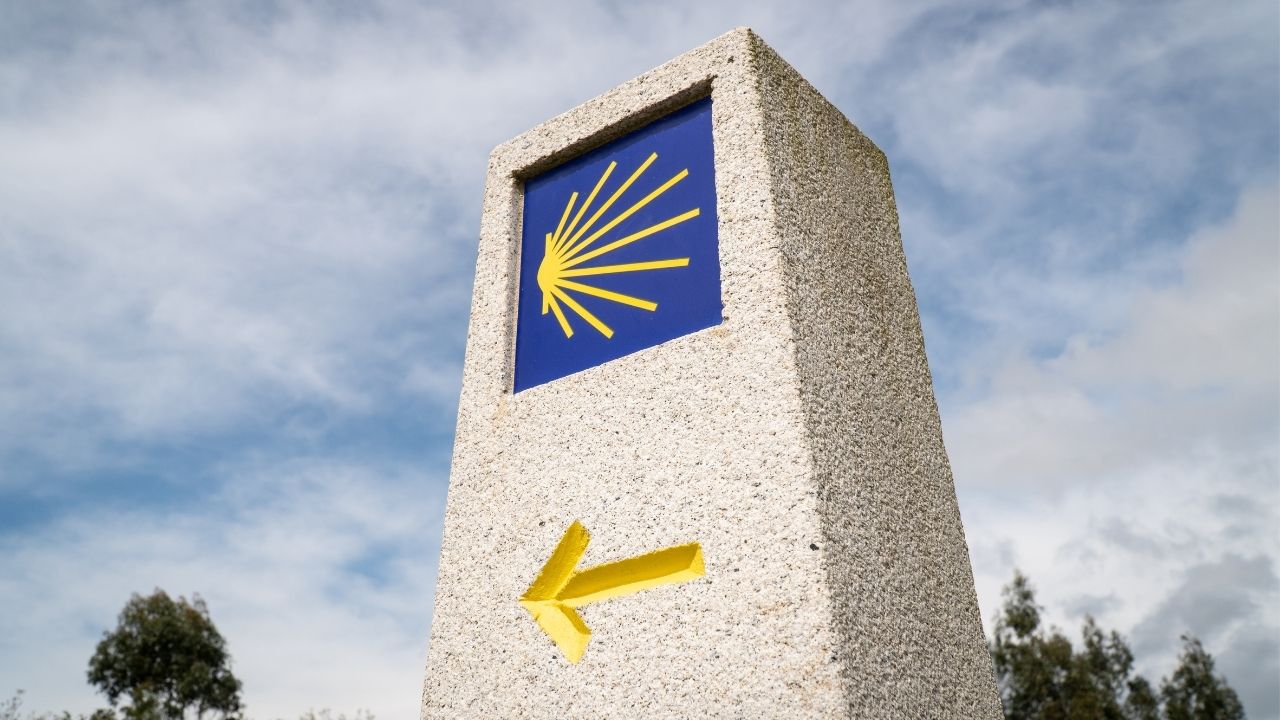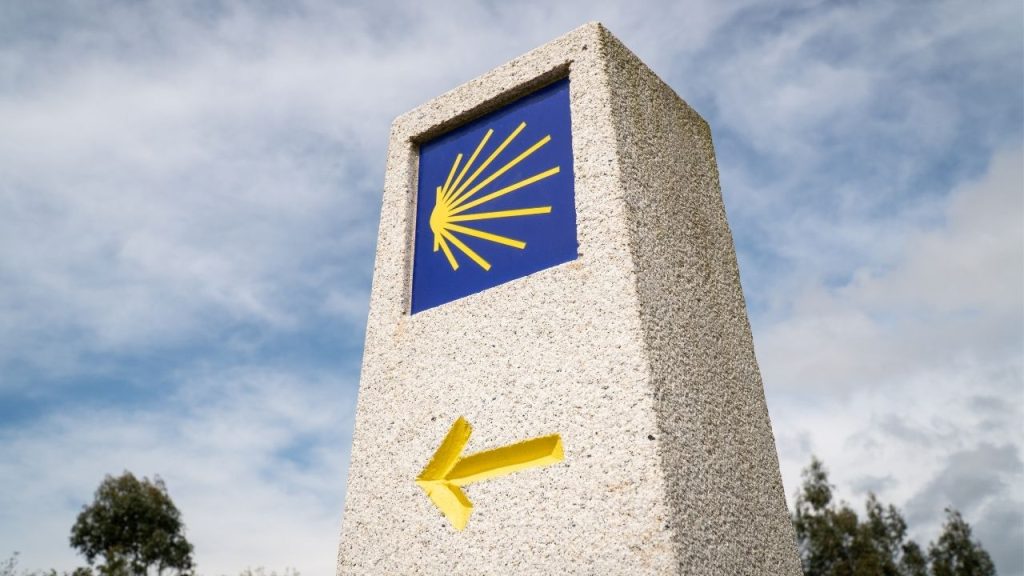 We are already in Villaviciosa, which is a good thing because this is a really long stage. Even walking from Villaviciosa to Pola de Siero, we logged 20 miles with the detour to the Oratory of San Salvador (which is totally worth it).
If you're going to come along with us on this detour to Oviedo and to the Oratory, which has stood as the religious center of Asturias since 893, then make sure to stock up on food in Villaviciosa or even back in Sebrayo. The provisions are sparse along this part of the Camino Primitivo.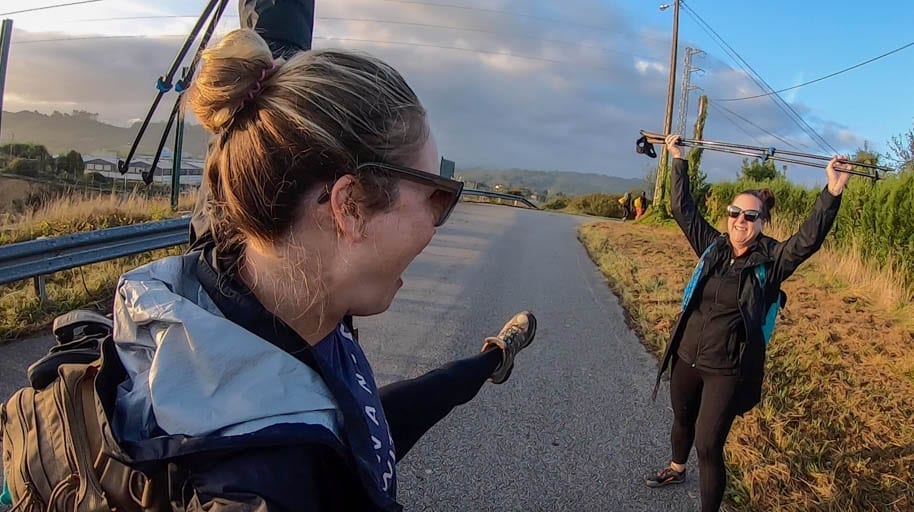 The day someone stole our walking sticks!
When we went to the communal closet of our albergue in Pola de Siero, our walking sticks were gone with two wooden sticks – like actual sticks from the woods – sitting in their place. We went on quite the adventure to get them back!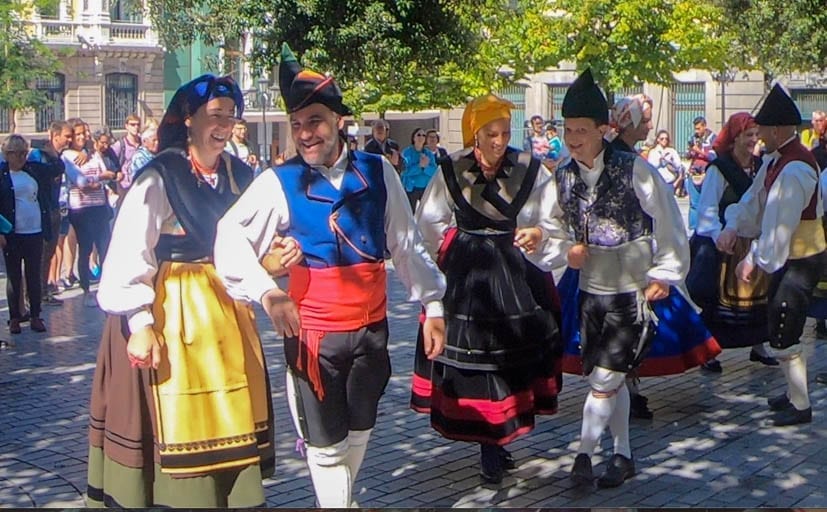 The day we danced through Oviedo.
Oviedo is a pilgrim destination because – since the 9th Century – pilgrims on their way to Santiago have diverted to Oviedo, which is the origin of the first pilgrimage to Santiago. Also, the cathedral in Oviedo is said to contain remnants of both the True Cross and the Crown of Thorns.
After getting to know Oviedo, we took a train back to the Camino del Norte and the town of Cadavedo. (If you choose to detour on the Camino Primitivo to Oviedo, you will likely walk from Oviedo to Aviles, rejoining the Camino del Norte at Stage 20: Aviles to Soto de Luiña.)
But we skipped a stage to stay on schedule, and we'll rejoin you on the Camino del Norte stage 22 in Cadavedo.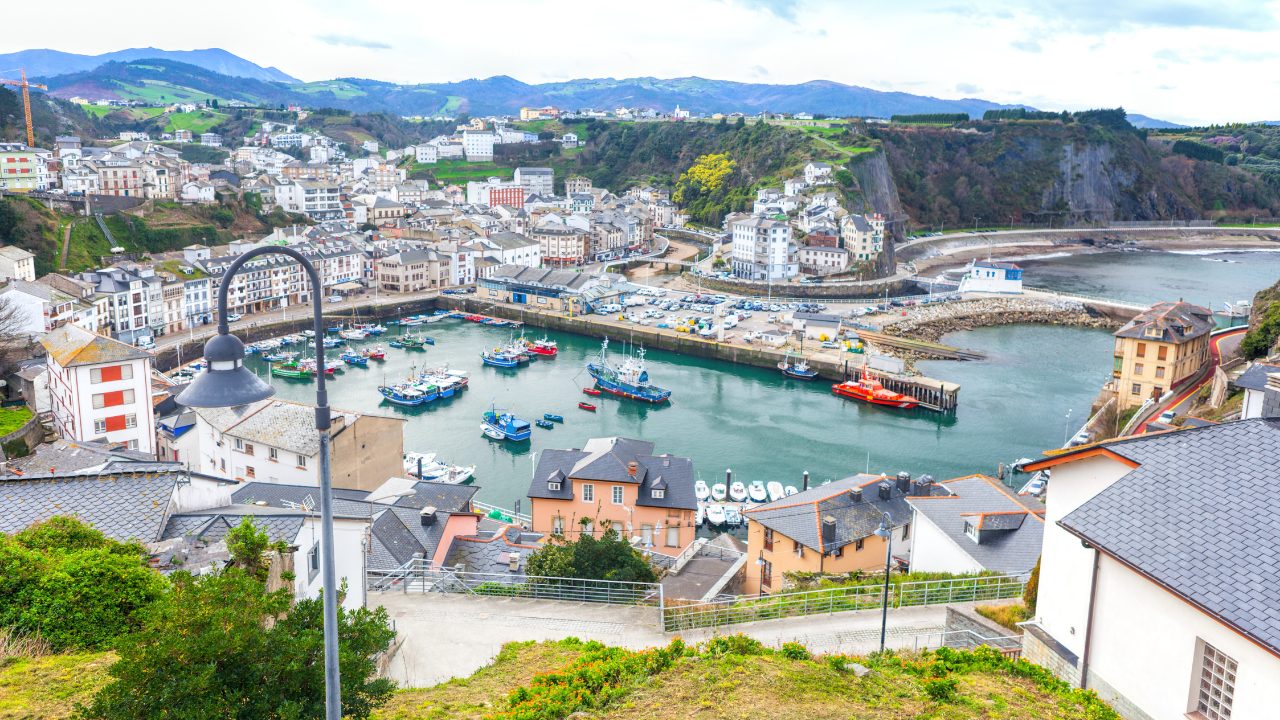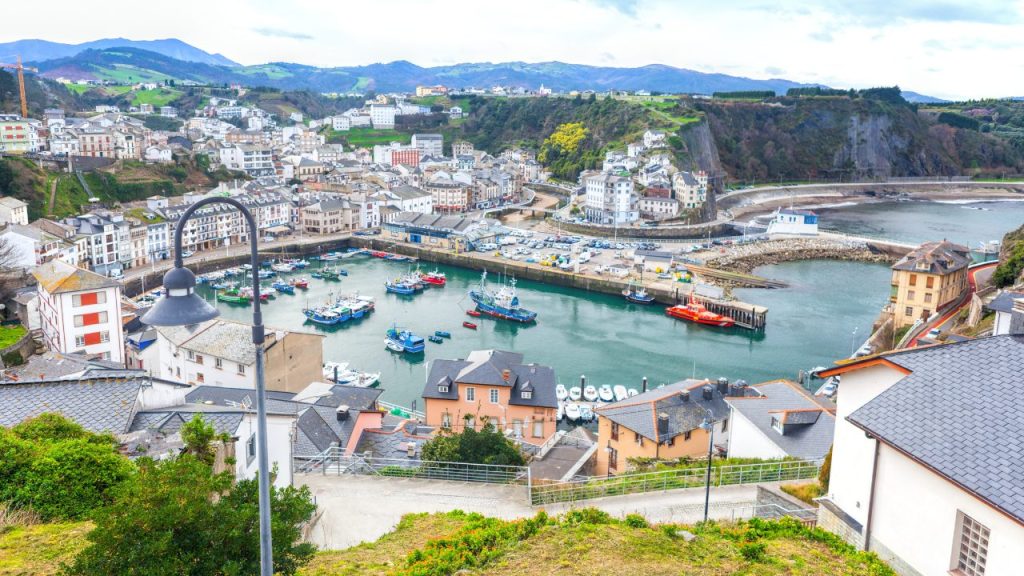 The day we couldn't stop laughing.
We are entering the soul phase of our pilgrimage on the Norte stage 22. The body and mind no longer play tricks on us, and the walk is just pure fun.
We are also joined by a friend from America for this stretch of the journey.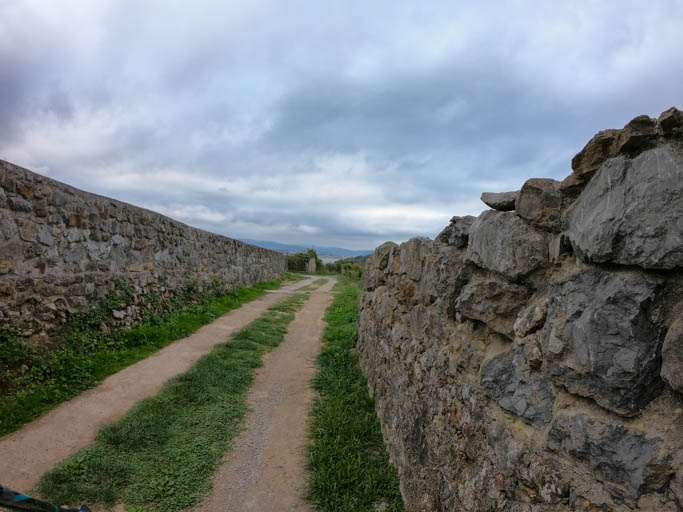 The day we walked with hangovers…and still logged 22 miles!
We may have had just a bit too much fun on the previous night out in Luarca, and we certainly paid for it the day we set out to walk 22 miles to Luarca.
From here on out, no matter what obstacles we face (or, in this case, what wine we put in our face!), we stay on schedule. The aches and pains just fade into the background.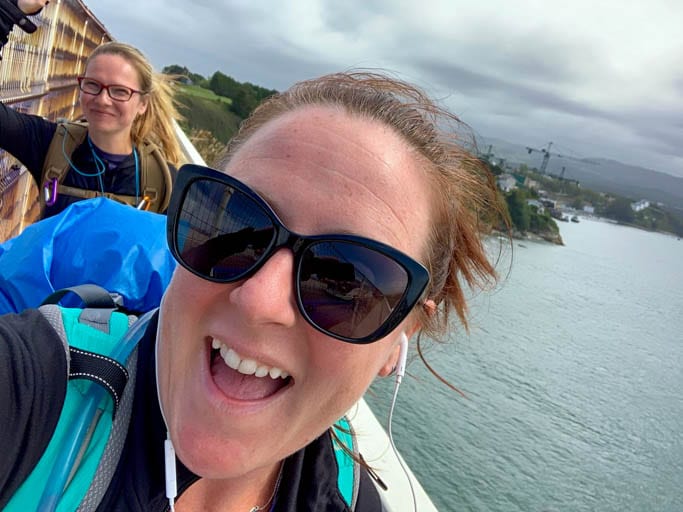 The day we danced into Galicia.
Our pilgrimage had already taken us on foot through Basque Country, Cantabria and Asturias. On our walk from La Caridad to Ribadeo on the Camino del Norte stage 24, we walked into our final region: Galicia.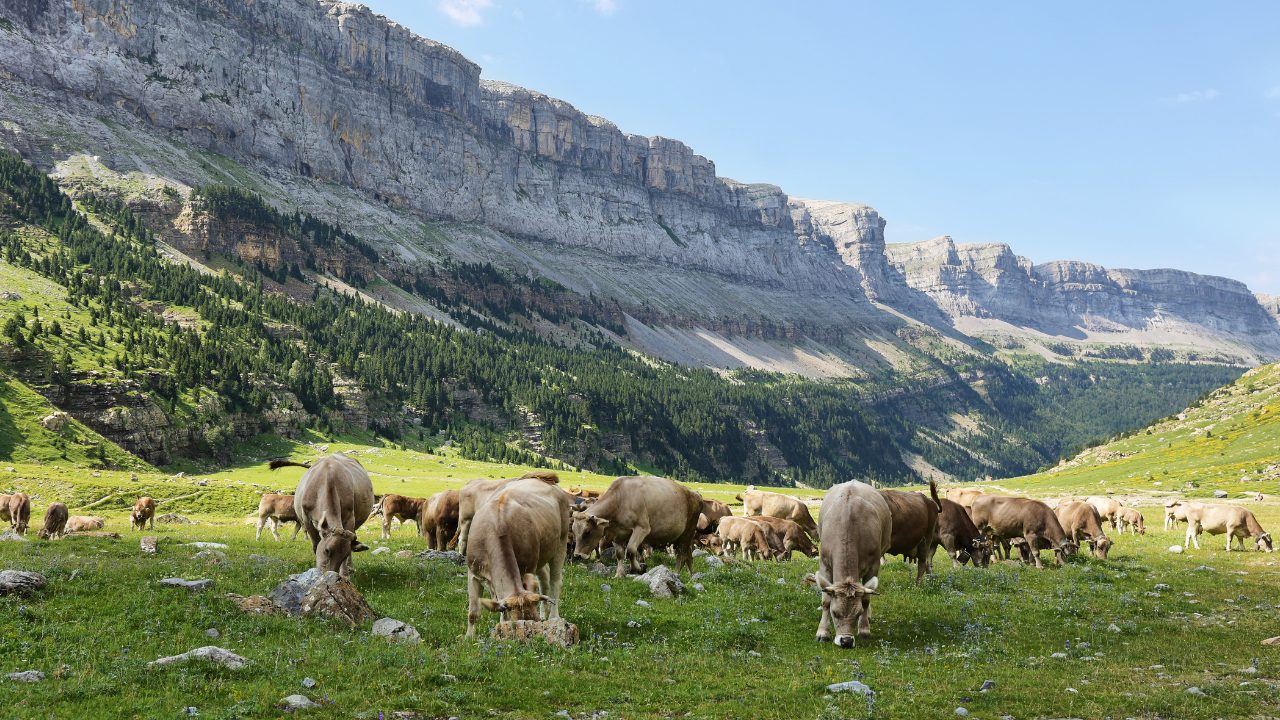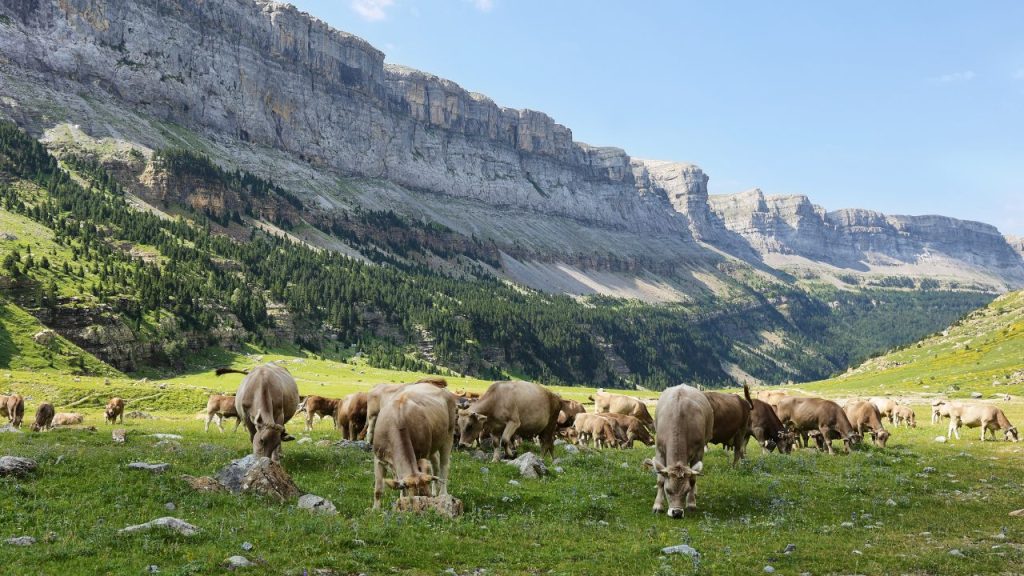 I was feeling so peaceful, soulful, and painless on Day 27 of our pilgrimage, but that changed for me on the Norte stage 25 from Ribadeo to Lourenzá. This would be my last bout with extreme pain before I fully walk into the soul phase on the Camino de Santiago.
In an example of the wild ups and downs of a pilgrimage, Day 28 would turn out to be epic…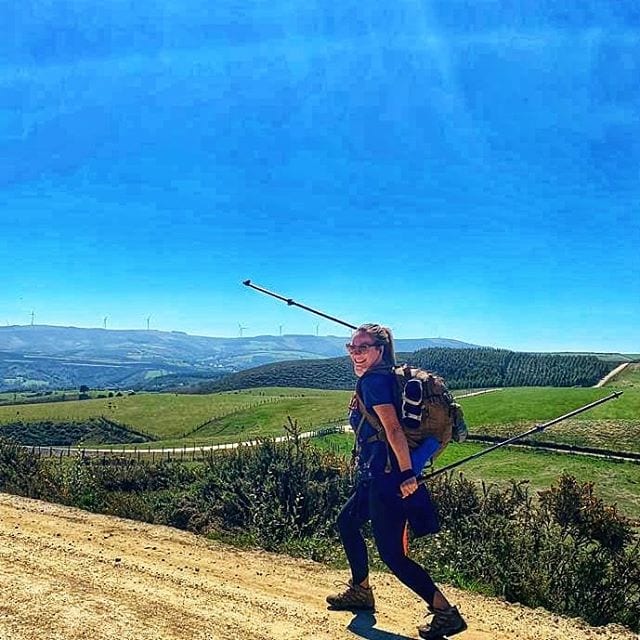 The day we climbed a mountain.
The traditional Norte stage 26 Lourenzá is Gontán, but we walked to Abadín, which is just past Gontán. There is an albergue in Abadín where we could reserve a room with four bunks for our party of four, so it made sense to continue on.
The route on stage 26 is really challenging if you opt to go over the mountain, which we did. Depending on how you're feeling that day, it's really fun to take the climb and the views are unreal. But if you aren't feeling strong that day, or if the clouds would obstruct the view, there is a flat route around the huge hill.
Stage 27 on the Camino del Norte: Gontán to Baamonde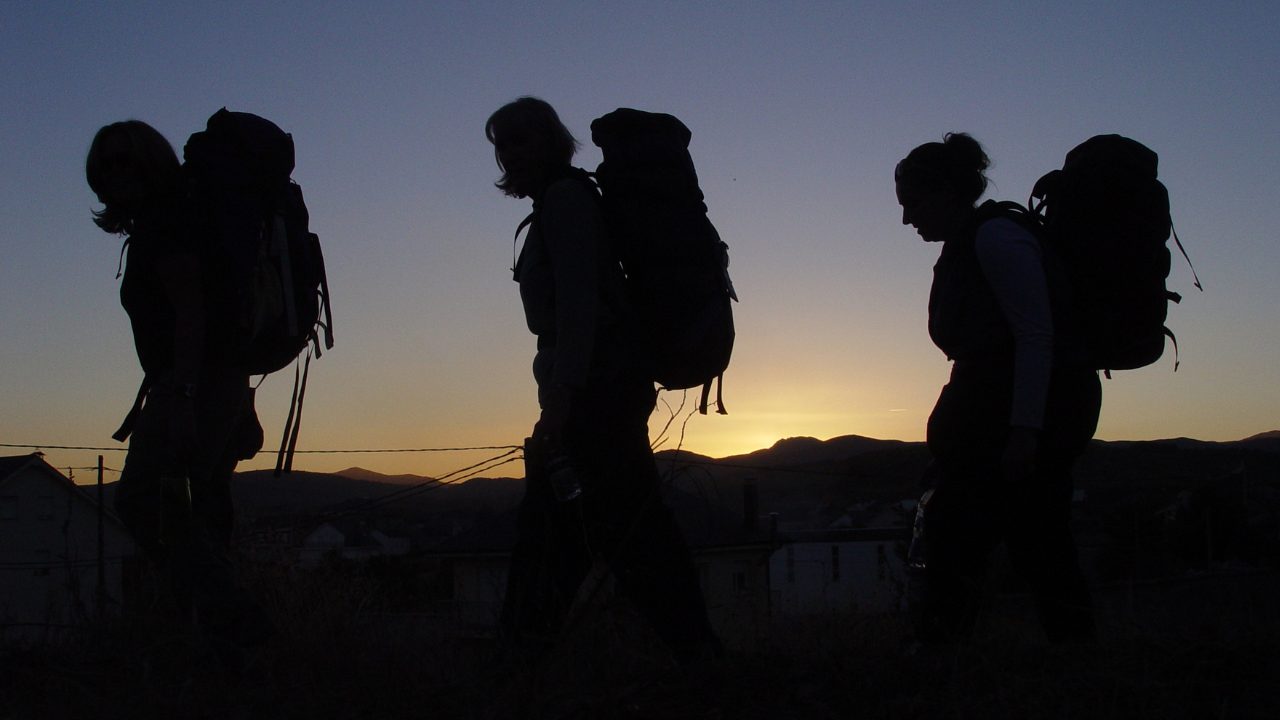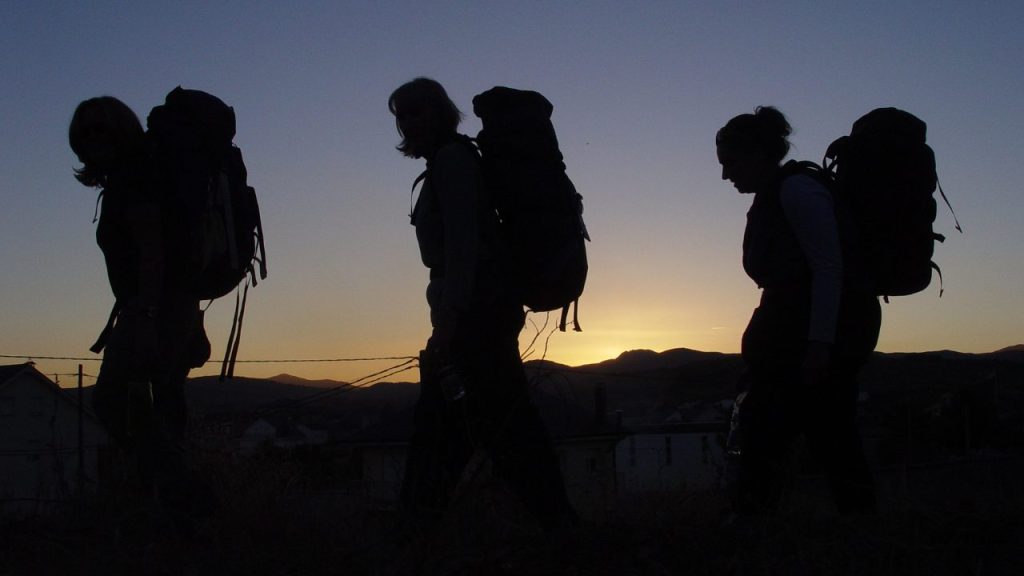 We split the Nortes stage 27 into two, walking from Gontán to Vilalba (13 miles) and then from Vilalba to Baamonde (12 miles).
On the walk from Gontán to Vilalba, it was one of those pilgrim perfect days on the Camino. It was also the last day we would walk with our friend Margo who needed to return to her life in the states after 100 miles with us.
The walk from Vilalba to Baamonde was surreal because the albergue where we planned to stay is just a short stroll from a momentous mile marker: the place that marks 100 kilometers to go.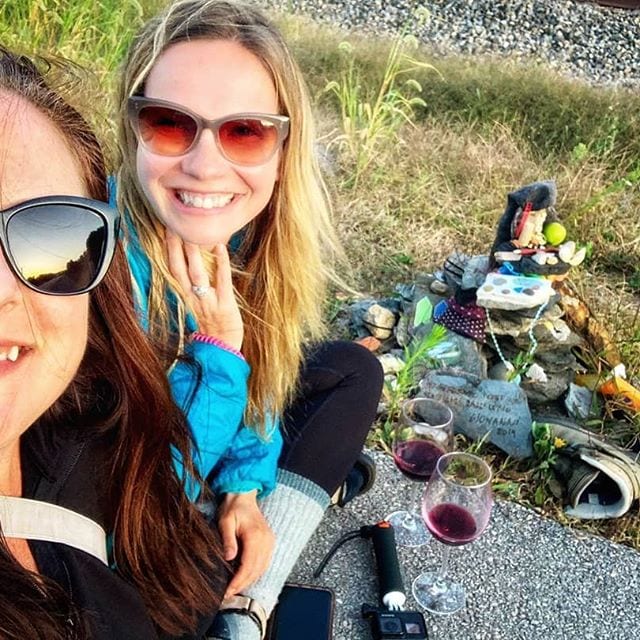 When we reached that mile marker, we knew we were going to make it to Santiago.
The day we almost got locked out of a monastery.
We stopped just a mile shy of Miraz because we stumbled on a beautiful, new albergue with hammocks that appealed to my slightly hungover head. I may have celebrated the 100-kilometer mark just a little too hard the night before!
Perhaps that's why I combined the video for the Norte stages 28 and 29. I may have been too tired to edit!
Nevertheless, we wake up in great spirits just outside of Miraz and easily caught up with our new friends from Baamonde at the cafe in Miraz. We walked to the Sobrado dos Monxes Monastery where we almost got locked out because we nearly missed curfew!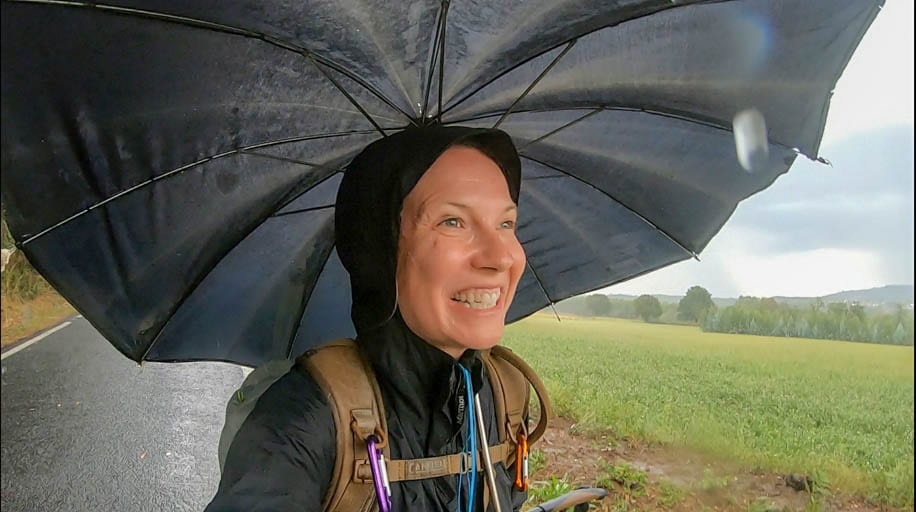 I've never seen skies open up like they did on this Camino del Norte stage with very little provisions. I was really glad for my raincoat, backpack cover, and, most importantly, for the kind woman who let me shelter on her covered patio!
Lizz…was not so lucky.
Camino del Norte Stage 31 Arzúa to Santiago de Compostela
It's surreal to write Santiago de Compostela even now! What an epic journey. We were almost sad to see it come to an end.
We split this stage into two, preferring to saunter into Santiago well rested.
We walked from Arzúa to Pedrouzo (12 miles) and from Pedrouzo to Santiago.
When you walk out of Arzúa, the Norte meets the Camino Frances, the most popular of the seven main routes to Santiago. It gets a lot more crowded and a lot more fun.
And when you walk into Santiago…well there are no words.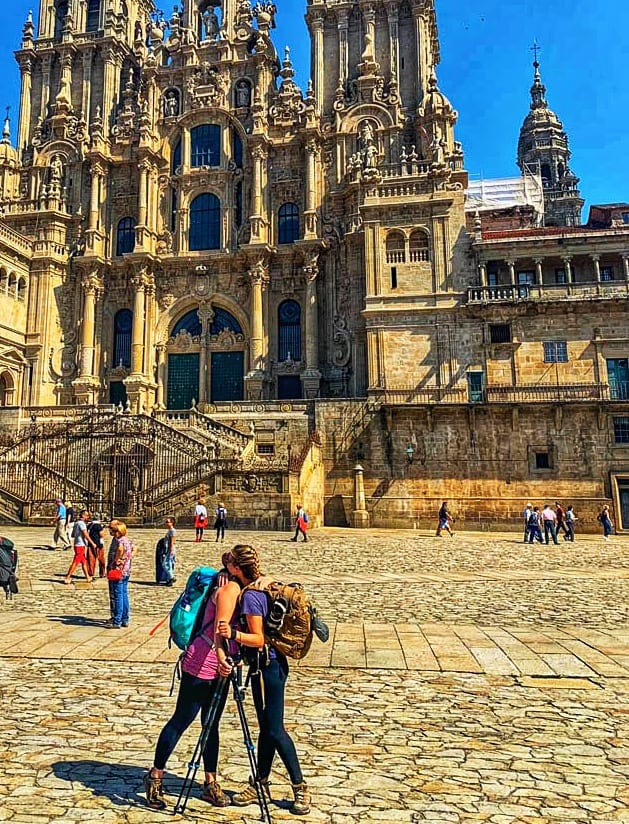 Buen Camino my fellow pilgrim! May the journey change you as it changes all who walk The Way.
About the Author
Hi! I'm Jen!
I'm a freelance writer and travel blogger who quit my nine-to-five after my fiancé, Jeff, died of cancer at the age of 40. When he died, I realized that life is just too short to delay our dreams. Since my dream was to travel and write, I now travel and write full-time. Today I wear hiking boots instead of heels and collect experiences instead of things.
Additional Camino Resources